Technology Tools for Remote Work
Last Updated: May 16, 2023 1:49:25 PM PDT
See a list of technology tools and usage recommendations that can help facilitate remote work. This page has a friendly link that is easy to remember: keepworking.ucsd.edu.

UC San Diego Health Sciences employees:
Visit the
Pulse site for information regarding remote support tools (login required)
.
Remote Work Training Webinars
View Most Recent Webinar
Additional Remote Work Webinars
---
In order to facilitate remote working, please take note of the technology tools and usage recommendations below.
In some cases, multiple options are available for the same function. Therefore, it is important within your department and/or workgroup to agree on a common set of tools (e.g., everyone using the same chat application).
If you have questions or need help getting set up, contact the Service Desk:
Computers
Minimum Physical and Hardware Requirements
To effectively work remotely, take note of the minimum physical/ hardware requirements:
University-provided laptop OR capable and secure home laptop/ desktop

Laptop loaner program for staff (refer to the information below)

Webcam (built-in on laptops)
Headphones/ microphone (microphone built-in on laptops)
An ergonomic workspace

Keyboard/ mouse
Furniture
Identifying and Using an Appropriate Computer for Remote Work
The following protocol applies to the units listed below. Other units should check with their local IT support for remote work computing guidance.
Admin Complex (Chancellor's Complex)
Advancement
Business & Financial Services
Human Resources
IT Services
Resource Management and Planning
Research Affairs
If you already have a university-issued laptop:
Discuss specifics with your manager/ supervisor; these are guidelines
Bring your laptop home!
Continue to use Microsoft Office / Google Suite as usual
Use the remote work resources found on this page
Only connect to VPN when necessary
If you do not have a university-issued laptop:
Using your personal computer
Bringing your desktop computer home

Send email to servicedesk@ucsd.edu with the subject line "Remote Work Loaner"

Let them know when you're stopping by and what equipment you will be bringing home
Take your Ethernet cable with you if possible

Bring your desktop only (no peripherals) to the Tech Hub at The Hive (Torrey Pines Center South, 3rd floor)
Field Support technicians will prepare your desktop for home use.
Bringing peripherals home (mouse, keyboard, monitors) - All faculty and staff. 
Do not bring home large/shared printers and other devices used by multiple staff.
Get supervisor or department head approval prior to taking them home.
Send email to servicedesk@ucsd.edu with the subject line "Remote Work Loaner" and the name of the device. Attach the email approval. 
Recommended Monitors and Docking Station
The following monitors and recommended docking station could be purchased for home use. 
Dell U2415 24" Monitor ($238) (Great for work environment)
Dell UP2716D 27" Monitor ($630) (Great for work environment)
Dell P2719H 27" Monitor ($233) (This more for home use)
Dell D6000 Docking Station ($142) (dual monitor support)
Internet Connectivity
If you have no Internet connectivity at home, or want to upgrade your Internet, see a list of Corporate Resources for Higher Ed Going Online During COVID-19.
Software and Business Applications
UC San Diego offers supported software for different types of collaboration and communication. See what's available in the technology section of Blink.
Email 
Outlook Web Access (OWA) allows you to access your email from a web browser.

G-Suite

allows you to access your G Suite email from a web browser. (Only available for departments who have opted into this.)
Online office and productivity applications
O365 (Microsoft Office online) allows you to use Microsoft Word, Excel, PowerPoint, and other applications through any web browser.
G-Suite allows you to use Google's Docs, Slides, and Sheets.
File storage and sharing
OneDrive is a component of O365 and allows you to store and share your files.
G-Drive is a component of G Suite that allows you to store and share your files.
Access
Video Conferencing and Meetings
Use Zoom for video conferencing. As of March 12, 2020, campus faculty, staff, and enrolled students have been provisioned with Zoom Pro accounts. Zoom Pro includes:
No time limit on sessions
Up to 300 attendees per host
If you need more than 300 attendees, read about Large Meeting and Webinar licenses.
You may start using your Zoom Pro account now at https://ucsd.zoom.us.
Using Zoom for your video conferences is quick and easy. But you want to make sure your attendees are only the people you invite. Here are some tips to make sure this happens. Find out more about Zoom Meeting Safeguards.
Zoom Help
Having trouble with Zoom? Check out the Zoom Survival Guide FAQs (support portal).
Phone Call Forwarding and Voicemail
If you're on campus, you can use the features on your handset to forward your calls.
if you are remote and don't have access to your handset, you have a few options for re-routing calls from your office line.
Campus phone line forwarding options:
Send all calls to voicemail and associate an email address for notifications and to listen to messages via email.
Divert calls to an external number (i.e., your cellphone or home number) by adding Feature Package 3 to an extension
Create a call list so that the campus extension rings an external number for 3 rings, then pulls the call back to campus voicemail or another number of your choice. For this to work, you also need FP3.
You will need to first submit this online Customer Service Request (CSR) when you're ready to move forward.
In the form drop-down, select "Telephone Software Programming Changes," then in the comment box describe your request.
After submitting the CSR, an auto-response will provide your ticket number.
If you've submitted the request on behalf of your department, please create a spreadsheet and email it to ITS-CustomerService@ucsd.edu and include your CSR ticket Number in the subject line.
Chat
There are several options for chat and group/ team communications. All of these options work well, but it is critical that teams select one platform only. Using multiple platforms can be confusing and difficult to manage.
Microsoft Teams has been provisioned for all faculty and staff. It's recommended for teams/ departments/ units that are MS Office-centric and are looking for a more robust communication environment. This environment is built to handle group communication, document storage (through MS OneDrive), and video conferencing. Download the Microsoft Teams client.
Google Hangouts has been provisioned for faculty, staff and students (excluding Health Sciences). It's recommended for teams/departments/units that are Google-centric. This environment is built to handle chat, group communication, and video conferencing. Hangouts can be accessed through your G Suite portal (no client necessary).
VPN (Virtual Private Network)
The UC San Diego virtual private network (VPN) creates a private connection over public networks using encryption to help protect against computer data transmission interception. It also helps ensure only authorized users can access campus networks. With VPN, network computing traffic between your remote machine (off-campus or wireless) and campus passes over a single, encrypted connection, and your remote machine has a UC San Diego internet address.
In response to the surge in remote workers, IT Services has significantly upgraded the capacity and performance of the VPN service. As such you should feel free to rely on the VPN anytime you are working remotely. When connected to the VPN using the 2-Step Secured - allthruucsd group, all of the traffic to and from your home or remote computer has malware filtered exactly as any on-campus computer does. However, the VPN should not be used when you are not working, such as when a family member is using your personal computer. Note that most academic and student services do not not require you to be logged in to VPN. Faculty and staff are encouraged to use the VPN when working on administrative activities. Find information on VPN setup.
The following services require a VPN connection when accessed off-site:
Shared Network Drives
>Cognos / Tableau

Remote Desktop to computers or VMs

TN3270 (IFIS/ISIS)

Library resources (requires

2-Step Secured - allthruucsd

)

Staging links to preview CMS websites (requires 2-Step Secured - allthruucsd)
AccessLink
TechWiki
Some department-specific applications (iDocs, BAMTRAC, CRIS)
Home Printers and Other Devices While Using the VPN
If you do need VPN, choose 2-Step Secured - allthruucsd. If you find that you are unable to print to your home printer or use local peripherals while using the VPN, make sure the option "Allow local (LAN) access when using VPN (if configured)" is checked.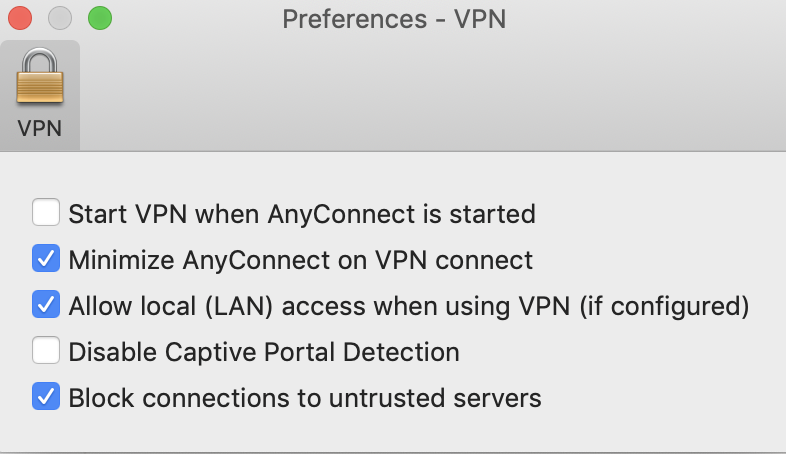 If you are still unable to print, use one of the other VPN groups such as 2-Step Secured - split.
International Access to UC San Diego
At this point in time we have not received any reports of campus resources being unavailable from overseas. However, if you find you are unable to access a service due to local access restrictions, using the VPN should re-enable access. We believe the campus VPN will work globally. Note that you can access the VPN through your browser (EasyConnect) or using the AnyConnect client. See off-site connection instructions here. If one fails or is blocked, you should try the other. EasyConnect will not provide access to library resources. Faculty and staff working internationally should, when possible, rely on the VPN to provide secure connectivity to campus services. Students should use the VPN if desired or necessary to access a specific service.
Third-Party VPNs
While we do not recommend the use of a third-party VPN, it may help you gain access to publicly available resources if the campus VPN is blocked in your region. Note that third-party VPNs are not able to access campus resources restricted to the campus VPN.
Electronic Approvals
Keeping business continuity in a remote working situation requires us to rethink business processes. There are options for transitioning paper processes online. Online workflows have a variety of benefits regardless of the working situation. If a paper-based process exists, it can be converted to an electronic process quickly.
Electronic approvals fall into a couple of different categories:
Approvals or acknowledgments that do not require a signature.

If the form does not legally require an electronic or wet (ink) signature, an email where the user has signed on to a UC San Diego email tool) is sufficient to document the approval.

Those that require an actual signature.

A signature can be either electronic or wet.

DocuSign eSignatures are valid and legally binding across the globe and in use in 188 countries around the world. In fact, they offer industry-leading levels of eSignature enforceability and help you comply with the U.S. federal ESIGN Act and UETA Act, as well as many other international laws and statutes including components of the European Directive 1999/93 EC on a Community Framework for Electronic Signatures, including the UK Electronic Communication Act.
DocuSign is the only certified Electronic Signature + Digital Signature vendor/supplier who has been approved for business affairs use with/by the California Secretary of State.
Types of documents that require a signature:
Academics/ Enrollment (Add/ Drop, Official Withdrawal, Enrollment Verification, etc.)
Admissions/FinAid (FAFSA, Student Application, Tuition/ Fee Waiver, etc.)
Advancement/Relations (Confidentiality Agreements, Photo Release, Vehicle Use, etc.)
Athletics (Records Req, Trademark/Licensing, Add/Drops, Registration, etc.)
Compliance/Risk (Liability Waivers, Insurance Certs, Professional Agreements, etc.)
Construction/Facilities (ProServ Agreements, Key/ Lock/ Access, Work Orders, etc.)
Contracts and Grants (Service & Grant Authorization, Spend Reconciliation, etc.)
Financial Services (Cash or PCard Auths, Stop Payments, Wire/ Bank Auth, etc.)
HR (New Hire onboarding forms, Leave, Salary Changes, Retirement, LiveScan etc.)
Procurement (RFP Final, Contract Final, Master Agreements, Contractors, ProServ, etc.)
Real Estate (Title/Deed, Use Agreements, MOUs, Partnerships, Construction Plans, etc.)
Releases of Liability, Security/ Risk Assessments, Vendor Partnerships, Change Requests, Campus Policy Acceptance, Parking Permit Applications
Research/Innovation (Conflict of Interest, Invention Disclosure, NDAs, Sponsor/Partners
Types of documents that can be approved through email, acknowledgment button, agreement checkbox, form submittal, or other electronic means:
Status Verification, Travel requests, Data Collection forms, Donation Transmittal, Event Management Forms, Fund Requests, History (Employment, Degree, Certifications, Driving) collection, Vehicle Accident Reports, Performance Evaluations, Rental Forms, Ticket Sales, Transfer Requests, Student Government, Housing Applications, Greek Life, Title IX Reporting Forms, Planned Outages, Service Requests, Chargeback/Recharge, Missing/Lost Receipts, Expense Reimbursement, Recruitment Requests, Training/Certifications, Incident Reporting, Vendor/Supplier Compliance, Proposal Reviews
If you need a document signed with a signature, use DocuSign. Based on our site license with DocuSign, UC San Diego faculty or staff can upload an existing form (PDF, Word Document, etc.) and route it for signatures. Find out how to get started using DocuSign.