Virtual Whiteboards for Video Conferencing
Virtual Whiteboards for Video Conferencing
Last Updated: June 7, 2022 5:36:45 PM PDT
Learn about virtual whiteboard products supported by ITS.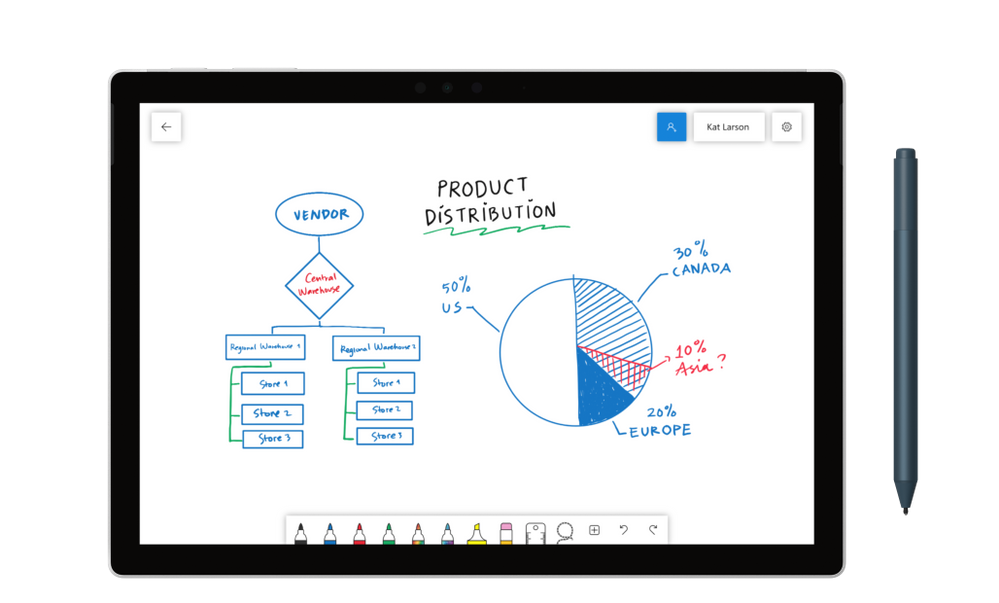 Virtual "whiteboarding" products provide a shared visual workspace, similar to a physical board, to support many different kinds of group work. These products allow teams to collaborate together in a visual workspace for various purposes where a whiteboard, kanban board, or other physical board would be used in an in-person setting.
This is a new and emerging market segment that is constantly evolving. Product offerings vary in features, built-in tools and widgets, board templates, and integration with other collaboration platforms such as Office 365, Google Workspace, and Zoom.
Common Features
Integration with existing collaboration services including virtual meetings and live chat
Ability to add widgets such as sticky notes, freehand drawing, text, and images
Synchronous contributions to a single whiteboard in real-time
Available across devices, platform, and browsers
Ability to export and save locally to a device
Supported Options
Virtual whiteboards are packaged with some of our available platforms and are broadly available to faculty, staff, and students as part of our campuswide licenses. These products are presented in order by functionality, starting with products that have the most basic set of features.
Zoom Whiteboard
To open a Zoom Whiteboard, first join a Zoom meeting. During your meeting click Whiteboard in the Toolbar





This integrated meeting whiteboard supports freehand drawing, text boxes, shape stamps, pointers, spotlights, and other simple tools. To access a list of all your Whiteboards, go to your zoom profile https://zoom.us/profile. You will notice a new icon in your personal profile named Whiteboards New.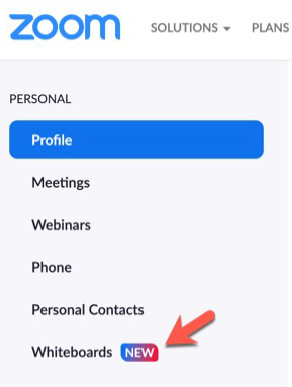 Visit the Zoom website for more information about Whiteboards.
Microsoft Office / Teams Whiteboard
Microsoft Whiteboard integrates with Microsoft Teams. The Whiteboard provides freehand drawing, text boxes, and resizable post-it notes.  The Whiteboard persists within the same meeting room in Teams and you can also export as an image.
To open a Whiteboard within Microsoft Teams, join your Team meeting first. During your meeting click the Share button at the top right. Then select Microsoft Whiteboard.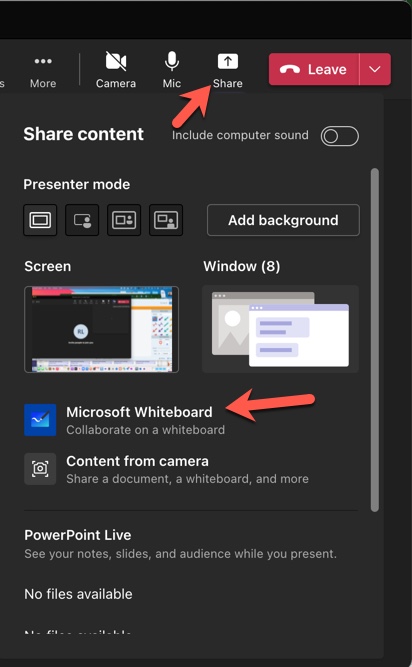 Visit the Microsoft Website for more information about Whiteboards.
Google Jamboard
Jamboard is the collective brand name for Google's interactive whiteboard system, which includes a 55" 4K touchscreen and the Jamboard app. Jamboard is part of Google Workspace and has similar features to the Microsoft Whiteboard.
This integrated meeting whiteboard supports freehand drawing, text boxes, post-it notes, simple shapes, and a "laser" pointer tool. Jamboard allows you to save multiple boards for later modification and use.
Jamboard can be launched in a new window from within a Google Meeting, but does not directly integrate with the meeting experience; presenters will have to share the Jamboard window with their audience.
Lucidchart / Lucid Suite
Lucidchart is a charting and diagramming tool, similar to Microsoft Visio, that runs in a web browser.
Lucidchart can also be used in a similar manner as any of the other products on this list as a free-form "board" for a variety of purposes. Prior to a meeting or other collaborative setting, the owner of the Lucidchart "board" shares the document with other collaborators via a URL link. The meeting host can then share their screen using their video meeting platform of choice for attendees who will only be observing, while contributors can interact with the board in real-time.
Boards are saved as individual documents and can be organized into folders in your personal Lucid workspace.
UC San Diego has a campuswide Lucid Suite license that includes both Lucidchart and Lucidpress, a web desktop publishing tool for brochures, flyers, and presentations. You can access both products by logging in with either your UC San Diego G Suite or Microsoft 365 accounts.
Need help? Contact your departmental technical support or the
ITS Service Desk
, (858) 246-4357 or ext. 6-HELP.