G Suite for Education
Last Updated: May 21, 2021 2:59:22 PM PDT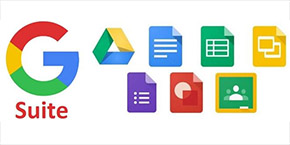 Learn about G Suite for Education. Note: Products referenced below are available via Google with your Active Directory credentials and protected by two-step login.
G Suite for Education, a collection of Google's no cost, web-based applications are available ad-free for UC San Diego faculty and staff.
Health Sciences colleagues, please visit the ITSS page to learn about the G Suite for Education acquisition process.
Access
Log in to your G Suite account at gsuite.ucsd.edu with your @ucsd.edu email address. You will then be directed to our single sign-on page to log in with your active directory (AD) credentials.
If you have questions about G Suite for Education, check out the FAQ. If you're interested in how G Suite might be used in your own department or unit, talk to your IT department or system administrator.
Included apps
Information for Health Sciences Personnel
In adherence to HIPAA regulations, the use of G Suite for storing PHI is not supported. In the near future, Health Sciences faculty and staff as well as medical and pharmacy students will receive a version of G Suite that will ultimately support the storage of protected health information (PHI). In the mean time, Health personnel can direct any questions to 3help@ucsd.edu.
Resources