CMS: Editing an Existing Page
CMS: Editing an Existing Page
Last Updated: August 10, 2022 1:09:30 PM PDT
Learn how to edit an existing page in the campus CMS.
Drill down to the page you want to edit
In the left-hand sidebar, drill down to the page you want to edit. Selecting the file will display a preview of the page in the right pane.
In the main window, click on the Edit icon.


The Edit window will overlay the CMS window:

Make your changes to the page
The first fields you will be able to edit are for page metadata. This should not need to be changed frequently.
The remaining editable fields depend on the page's template. Many fields will use the WYSIWYG (What You See Is What You Get) editor for each field.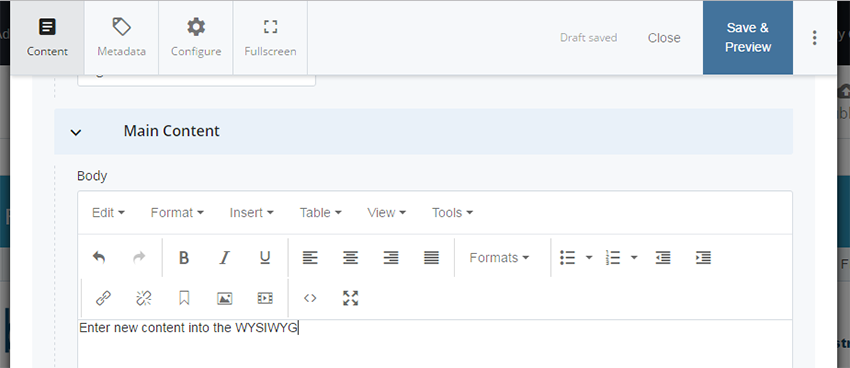 Preview and submit your progress
Click Preview Draft.

Click Submit
Note: 'Submitting' in this case means that you have made a new version of this page in the CMS for others to see. These changes are not yet published to a web server.



Enter comments describing your changes. Some comments may be automatically generated for you


Click ether Submit or Check Content & Submit
If you choose Check Content & Submit the CMS will check for spelling errors and broken links.
Publish the page
Depending on your access, you can publish the page to just the staging site, to the staging site and the delivery site. Learn more about publishing.