Staff Education & Development
Last Updated: April 27, 2022 2:31:10 PM PDT
Learn about Staff Education & Development.
Who We Are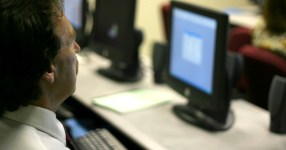 UC San Diego Staff Education & Development (SED) is a multi-function division of the Human Resources Department that consists of Learning & Development, Organization Development, and Learning Technologies. SED is responsible for providing complex organization development consulting services and programs, instructor-led and e-learning, instructor support, enrollment management, development and coordination of major professional development programs and processes for UCSD employees; coordination of systemwide development programs and processes for the campus,  self-study library acquisition and administration, administration of the UC Learning Center, oversight of professional development policies and use of educational benefits. Staff Education & Development supports two training facilities, instructor led classes, e-learning, thousands of course enrollments and compliance training reporting.
Staff Education & Development Mission
Our mission is to provide an adaptive learning and organization development infrastructure to support a creative, collaborative and innovative work force that furthers the university's mission.  We will meet the needs of individuals, teams and the organization:
By providing a blend of offerings that are strategically developed to relate to one another within the context of campus strategy
Through a variety of delivery methods leveraging technology whenever possible
By recognizing and responding to the diverse learning styles of our campus community
By creating and managing learning experiences that promote high performance and professional development
Through leveraging our expertise as learning and organization development professionals
Directions to our classrooms
Staff Education & Development Newsletter
We distribute a campus-wide newsletter to inform staff of upcoming classes and trainings. 
Check out the current Summer Quarter 2021 (PDF) issue of the SED Newsletter.
Past Issues:
To receive updates on upcoming classes, trainings, and professional development events, please subscribe to the Staff Education & Development mailing list.