Percipio Online Learning
Last Updated: July 18, 2022 9:27:23 AM PDT
Learn about the free online courses, books, videos, and assessments available with Percipio.
Percipio content is now available in the UC Learning Center!
UC San Diego has partnered with Skillsoft to offer faculty and staff a wide variety of free web-based courses, books, videos, and assessments available through Skillsoft's new Percipio content library. This new immersive learning platform is designed to make learning easier, more accessible, and more effective. Percipio content will be integrated directly into the UC Learning Center.
Percipio incorporates multiple learning modalities including video courses, assessments, digital books, certification test preps, and audiobooks.
Watch: Videos allow you to learn quickly and play and pause content at your own pace.
Read/Listen: Read books on your computer or mobile device, or listen to audiobooks while you're on the go!
Practice: Certification test preps and assessments allow you to test your knowledge on a wide variety of subjects.
Percipio incorporates multiple learning modalities including video courses, digital books, audiobooks, certification test preps, practice labs, bootcamps and live events. Many of these resources are further organized into Bundles and Aspire Journeys. Learn more below about the various types of resources available to you through Percipio.
Bundles
All of the resources in Percipio are organized in Bundles. A Bundle curates content to make it easy for you to find learning that is most relevant to you. Bundles contain content in different modalities to help you learn based on your preferences. 
Aspire Journeys
Aspire Journeys are pre-curated, prescriptive, role-based, and skill-based learning paths that prepare learners for the high-demand roles needed today and tomorrow. This deep learning experience is organized into a simple linear path, allowing learners to build mastery with confidence.
Certifications and Test Preps
Percipio provides access to learning resources that prepare you to sit for a wide variety of certification exams ranging from Project Management Professional certification to Amazon Web Services certification and more!
Bootcamps
Skillsoft Bootcamps help you gain valuable information on popular topics that are aligned with industry competencies within a relatively short period of time.
Practice Labs
Practice Labs are interactive labs that can mirror almost any hardware or software configuration. As a technical professional or developer, you can practice critical skills in a safe environment.
Live Events
Skillsoft's scheduled Live Events provide an opportunity to learn from leading industry experts to help sharpen your skills and continue your professional development journey.
Additional features and content will be released regularly!
UC San Diego staff and faculty have access to the Percipio content library at no cost to them.
Access Percipio through the UC Learning Center. Visit UC Learning Center: Log In Help to learn how to access the UC Leaning Center.
Use Search
If you already have a learning activity in mind that you wish to search for:
Type in the title or a keyword for the training you are looking for and press

 

Enter.
If you see an activity that interests you, click the title to navigate straight to the description and Start button.
From the search results page, you may also click on the More Actions kebab menu (three vertical dots) next to each course to access the Start button and/or view details.

Use the Library
You can use the Library to view available learning activities within the Percipio topic.
Click the Library icon on the Side Menu.
Click the arrow to the left of the category to view any subcategories.
Click on the various categories and subcategories to review the learning activities available on that subject.
Use the Percipio topic in conjunction with a specific search term to obtain more specific results.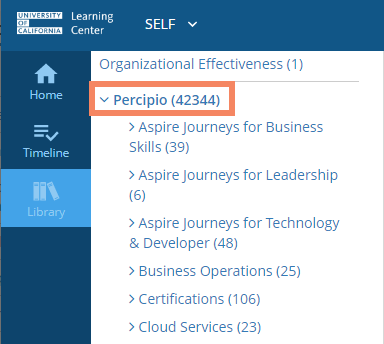 You can also use the relevant search filter to locate individual ecourses, books and audio books, bundles, Aspire Journeys, test preps, and practice labs in the UC Learning Center.
Click the Library icon on the Side Menu.
Click the Filters category.
Check the different modalities for which you would like to view results.
Use the activity filters in conjunction with a specific search term to obtain more specific results.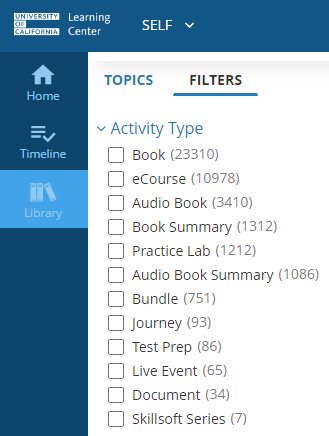 Using the tips listed below can you help you get the best experience with Percipio. 
Test Preps and Practice Labs - We recommend not accessing these activity types using the Mozilla Firefox browser. Please access them using either Google Chrome or Microsoft Edge.
Exit Training link - Each Percipio activity contains an "Exit Training" link that you can click at any time to close out the activity rather than navigating away from the activity by clicking other links on the page. Clicking this link ensures that your progress is saved every time.