Campus Cards for Faculty and Staff
Last Updated: June 7, 2023 1:47:19 PM PDT
Faculty and staff, find out how and where to use your Campus Card.
To request a Campus ID Card, please fill out an ID Card Request Form. Once reviewed by Campus Card Staff, you will receive an email with instructions to pick up your ID Card.

The cost of a new employee/affiliate ID card is $25. Departments can cover the cost by providing a valid project number, task number, and if applicable, funding source number. Alternatively, the employee/affiliate can make a debit/credit card payment of $25 via our eMarket site (link is provided on our ID Card Request Form).

Important: Because there are a variety of items that we must reivew prior to printing out your ID card, we are unable to accept walk-ins. We will do our best to accommodate your request for an ID card as quickly as possible. The Campus Cards Office does not mail out ID cards. 
Current/Existing Affiliates with Legacy ID Cards: The Campus Cards Office has transitioned affiliates to the One Card, effective May 2022. As a result, new affiliates will now receive the official One Card. Current/existing affiliates are also able to upgrade their current legacy ID card to the One Card by completing our Services and Support Affiliate Upgrade Request Form. Please note that the $25 charge remains in effect for affiliates upgrading to the One Card. This charge can be paid for by either the affiliate's department or the individual affiliate.

Oracle Financial Cloud Update 
Departments covering the cost of an ID card are required to provide the Common Chart of Accounts - specifically, the Project, Task, and Fund (if applicable) numbers. Please be sure to include this information when filling out the ID Card Request Form.
UC Path Update
With UCSD's transition to UC Path complete, all UCSD employees have new employee numbers. Please be sure to use the UC Path Employee ID number when requesting an ID Card. 
Need to find your employee number? Employees can access their employee number via Ecotime and via the new UC Path online portal. 
Location
The Campus Card Office is located in the Student Services Center, third floor (map)
About Campus Card
Your Campus Card is your employee ID and key to the campus. In addition to serving as your official photo identification card and security badge, the Campus Card will give you access to campus buildings and events, and lets you: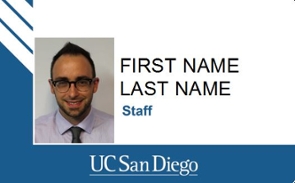 Special Badge Requests
If you are a department on-campus and need to request special badges (i.e. RA badges, CSO badges, etc.), please contact us at our UCSD email address. Please also complete our Campus Cards Special Request form and attach it to your email (please note that there are two different tabs you must complete on the form).

Emergency Access Requests

The card also gives proof of official campus affiliation for quick identification during an emergency or major disaster. If your job duties grant you special access during an emergency, your department can request this designation on your card. Please note that campus affiliates are ineligible for E-Access ID cards. 
Triton Cash

When you deposit funds onto your Campus Card, it becomes a Triton Cash debit card, allowing you to make cash-free purchases at many on- and off-campus locations. For more information about Triton Cash, please visit: https://hdhtcas.ucsd.edu/accounts/triton-cash/index.html.