One Card Project
Last Updated: October 27, 2022 9:50:20 PM PDT
Learn more about the One Card project.
In Winter of 2019, UC San Diego implemented the One Card project, a campus-wide initiative to update and improve ID cards for students, staff, faculty and affiliates. The project, which will continue over the next several years, will also streamline the processes associated with management of UC San Diego ID cards. Incoming students in 2018 were the first to receive the new One Card. Staff, faculty and others started to receive One Card in 2019. Throughout implementation, legacy ID cards will still remain in use and valid. 
Background
The One Card project is a campus-wide initiative to improve processes associated with the management of ID cards at UC San Diego. The executive sponsor is Pierre Ouillet, Vice Chancellor-Chief Financial Officer.
As part of this initiative, a cross-functional team identified and coordinated the testing of a single card platform capable of both backwards compatibility and future extensibility, and developed a set of specifications to help guide future equipment purchases.
Partnering with the University Communications and Public Affairs office, updated designs were created to reflect the new campus branding. New designs for Staff, Faculty, Affiliates, Extensions ID Cards are underway.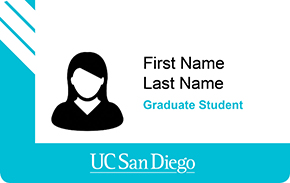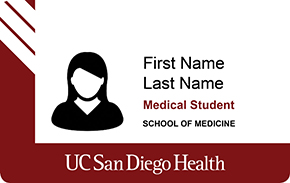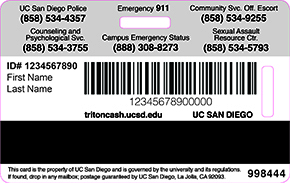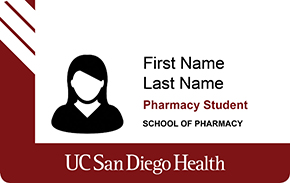 New Features
The new card has the same magnetic stripe and barcode of the legacy card, making it backwards compatible with all known card readers. 
Additional features like near-field communication (NFC), proximity (PROX) and an embedded 4K chip will ensure that the cards will be up-to-date with modern readers being installed in new constructions.
Are you a vendor or buying new equipment on campus? See a list of compliant equipment and specifications.
Implementation Timeline
Fall 2018:
Incoming students have already begun receiving the new ID cards beginning Fall 2018. Student Financial Solutions (SFS), previously known as Student Business Services (SBS), currently distributes One Card to all undergraduate, graduate, School of Medicine, and School of Pharmacy students.
All students who need a replacement card will get the new One Card.
Spring 2019:
Summer 2021: 
SFS Campus Cards Office partnered with UCSD's Extended Studies Division (formerly known as Extension) to transition their students to the One Card. 
Spring 2022: 
SFS Campus Cards Office transitioned campus affiliates to the One Card. 
There is a One Card upgrade service affiliate for existing affiliates with the legacy affiliate ID card. Please note that this upgrade service still carries a $25 replacement card fee. In order to request to upgrade to the One Card, existing affiliates can completed our Affiliate One Card Upgrade Request Form (UCSD AD/SSO required). 
2022 and Onward: 
The Campus Cards Office currently offers a One Card upgrade service to employees who still have their legacy ID cards. Please fill out an ID Card Request Form (current employees) if you are interested in obtaining a One Card. 
UC San Diego also hopes to implement a more comprehensive mobile ID solution in the coming years.