Security
Last Updated: March 7, 2023 10:23:32 AM PST
Personal Cybersecurity and Identity Protection Resources, Including Steps to Take Following the UCOP / Accellion Data Breach
For continued 
protection against viruses and malware,
 be sure your 
university-owned computer has
Trellix installed and registered
. 
Learn more about Trellix and anti-virus software for personal computers at
antivirus.ucsd.edu
.
---
Webinar: Living on the Dark Web
Webinar presented July 13, 2021 by Michael Corn, Chief Information Security Officer, UC San Diego. The identity protection tips and accompanying links and phone numbers are available at: identitytheft.ucsd.edu.
Now available: English and Spanish subtitles.
---
UCOP Security Incident: News, FAQs, and Resources
July 1, 2021: UCOP began sending individual notices via USPS and email to impacted personnel. Read the updated FAQs from UCOP for more information. 
May 10, 2021: UCOP issued a "Substitute Notice of Data Breach" with updated information. 
April 2021: The Office of the President announced a significant security incident involving UC employee information due to the Accellion data breach. The Office of the President continues to investigate the incident, and we expect that more details will become known over time.
It is very important that every member of the UC San Diego community take steps now to protect themselves against identity theft and fraud. 
The following documents published by the Office of the President provide additional information about the security incident. 
Identity Theft Protection Workshop, presented April 8, 2021, by Vince Kellen, Chief Information Officer, and Michael Corn, Chief Information Security Officer
Steps to Take  
Protect yourself by signing up for UCOP's free identity monitoring service (Experian) and place a fraud alert on your credit files.  
Resources, News and FAQs from UCOP
Translated Information 
Identity Theft and Your Social Security Number
Questions
Questions about the incident or using the identity monitoring services can be submitted to communications@ucop.edu.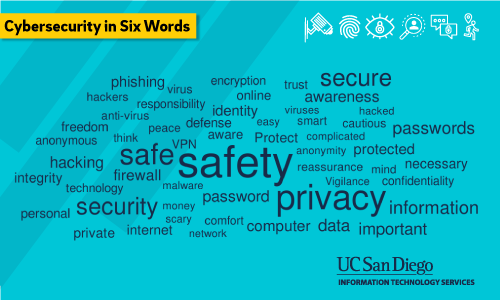 Join The Conversation
Our Cybersecurity in Six Words campaign started a campus conversation about cybersecurity as we sought your input on the issues that affect your safety and security online. With 380 card entries submitted to date, totaling 1,494 distinct words, your data is telling. Hear from UC San Diego's Chief Information Security Officer Michael Corn to see what the campaign revealed so far.
Questions or Need Help? Contact us.
Table with security alerts and cybersecurity tips

| | |
| --- | --- |
| Security Alerts | Cybersecurity Tips |