Voice Mail Privacy
Last Updated: December 4, 2018 10:38:33 AM PST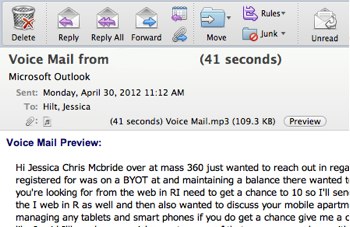 Find out how to take steps to increase privacy when using voice mail.
Voice mail is considered a form of data for the purposes of electronic discovery (eDiscovery) in regards to California Public Records Act (CPRA) requests. The new voice mail system (unified messaging) has raised awareness of the transmission of sensitive data via voice mail. Although the status of voice mail as data is not new and has not changed from the previous voice mail system, IT Services recommends that you use this change to assess your risk for sending sensitive or private information into the wrong hands.
Remember, you can help keep the information in your voice mail safer by choosing a strong password. Stay away from common number sequences or things like birthdays or repeating numbers (such as 1111). Pick random sequences of numbers. Make the technology work for you.
If you work in an area that handles personally identifiable information (PII) or personal health information (PHI), remind callers that they should not leave that information on your voice mail.
Example
"You have reached the voice mail of Dr. Bob Smith. Please leave me your name and phone number and I will return your call as soon as possible. As a reminder, do not leave any personal information such as your social security number or medical information. I can gather any necessary information when I return your call. Thank you."
Message preview is when a voice mail is transcribed into an email and sent to you. The transcription service does not increase or decrease your eDiscovery or PII/PHI risk. However, if you are having your email forwarded to a personal account or if you have callers that continue to leave personal information despite your best efforts, IT Services recommends that you do not "Opt In"  to voice mail transcription to emails to minimize exposure.
To add the Speech to Text feature, please submit a CSR and select Voicemail for the service. In the service description box, provide your campus extension, and state you would like to "Opt IN" for the Speech to Text feature.
By default, all voicemail boxes will be set up as an "Opt OUT" account.
If you are making a call and you would like your phone number not to be sent to the receiving phone, you will need to contact the ITS Service Desk, (858) 246-4357 or ext. 6-HELP.
For more information, contact the ITS Customer Service Team at (858) 534-4277.