Why Two-Step Login
Last Updated: July 16, 2019 2:21:31 PM PDT
Learn why two-step login is in place at UC San Diego.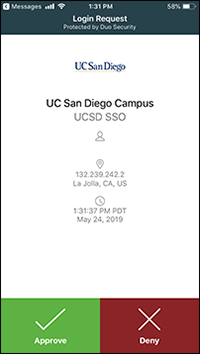 Enabling two-step login is the single most important measure UC San Diego can take to protect networks and applications from hackers and other malicious actors.
Login credentials are more valuable than ever and are increasingly easy to compromise. Credentials can be stolen, hacked, or guessed, and you may not even know when someone else is using your account.
Two-step login increases account security by preventing anyone but you from accessing your account — even if they know the password.
You're probably already familiar with two-step login, which is alternately known as two-factor authentication or multi-factor authentication. An example would be when you log in to a site and are then required to enter a code sent via text message, phone call or email.
Since faculty and staff started using Duo in 2018, hacking and other non-authorized access reports have been cut in half.
Two-Step Login with Duo
UC San Diego has chosen Duo Security to manage the two-step login process. Two-step login kicks in once you've entered your username and password as normal. Duo's technology facilitates the second step of the login process. 
UC San Diego Health, UCLA, UC Berkeley, Indiana University, Stanford and other major universities also use Duo for their two-step login needs. 
And, before you ask... you won't need to establish a new username or password to use two-step login and Duo, nor will you have to change any existing passwords.