SSO & Remember Computer for 7 Days
Last Updated: November 4, 2022 4:23:15 PM PDT
Use two-step login with single sign-on and have your computer remembered for seven days.
Single Sign-On 
Many of the key business applications you use on a daily basis are accessed through the university's single sign-on system. These include popular Personal, Business, Enrollment, Financial, Instruction and Research Tools that you access under the Blink tools menus or MyTritonLink.
Remember Computer for 7 Days
You can tell Duo to remember your computer for 7 days. This is not available through the Duo app; rather, it's available during the SSO two-step login process by checking the box labeled "Remember me for 7 days." There are two scenarios for the "remember me" function:
If You Choose an Authentication Method Each Time you Log In
If you have your preferences set to choose a two-step device each time you log in, simply check the box next to "Remember me for 7 days" before choosing your two-step device (see Figure 1 below).
 Here are instructions for setting device preferences if you need a refresher.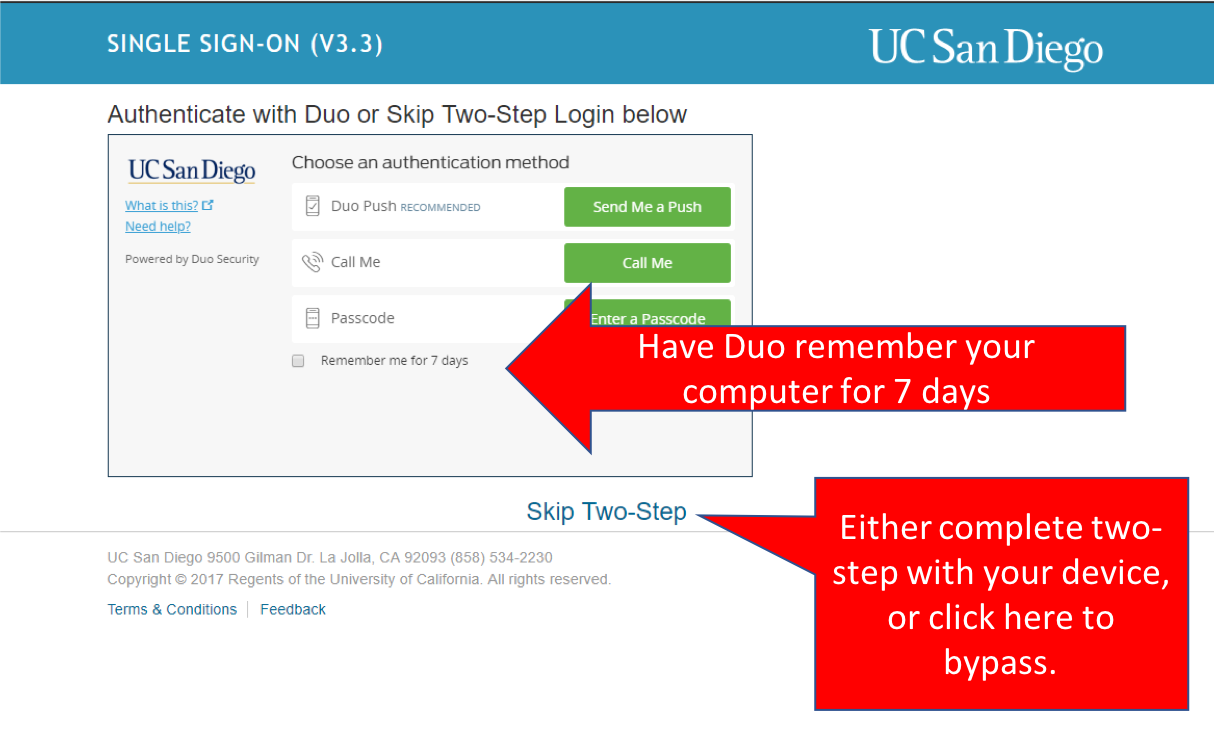 If You Have Duo Automatically Complete Two-Step Through a Preferred Device
If you've told Duo to automatically complete two-step through a preferred device, you'll still see the Duo preferences manager on your screen. To remember the computer for 7 days:
Click "Cancel" in the blue bar before completing two-step on your device 
Click the box next to "Remember me for 7 days"
Choose a device via which to complete two-step login (see Figure 2 below)