Data Access & Security
Last Updated: May 2, 2021 5:29:38 PM PDT
Learn how to access Activity Hub data using the Cognos and Tableau analytics and reporting tools.
Reporting and Data Access
Data from enterprise sources is collected in Activity Hubs. Developers, using the Cognos and Tableau data analytics and reporting tools, create reports that are made available to report consumers through the bah.ucsd.edu website.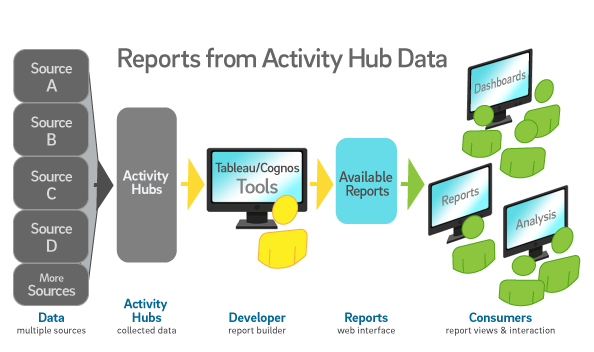 Developers
Build reports in Cognos/Tableau. 
Attend Community of Practice meetings. 
Take Cognos/Tableau training – may not need all levels of training. 
Send question, issues or requests to the Business Intelligence and Analytics (BIA) team.
Consumers 
View and/or interact with pre-built reports in Cognos/Tableau. 
Send questions, issues or requests to the Developer.
Data Access
Access must be requested for each Activity Hub needed for reporting and analysis.
The owner, or data steward, for each Activity Hub approves access and may require additional information and training before access is granted.
After access to the data has been approved, access to Cognos and Tableau analytics tools is determined through membership in specific Active Directory (AD) security groups. AD groups allow approved report developers and report consumers access to the data (Activity Hub), analytics dashboards and reports that view source data or specific data fields.
Access assignment and management
Request AD group access through your DSA, DSA email lookup or department lookup. The data source contact can tell you the AD group associated with the data you need.