Report Development
Last Updated: May 16, 2023 1:19:25 PM PDT
Do you wish you could be more involved in the report development process? Wonder what happened to that enhancement request you submitted? Curious what we're working on now? Find answers to these questions here.
Do you wish you could have more of a voice in the report development process? Do you feel frustrated that current reports don't meet your needs? The BI & Financial Reporting team has an ongoing need for report testers as well as subject matter experts to contribute to report development efforts. We need individuals in a variety of roles with a variety of financial expertise.
If you would be interested in participating in either of these activities, please complete this form. Staff, please gain approval from your supervisor for your participation prior to completing the survey. If we reach out to you, you will have the opportunity to decline participation at any time.
Time commitments (per report development engagement):
Report testers are called on to test new reports for accuracy before they are released into production. Time commitment is 1-2 hours per week for 2-3 weeks.
Focus group subject matter experts are called on to provide input into the report development process during the design stage. Time commitment is typically 1 hour per week for 4-12 weeks, with some additional homework time between workgroup meetings.
If you have an idea for a new report or an enhancement to an existing report that would make doing your job easier, submit your idea in a Budget & Finance Enhancement Request.  Don't worry that someone else may have already submitted the same idea.  When we see the same idea submitted by different users, it helps us to highlight the need for campus and we will consolidate requests after submission.
After you submit your idea, it goes through a series of vetting, approval, and prioritization steps before it moves into report development. In the first step, the idea is reviewed by the Budget and Finance User Group (BFG).  You can reach out to your Vice Chancellor area BFG representative to discuss your idea in detail and find out what other ideas the BFG has discussed.  The entire report enhancement process can take several months to complete.  The process flow is outlined below.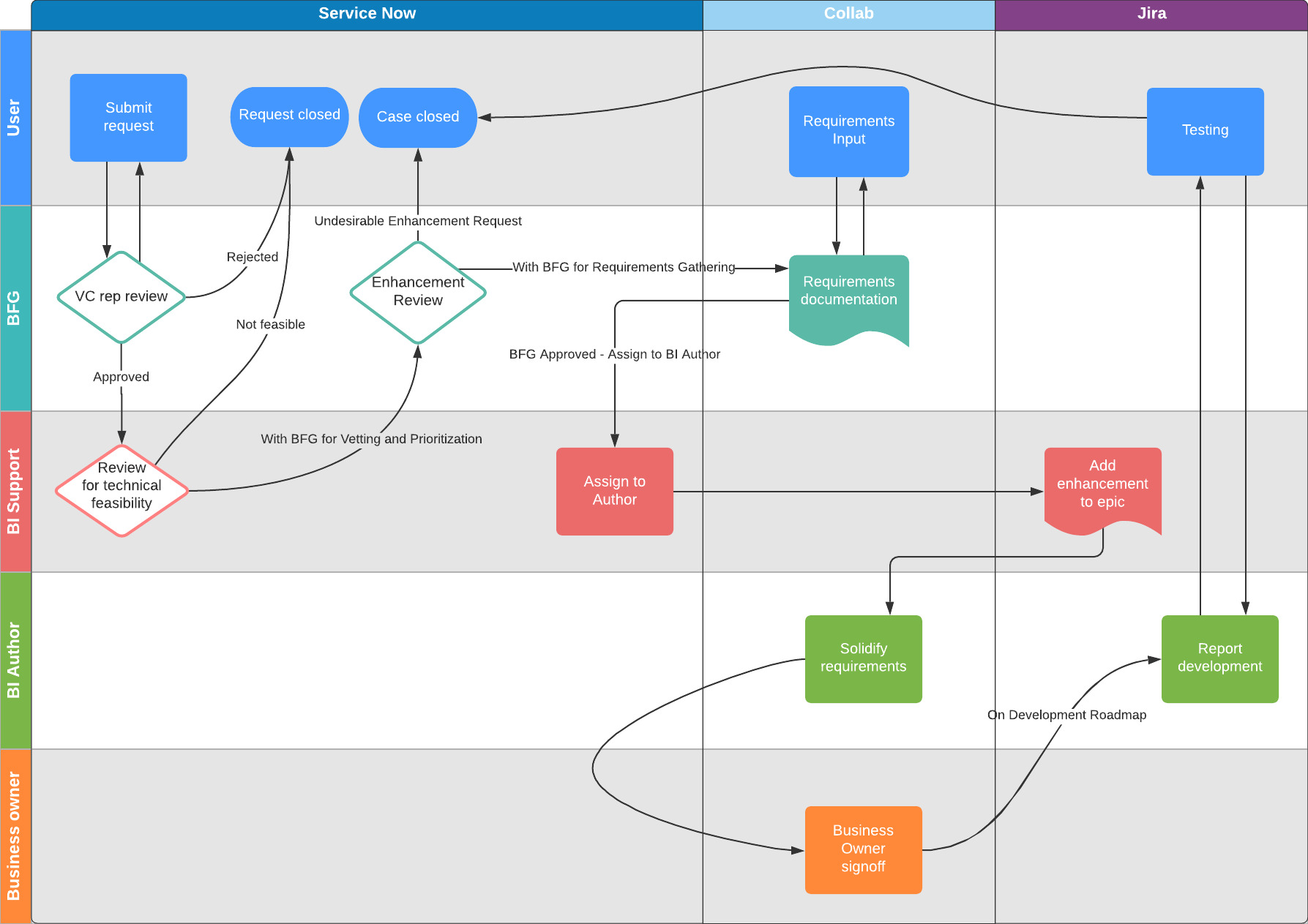 The table below describes work that is ongoing for release in the near future.
Report
Reporting Tool
What is being done
Tentative release date

Chart of Accounts Panorama
Oracle

Enable searching of all hierarchy levels on all reports

June 2023
Gift Fund Balances
Oracle

Repeating Fund number in Excel output
Additional Prompts for VSE Category and VSE SubCategory
Add prompt for L3 FinU

June 2023
Procure to Pay: Supplier Inquiry Report
Oracle

Removing:

Column and filter for business relationship
Filter for Supplier Site

Adding:

Columns for System Availability and Employment status

June 2023
Service Agreement Reconciliation Report
Cognos

Calculates amounts for Differential Income, ASSA, Campus Administrative Debit, Dean's Office Tax, and Department Tax, and compares them to the actual amounts charged.
Calculates a projected project balance after all anticipated taxes have been charged.

June 2023
Exceptions Reports
Oracle or Cognos

Multiple exception reports are in development for use by central offices, the central reconciliation team, and departments to correct erroneous transactions in Oracle.  These include:

Transactions with different project in PPM vs GL - May 2023

May 2023
Fixed Assets Reports
Oracle
Multiple reports to support the new Fixed Assets Module
July 2023
Faculty and Researcher Dashboard
Cognos

Enhancements:

Exclude non-sponsored tasks where no budget has been entered
Exclude non-sponsored tasks that have ended and have a $0 balance
Add alternate view with directs/indirects broken out
Payroll Page: Add alternate view that summarizes payroll by project

September 2023
 Future goals for implementation in fiscal year 2023:
Departmental, divisional, and VC fiscal leadership reporting
Filling gaps for recharge facility manager reporting
Training grant reporting
Clinical trials reporting
Interested in helping out with these future efforts?  See the Get Involved section above.
Report
What was done
Released

GL Project Balances

Project Classification has been added to the Summary tab to allow users to group and sort balances by project class category and class code.

5/8/2023
Transaction Details

Project Department Reporting Category (Faculty Controlled vs Department Controlled) has been added as a multi-select prompt and as a field in the PPM Cost Transactions Full report and the GL Transactions report.

5/8/2023
Project COA Lookup

A new filter for "Fund Starts With (First Character Only)" has been added to the Project COA Lookup report.  Use this filter to search for all chartstrings for a particular category of gift funds.

5/8/2023
Project Overview

New columns have been added on the Project Overview report for the Fund and Function associated with the Task at project setup.

New column for Business Unit

5/8/2023
Project COA Lookup

Added parameter for Fund Stars With (First Character Only)

4/24/2023
Expanded Project Summary

Four different options are available for the Project Summary:

With and without budget periods

With and without Tasks 

The Award Anticipated Amount has been added to the top section for sponsored projects.  This amount is the total amount of the award for all budget periods as indicated in Kuali Research.

The budget period end date has been changed to budget period range (Start -> End dates)

When entering a date range for sponsored projects, you can choose whether that date range applies to the Accounting Date or the Expenditure Item Date.  When choosing Expenditure Item Date, Payroll Details are filtered by Earnings Period End Date.  Choose Expenditure Item Date to align costs with budget periods. 

Added drillthrough to Transaction Details report on Expenditure by Month table.

Future budget years are now excluded when running the report as of a date in the past.

4/24/2023
Project Management Dashboard

All reports on the dashboard now open in a new tab.

A new view under Expenditure by Month by Type breaks costs down by Expenditure Type.

Balances are now calculated as Budget – Costs.

The Variances page includes a new table to help you identify discrepancies between award dates in Kuali and Oracle.

4/24/2023
Department Exceptions Dashboard

BPM Aged Items:

This report identifies the approval state/status of contracts, invoices, budgets, and project cost transfers. Worklist items become stale/stuck if not acted on in a timely manner.

Misc receipts on SP that might be wrong:

Sponsored Projects should have miscellaneous revenue posted as a credit to expense or applied towards an invoice. This report displays the miscellaneous receipt accounting and PPM accounting to reconcile and identify mismatches between the two modules.

4/24/2023
Transaction Details

Expenditure Invoice Line Requester added to PPM Cost Transactions (PPM Full)

PPM Commitments now excludes commitments where the total is $0

Expenditure Item Date added to GL Transactions

Two prompt updates:

New Fin Unit L2 (Entity Code) prompt

Expenditure Batch prompt now filters by the User Expenditure Batch field for PPM Transactions

4/11/2023
Contract Invoice and Payment Report

A new column has been added for bill-through Date

4/11/2023
Graduate Student Funding Report

This report allows users to:

Verify funding sources for payroll, tuition, fees, and stipends across multiple terms/years by graduate student, department, fin unit, and project.

Discern how a student is funded over their tenure as a graduate student.

View data as individual transactions, summary for each student by accounting period, or both.

3/24/2023
Cost Share Reconciliation Dashboard

PPM Cost Share Summary: Understand how much of committed cost share has been spent
GL Cost Share Summary: Understand whether cost share commitments have been funded to the project in the general ledger
Misposted Cost Share Transaction Details: Identify cost share transactions posted to the wrong funding source

3/13/2023
Cost Transfer Dashboard

A new page on the project cost transfer panorama for "other adjustment status"
Cost transfer workflow report is now searchable by the financial unit with a multi-select option.

3/13/2023
Incoming Payments Report

New fields have been added on the Incoming Payments report for receipt type and creation method.

3/13/2023

Sponsored AR Aging

Multi-select for Financial Units, Award Type, and project class code
New prompt for Line of Credit

3/13/2023

GL-PPM Reconciliation

The following prompt has been added to this report: Project Manager Home Department

3/7/2023

UCPath-PPM-GL Salary Reconciliation

The UCPath-PPM-GL Salary Reconciliation report has been modified to account for Pay for Family Care and Bonding (PFCB).  PFCB salary is charged as normal salary in both the Labor Ledger (UCPath) and in Oracle, but is subsequently refunded to the Project in Oracle only.  This was creating artificial discrepancies on the Salary Reconciliation report.  

The PFCB salary amount from UCPath is now broken out into a separate column and is not included in the Variance calculation.  In cases where the refund occurred in a different month from the original salary, you will see a variance in the month of the salary and the opposite variance in the month of the refund.  

3/7/2023

GL Project Balances

New Project Organization prompt
New Project Manager prompt
Report excludes rows where all measures (e.g. beginning balances, YTD resources, YTD expenses, etc.) are $0

3/7/2023

Transaction Details

Enhancements:

New pages: Commitment Details, PPM Condensed column set
Select which page(s) to display (PPM Condensed, PPM Full, GL, Commitments) from the prompt page
New columns: Transaction/Requisition/Invoice Approver, Created By, Last Updated By, Accounting Date, GL Posting Date, PPM Creation Date, Project Manager, Most Recent Accounting Period, Task Start and End Dates, Project Start Date, Expenditure Comment and PO number added to GL page
New prompts: Expenditure Comment, Customer, Student PID, Managerial Account Category
New drillthrough to identify recharge contacts
Buttons to download a single page to Excel
Columns with no data are excluded from the table

November 2022
Faculty and Researcher Dashboard

Enhancements:

Add column for budget period start date
Add award total row
Drillthrough pages receive many of the same enhancements as for Expanded Project Summary

November 2022
Contract Management Dashboard

Enhancements:

Search summary reports by PI (sponsored) or project manager (non-sponsored)
New columns on Sponsored Contract and Project Summary: PI name, Sponsor Award Number, Sponsor Name, Commitments

 

November 2022
Department Operations Dashboard
High-level view of YTD financial activity by fund categories and project classifications to help departments understand the health of their operations.
January 2023
The table below contains communication for enhancement updates