Report Development
Last Updated: August 23, 2022 7:54:36 AM PDT
Do you wish you could be more involved in the report development process? Wonder what happened to that enhancement request you submitted? Curious what we're working on now? Find answers to these questions here.
Do you wish you could have more of a voice in the report development process? Do you feel frustrated that current reports don't meet your needs? The BI & Financial Reporting team has an ongoing need for report testers as well as subject matter experts to contribute to report development efforts. We need individuals in a variety of roles with a variety of financial expertise.
If you would be interested in participating in either of these activities, please complete this form. Staff, please gain approval from your supervisor for your participation prior to completing the survey. If we reach out to you, you will have the opportunity to decline participation at any time.
Time commitments (per report development engagement):
Report testers are called on to test new reports for accuracy before they are released into production.  Time commitment is 1-2 hours per week for 2-3 weeks. 
Focus group subject matter experts are called on to provide input into the report development process during the design stage.  Time commitment is typically 1 hour per week for 4-12 weeks, with some additional homework time between workgroup meetings.
If you have an idea for a new report or an enhancement to an existing report that would make doing your job easier, submit your idea in a Budget & Finance Enhancement Request.  Don't worry that someone else may have already submitted the same idea.  When we see the same idea submitted by different users, it helps us to highlight the need for campus and we will consolidate requests after submission.
After you submit your idea, it goes through a series of vetting, approval, and prioritization steps before it moves into report development.  In the first step, the idea is reviewed by the Budget and Finance User Group (BFG).  You can reach out to your Vice Chancellor area BFG representative to discuss your idea in detail and find out what other ideas the BFG has discussed.  The entire report enhancement process can take several months to complete.  The process flow is outlined below.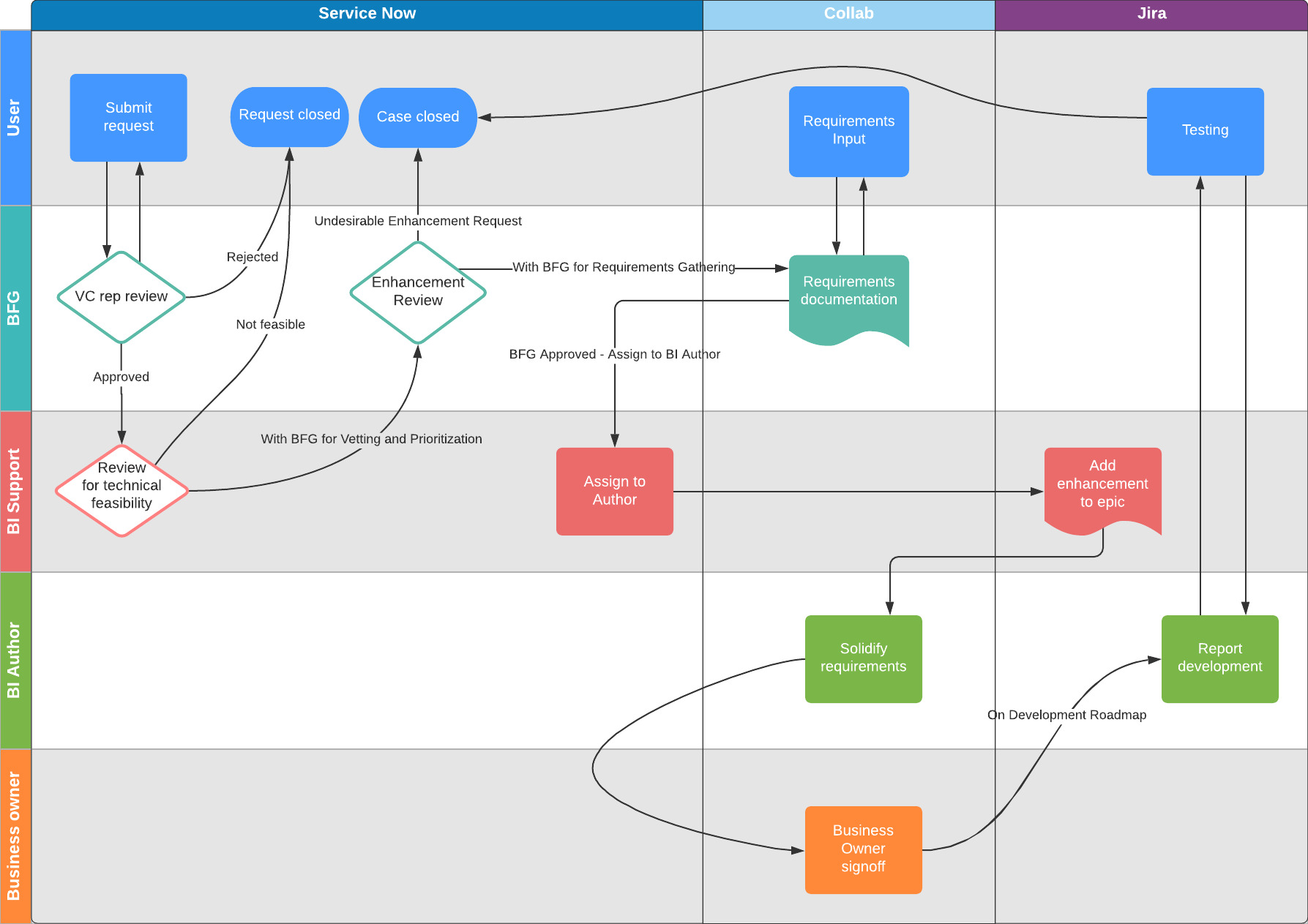 The table below describes work that is ongoing for release in the near future.
Report
Reporting Tool
What is being done
Tentative release date

Faculty and Researcher Dashboard
Cognos
Entire dashboard is being rebuilt in Cognos to deliver better speed and add payroll projections.  The summary page will include balances net of payroll projections, and the drillthrough pages will include projection details.
Released March 15
Default Project Payroll
Cognos
Displays detailed person information for payroll and other charges posted to the Oracle department default project that have not yet been corrected.  Use the information provided to complete Direct Retros or a DrPat template.
Released March 29
Expanded Project Summary
Cognos
Like the drillthrough pages of the Faculty and Researcher Dashboard, but run as standalone and searchable by award, project, and project-task.  A single report with PPM details on one tab and GL details on another tab.  Will include payroll projection details.
Released April 26
Transaction Details
Cognos

Separate tabs for PPM Expenditure Details and GL Transaction Details to replace and consolidate similar reports on Project Balances with Expenditure Details dashboard, Project Panorama, and Project Cost Details report with better functionality and performance.  Search by all available person roles, organization/financial unit, expenditure type/category and account code/category, time period of your choice, vendor, invoice number, PO number, isolate or filter out cost transfers, and more.  A high-risk filter empowers risk-based transaction sampling and ledger review.

Released May 10
Contract Management Dashboard
Oracle BI

1. Contract Summary report showing budget, revenue, payments, expenditures and balances against budget, revenue, and payments for contracts and associated projects.

2. Contract Billing and Payments report showing events, invoices, payments applied, amounts due, and the associated PPM Contract chartstring information for contracts.

3. Receipt Details report showing all details of receipts applied to contract invoices.

Released June 28
GL-PPM Reconciliation
Cognos
Enhancements to make it easier to identify the source of differences between GL and PPM with documented instructions about what to do with various types of differences.
Released June 12
General Ledger Project Balances with Commitments and Payroll Projections
Cognos
Similar to the current GL Project Balances report on the Project Panorama, incorporating PPM Commitments and UCPath Payroll Projections to provide a complete GL-based picture of available funds.  Searchable by a variety of project and chartstring attributes.
September
Project Portfolio dashboard
Cognos
Like the summary page of the Faculty and Researcher dashboard. Search by financial unit/organization, all available person roles (i.e. project/task manager, fund manager, etc.), isolate certain project types and classifications for departmental fiscal reporting.  Additional tabs for commitments, high-level variance analysis (GL-PPM, UC Path-Oracle, Kuali-Oracle, etc.), and payroll and non-payroll expenditures by month by project.  Drillthroughs to Expanded Project Summary and detailed variance analysis reports for further detailed analysis.  The Project Balances with Expenditure Details dashboard and Project Panorama, which have suffered chronic performance issues, will be deprecated two months after release of this dashboard.  All functionality on those two dashboards will be replicated and enhanced either on this new dashboard or on one of the reports described above.
September
Exception Reports
Oracle or Cognos

Multiple exception reports are in development for use by central offices, the central reconciliation team, and departments to correct erroneous transactions in Oracle.  These include:

GL transactions with project-financial unit or project-fund mismatch - released June 28
Incorrect PPM Budget resources used - released April 26
PPM Contract lines missing required setup elements - July 2022
General project DFFs missing function or fund code - October 2022
Multiple Individuals in same Award/Project Role - October 2022
Salary on fellowship awards - November 2022
BPM Aged Items - November 2022
Closed Projects with GL Balances - December 2022
Transactions with different project in PPM vs GL - December 2022
GL Transactions with No Project - January 2023
Transactions Stuck in Staging Table - January 2023
Capital/General Projects with incorrect prefix - February 2023
Project vs Task Owning Organization mismatch - February 2023

Ongoing, released as completed
Future goals for implementation in fiscal year 2023:
Filling gaps for departmental fiscal manager reporting
Departmental, divisional, and VC fiscal leadership reporting
Filling gaps for recharge facility manager reporting
Graduate student funding reporting
Training grant reporting
Clinical trials reporting
Interested in helping out with these future efforts?  See the Get Involved section above.