Consumer Space Station
Last Updated: November 30, 2021 6:15:58 PM PST
The Consumer Space Station is the centralized location for updates related to Oracle BI & Financial Reporting. All communications related to a release refer you here for additional details.
LESSONS:
Oracle BI - Introduction

provides a quick overview of UCSD's move to Oracle for BI and Financial Reporting, including the importance of data accuracy in source systems.
Oracle BI - Key Terminology defines key terms to know before using Oracle's new BI & Financial Reporting tools.
Oracle BI - BAH Access covers how to access BI & Financial reporting tools through the Business Analytics Hub (BAH).
Oracle BI Office Hours have been replaced with the ability to schedule a Solo ORBIT Session.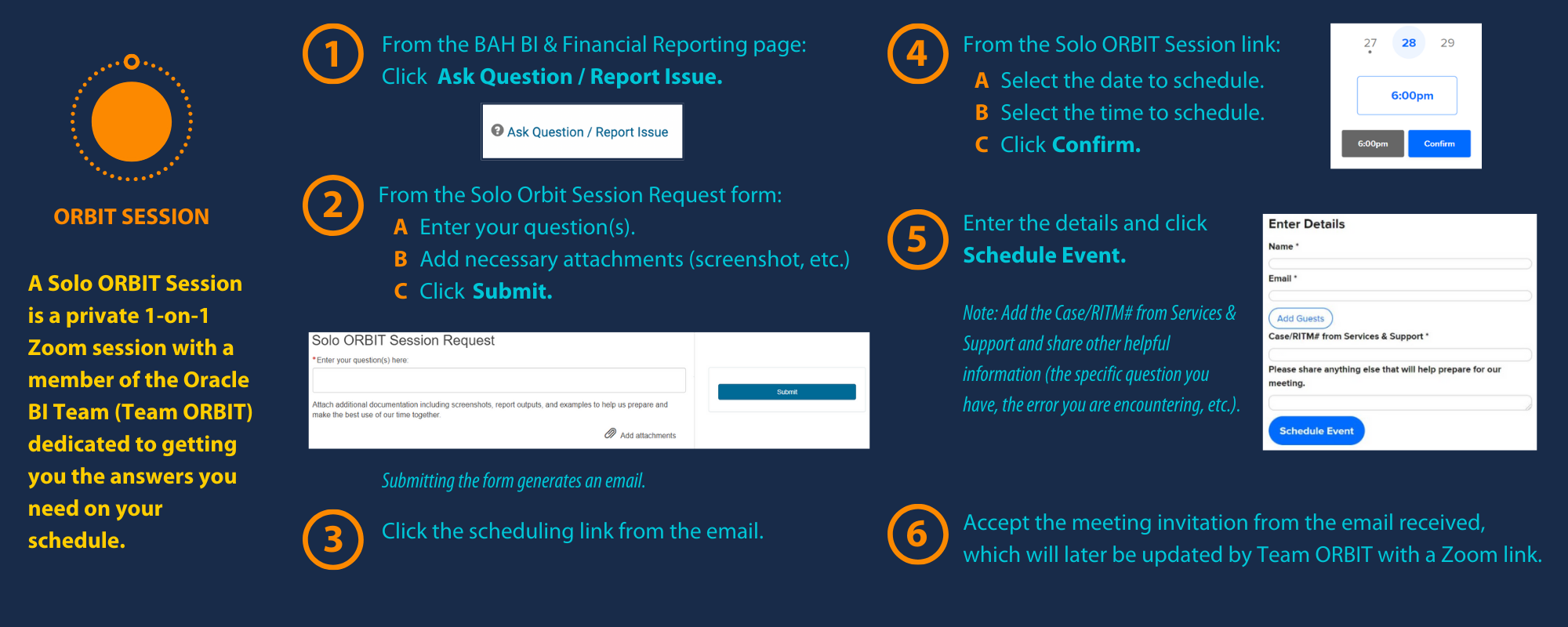 Attention all Oracle BI users: 
Beginning on November 1, 2021, the UC San Diego Oracle BI team (Team ORBIT) is introducing a new training, communication and support strategy for Oracle BI Reporting. This new approach is designed to make your Oracle BI work easier by providing: 
Targeted messages that are consistent, simple and timely. Each message will provide an opportunity to click into more details published to a single place for information.

 

Streamlined support for all reports by eliminating duplicate sources of information and providing consistent navigation.

Short, concise, interactive training courses to engage the users in the key points of learning.
To orient you to Team ORBIT's new way of working with you, we have created a short training course. In line with Team ORBIT's strategic mission, this training is self-paced, interactive and designed to take no longer than 10 minutes to complete.  
Complete the 
Oracle

 

BI

 

– Communications, Training and Support Relaunch
 training lesson online.
We encourage you to complete the training in advance of the November 1st launch.  
Thank you for your attention.
Team ORBIT (formerly Oracle BI Team) is the new branded name of your centralized Oracle BI development team that includes: BI Publisher Developers, OTBI developers, Catalog Migration support, BI Administrators, Training and Communication specialists and strategic leadership. This team was set up in January 2021 in an effort to provide trusted, vetted reporting direct from Oracle Financials Cloud (OFC).
Future communications will be distributed from the email address, TeamORBIT (teamorbit@ucsd.edu).
Over the course of the relaunch, dashboards and reports will be transitioned to persona-based categorization. Ultimately, category tabs will shift from data-centric (General Ledger, Financial Accountability, Projects & Awards, etc.) to persona-centric such as Faculty and Researchers (already exists), Fund Manager, ICA Central Office, etc.
As the relaunch progresses to each persona, you'll find streamlined communications, training, support, and resources presented differently than in the past. The table describes each aspect of the relaunch.
| Consumer Experience | Description |
| --- | --- |
| Communications | Communications are directly marketed to established Consumer Personas via email in one of three distinct announcement styles for every reporting/training/support launch. |
| Training - LMS | A self-paced, online micro-learning series categorized based on the topic (basic non-persona/task-based, persona/task-specific, advanced non-persona/task-based) accompanies every reporting release. |
| Support | Virtual sessions led by Mission Specialists (fka SMEs) that follow online training to reinforce concepts and support Consumers on-the-job. |
| Resources | All information is consolidated into access-aligned operational (BAH) and training/support (Blink) resources. All communications drive Consumers to one of these two resources, dramatically enhancing the user experience by eliminating the need to search multiple resources. |
Communications are identified in the subject line of the email. A graphic highlights the key information being communicated and the email body provides links to additional information on BAH and Blink. The table describes the content being communicated via each communication type.
| Communication Type | Description |
| --- | --- |
| Mission Check In | A Mission Check In announces a forthcoming release in advance of its launch with a brief description and launch date. The email body provides links to resources for additional information. |
| Launch Alert | A Launch Alert announces that a release is live on that day and requires action. When you receive the Launch Alert, access the training and the dashboard/report via links in the email body. |
| Afterburner message | An Afterburner message informs Consumers that FAQs and other support information is available as a direct follow up to ORBIT Sessions or the Infinity Line. The message includes popular topics included in the collective FAQs and the email body provides links to the support resource. |
Self-paced, online training lessons are typically run through the LMS and fall into one of three categories based on whether the lesson contains foundational, persona-specific, or advanced content. The table describes each type of online training lesson.
| Training Lesson Type | Description |
| --- | --- |
| Booster Lesson | A Booster Lesson covers topics critical to utilization, but not specific to a Consumer Persona or task. Subjects might include basic navigation, terminology, and other conceptual introductions. |
| Rocket Lesson | A Rocket Lesson covers topics specific to a Consumer Persona and related tasks. Subjects are centered around the dashboard and pages found under a persona, such as the Faculty and Researcher Dashboard. |
| Satellite Lesson | A Satellite Lesson covers topics that may not be critical to utilization, but can enhance a Consumer's expertise in the tool. Subjects may include customizing a dashboard and editing a customization. |
Consumers who complete training lessons receive invites to virtual sessions hosted by Mission Specialists from the ORBIT team. These sessions reinforce concepts and support Consumers on the job. The table describes each type of session.
Support Type
Description
ORBIT Session

A Consumer is invited to sign up for an ORBIT Session upon completion of a training series to interact with a Mission Specialist who can help add context and answer questions that arise as a result of the training and activities.

ORBIT Sessions provide human interaction in follow up to the self-paced online training. Consumers will have already been introduced to the basics and had the opportunity to access the reporting tool and should attend an ORBIT Session if they have specific questions. It is NOT necessary to sign up for every session offered. 

Infinity Line

An Infinity Line is an open-access Zoom line that enables a Consumer to log in and out at their leisure to obtain specific, real-time assistance from a team of Mission Specialists while utilizing the reporting tool in the course of their normal tasks.

The Infinity Line is intended to support real work. As a Consumer utilizes the specified dashboard/report while performing their duties as an employee, they can join the line for one-on-one assistance as they encounter questions or issues. It is NOT necessary to sign up nor is it necessary to sit on the open line for the entire duration. 

Get what you need when you need it.
The following table further distinguishes between the ORBIT Session and Infinity Line.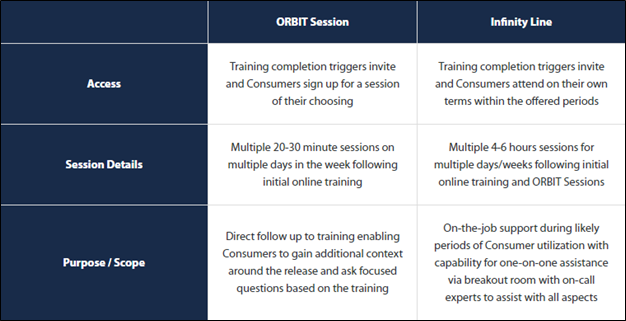 All information is consolidated into access-aligned operational and training/support resources - the Business Analytics Hub (BAH) and Blink.
NOTE: There will be a transitional period for all information to be moved to the new format. All aspects are transitioned at the time when the persona is created with its own communications, training, and support plan. In the meantime OR in areas outside of BI & Financial Management, you may continue to see the original layout until all functional areas are fully transitioned in 2022.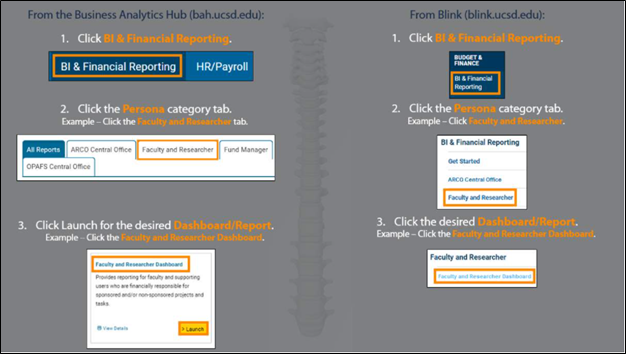 BAH View Details Descriptions
The BAH View Details sections address the Consumer's questions that pushed them to seek more information. The Contents area is ideal for listing specific page and/or section titles within a dashboard/report, while the Business Scenarios is designed more for guidance as to what situations would lead a Consumer to the selected dashboard/report.
Contents - "I remember the name of the page, but don't remember which dashboard it's on."
Business Scenarios - "I need to complete [this] task, but can't remember if this is the right dashboard to use."
Resources - "I don't remember everything about this dashboard; I could use a refresher."
The Faculty and Researcher Dashboard is an example of the future layout.