Travel Policy
Last Updated: September 7, 2023 9:54:16 AM PDT
Use these resources to review Concur Travel and Policy.
CONCUR.UCSD.EDU
Concur.ucsd.edu is UC San Diego's official booking site for all business travel, including employees and guests. Employees can also use Concur to book personal travel!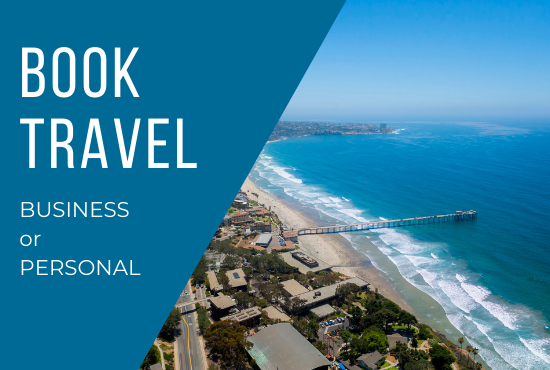 Reminder
A key component of a successful Travel & Entertainment expense report is a strong and valid Business Purpose.The T&E Office has recently seen an influx of expense reports with business purposes that are lacking in details which cause a delay in the review and approval process. When providing a business purpose, it is important to present how attending the business trip or hosting the event is beneficial to the University and aligns with the major functions of teaching, research, patient care or public service, or to any other substantial and bona fide University activity. The more detailed and compelling the justification in the initial submission, the less likely that our office would need to reach out to obtain clarification or send the report back. Below are examples of well-documented business purposes that departments have included in their expense reports. These concise but detailed explanations helped move the process along more efficiently. 
Attended the XYZ Conference to present our research findings and collaborate with other investigators in the field of XYZ.
Trip to assist colleagues in training preparation and observe provider training for research purposes.
The traveler flew from Chicago since they were there for personal time (comparable airfare attached). They then flew to Paris to meet with a potential donor and flew to Berlin to present at the XYZ Conference before returning to San Diego.
Travel from San Diego to Orlando Florida for conference (insert conference name) to bring professionals together from across the country to share ideas and create connections.
Invited to the ABC Conference as the keynote speaker in City A. We then learned of an unexpected opportunity to meet with a potential donor in City B thus needed to purchase last minute airfare which was slightly higher in cost due to the lack of advanced notice.
Traveled to New York for donor cultivation to meet with Mr. and Mrs. ABC for substantial campaign funding for art at UC San Diego. Redacted medical note included for airfare.
Concur Travel features
Access to centrally-billed cards for airfare and local hotel, eliminating out-of-pocket costs and reimbursement wait times
Negotiated benefits and savings with all of our travel partner suppliers for airfare, hotel, and rental cars
Automatic enrollment in UC's traveler insurance program, covering a wide range of incidents and accidents across the globe
Reservations and receipts flow directly into Concur Expense for smooth reconciliations
Policy compliance built into the booking tool
Ability to earn and use your own personal loyalty program rewards
Increased visibility to University travel spend, minimized unused tickets, and rich data reporting to maximize savings
Free TripIt Pro app, making travel itinerary management a snap
Get started
Review Travel Policy. Follow along with the Travel Process checklist to navigate the travel pre-authorization, booking, and reconciliation process.
How Concur works
Concur is a secure platform for booking university business travel. It automatically applies UC-negotiated prices with airlines, hotels, and car rental companies. Learn more about Concur here.
UCSD prepays airfare booked in Concur and purchases will automatically display in the employee's Available Expenses. Your travel profile stores your UCSD Travel and Entertainment Card for hotel and rental car expenses.
Make Travel & Entertainment Easier
Notice:
UC San Diego travel policy, as published in Blink, is decisive. It has been adapted to UC San Diego's organization, delegation of authority, terminology, chart of accounts and processing applications. The source for UC San Diego travel policy is
UC Travel Policy and Regulations
 (PDF).