Concur Travel
Last Updated: April 14, 2021 9:52:41 AM PDT
Find out how to book university business travel in Concur
CONCUR.UCSD.EDU
Concur.ucsd.edu is UC San Diego's official booking site for all business travel, including employees and guests. Employees can also use Concur to book personal travel!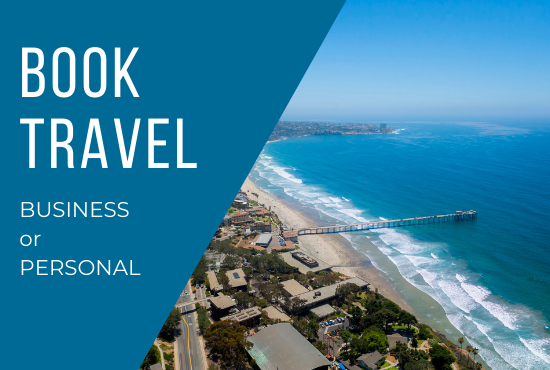 Concur Travel features
Access to centrally-billed cards for airfare and local hotel, eliminating out-of-pocket costs and reimbursement wait times
Negotiated benefits and savings with all of our travel partner suppliers for airfare, hotel, and rental cars
Automatic enrollment in UC's traveler insurance program, covering a wide range of incidents and accidents across the globe
Reservations and receipts flow directly into Concur Expense for smooth reconciliations
Policy compliance built into the booking tool
Ability to earn and use your own personal loyalty program rewards
Increased visibility to University travel spend, minimized unused tickets, and rich data reporting to maximize savings
Free TripIt Pro app, making travel itinerary management a snap
Get started
Complete a Concur Request outlining trip details and financial information
Log on to Concur and make sure all employee travelers and arrangers have a complete profile
Book travel in Concur using the approved Request Number 
Instructions
Use Concur (login required) to book travel. 
How Concur works
Concur is a secure platform for booking university business travel. It automatically applies UC-negotiated prices with airlines, hotels, and car rental companies. 
UCSD prepays airfare booked in Concur and purchases will automatically display in the employee's Available Expenses. Your travel profile stores your UCSD Travel and Entertainment Card for hotel and rental car expenses.
What happened to Connexxus?
Connexxus (also known as ConnexUC) is the University of California's travel portal, featuring multiple booking options and travel-related content for all UC campuses.  UC San Diego has branched off into our own travel program with SAP Concur but many Connexxus resources are still available to you in the Company Notes section of your Concur homepage.  
Notice:
UC San Diego travel policy, as published in Blink, is decisive. It has been adapted to UC San Diego's organization, delegation of authority, terminology, chart of accounts and processing applications. The source for UC San Diego travel policy is
UC Travel Policy and Regulations
 (PDF).