Move/Relocation Expenses: Overview
Last Updated: September 21, 2022 2:34:38 PM PDT
Find out about the move/relocation policy for new appointees and transferring employees, including eligibility and reimbursable moving expenses.
Note
Due to payroll reporting deadlines, claims for employee moves, or trips including taxable payments/reimbursements, must be completed with required attachments and approved by the Financial Unit Approver by October 17, 2022. Claims with taxable amounts submitted after the deadline will be processed for payment in January 2023.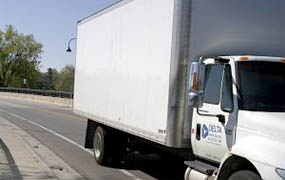 Move/relocation expenses include the reasonable costs of moving household goods and personal effects to a new residence. These expenses also include the cost of travel to the new location for the eligible appointee/employee and members of the household.
Note: Expenses for an employee move relocation may be eligible for payment or reimbursement by UCSD. But, due to IRS regulations and tax law, expenses are considered taxable.
General guidelines:
Guidelines for academic/faculty positions can be found on the Academic Affairs website.
Guidelines for the exception of postdoctoral scholars can be found on the Office of Postdoctoral Scholar Affairs website.