Annual Report 2021-2022
Last Updated: August 18, 2023 10:40:28 AM PDT

UC San Diego Information Technology Services Annual Report 2021-2022.
IT Services provides technology solutions that support UC San Diego's learning, teaching, and research objectives. In this annual report, you can read more about our recent accomplishments as they relate to the following six departmental strategic goals:
Goal 1: Support student success and instruction
Goal 2: Renew legacy enterprise systems
Goal 3: Continually enhance research services
Goal 4: Focus on cybersecurity
Goal 5: Improve service levels and cost efficiency
Goal 6: Invest in inclusive excellence 
A few additional sections highlight the work of the extraordinary people who make up IT Services, as well as the entirety of the UC San Diego technical community. 
Elsewhere on this site, you can:
| | | |
| --- | --- | --- |
| | | |
Enabling a Hybrid Modality
Since the resumption of full-scale in-person classes in the Fall Quarter 2021, IT Services' educational technology teams have focused on enabling a fully-hybrid experience for academic and instructional operations. This came about as a result of both Covid-necessitated innovations and accelerating the roadmap of planned enhancements - everything from pivoting to a "virtual-first" faculty support model to virtualizing physical computer labs to outfitting classrooms with lecture-capture AV equipment and more. This is on top of standard educational technology work and pre-Covid innovations. 
Check out these impressive stats! (All figures below from 2021-2022 academic year.)
Multimedia Services
50+ hours of video lectures created for new 100% online Master of Data Science program
116 video production recording sessions in campus studios and on location
155,191,185 minutes / 2,600,000 hours / 107,000 days / 295 years worth of instructional videos viewed in Canvas (via the Kaltura video hosting platform)
310,083 videos added to Kaltura
38,527 lecture-capture podcasts recorded across 1,750 courses
9,663 Media Teaching Lab items checked out to 1,887 students 
Classroom Technology
55 classrooms and 31 lecture halls equipped with tracking cameras and full Zoom and podcast functionality; 30 new classrooms are under construction and will be ready for classes by 2025.
Canvas
6,788 courses used Canvas and educational technology support to enhance teaching and learning; over 60 campus organizations use Canvas to provide supplemental instruction and student-life opportunities. 
Data Science/Machine Learning Platform
6,661 students used the Data Science/Machine Learning Platform (DSMLP) and its research-class CPU/GPU resources for their coursework. The DSMLP's 129 GPU cards are capable of 1.58 quadrillion floating point calculations per second.  
Keeping Up with Campus Growth
UC San Diego continues to grow at an accelerated pace, with enrollment topping 42,000 students in Fall 2022 and widespread expansion of the physical footprint of the La Jolla campus and other properties. Keeping up with this growth has been a key priority, with the requisite infrastructure:
Increasing Wi-Fi access points to 10,279 total, an increase of 71% since 2016 and 143% since 2013
Planning an additional 5,444 access points through 2028 to support new growth
Increasing wired network switches to 1,853 total, a 39% increase since 2013
Accelerating work in summer 2020 to add 1,823 access points and 83 switches in residential facilities
Completing the redesign, installation and configuration of wireless and VPN authentication to support 9,000 successful authentications per minute during peak periods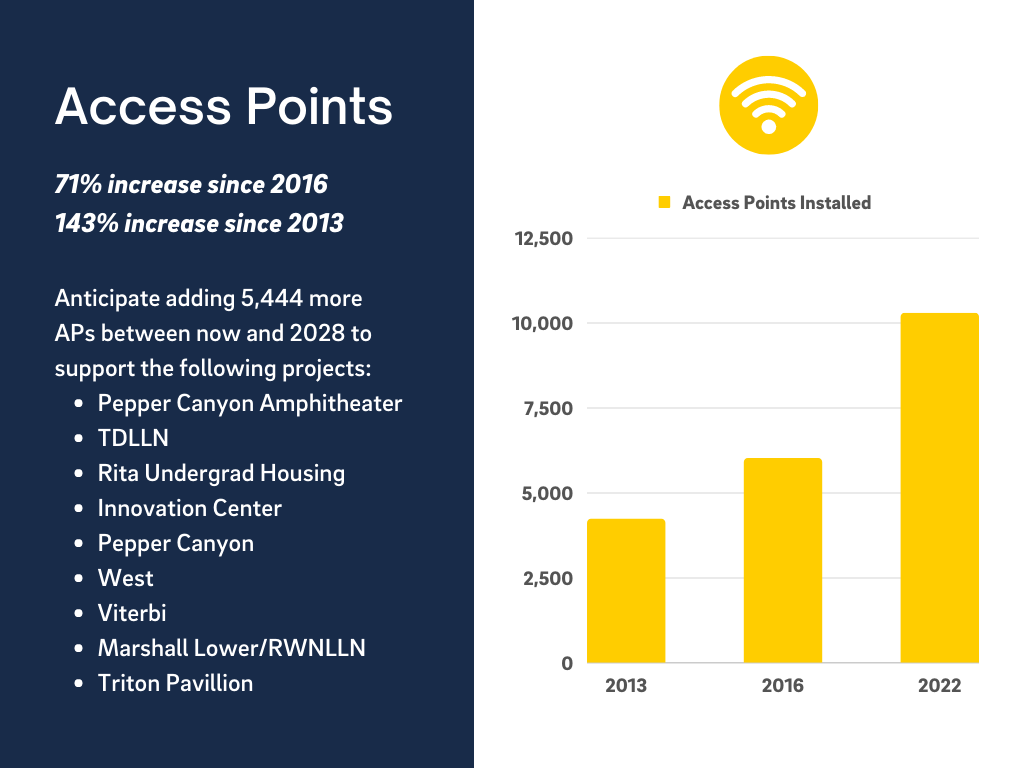 Discover More
Reshaping How UC San Diego Does Business
UC San Diego's Enterprise Systems Renewal (ESR) program addresses key goals identified in UC San Diego's Strategic Plan, including creating an agile, sustainable and supportive infrastructure. This work is essential to ensuring that the campus business systems and infrastructure can adequately support our mission as one of the top 15 research universities in the world.
Since inception, multiple projects have been started and released into production, covering data and analytics, financial management, personnel management, faculty and student information, space and facilities management, research administration, and more. 
In 2022, work focused on advancing key efforts in the student information and identity management fields and optimizing live systems. 
Student Information System Project Brings Transformational Change
The Student Information System (SIS) Project will bring transformational change to the university in the areas of course and class scheduling, enrollment and registration services, academic records, curriculum management, student finances and billing, and financial aid and scholarships. Over the past year progress has been made toward key project objectives, as well as with other supporting work.
Core Student Information System
Financial Aid Systems
Formed team and initiated project to replace ProSAM with Oracle Student Financial Planning for financial aid; completed system training and conducted design sessions with guide-on-the-side consultant; gathered information for configuration, gap-analysis, and next-steps planning.
Completed requirements gathering and started design sessions on Graduate Financial Support Request Tool update project.
Curriculum Management System
Conducted requirements-gathering sessions with stakeholders; released RFP; conducted conference room pilot (product demonstrations using our business processes) with prospective vendors.
Change Management
To prepare campus users for changes, conducted process mapping sessions, began remediation of student-related reports, started projects to bring Division of Extended Studies into existing campus systems (Slate, 25Live, uAchieve), and conducted comprehensive change management programs. 
SIS Project By the Numbers
293 processes mapped since the project start
623 requirements gathered since the project start
More than 18,600 hours put toward the primary SIS projects in 2022
More than 203 SMEs engaged in 2022
539 student-related reports identified to date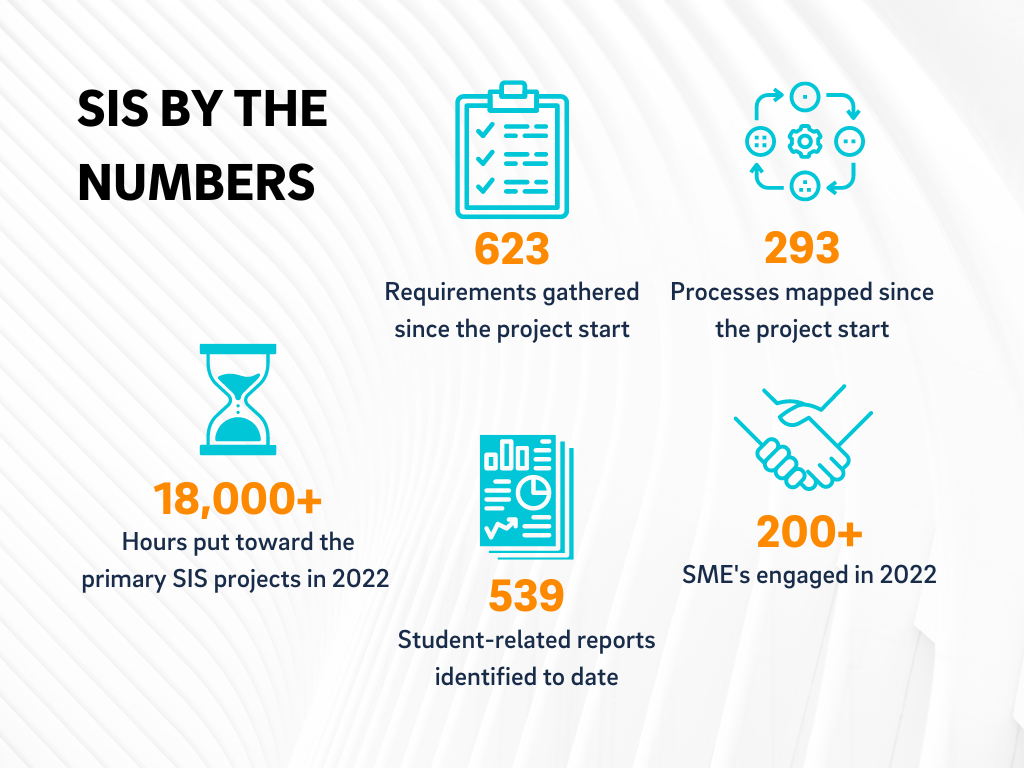 Identity Management Project Scope Comes into View
The Enterprise Identity Management (EIM) project continued making progress throughout 2022 with the addition of new talent, knowledge, and skills. The year concluded with a redefined scope focused on what is needed to initially launch the new foundational EIM architecture and provide streamlined services across campus. The project's launch scope has shifted components of the identity management solution to the EIM service roadmap, to be prioritized as ongoing service updates and enhancements in the future. This change has allowed the project team to establish a strong foundation which can be easily maintained, updated and scaled to future needs.
The project's design, scope and impacts have been informed by conversations with campus technical, student and human resources partners along with EIM Project Governance. The documentation of current processes related to identity management started in 2021 for EIM and continues today, with input from IT, HR and student support services perspectives.
Committed and talented campus and Health experts helped document business processes currently in place. Well-versed in their specific operational processes and needs, these subject matter experts, or SMEs, and the work they accomplished consisted of:
120 subject matter experts (SMEs) with representation from over 50 campus departments  
Approximately 2,462 people hours of knowledge documentation
74 review sessions
In these review sessions, SMEs identified the current processes in use to support departmental functions, activities and unique tasks:
284 systems and applications identified as currently in use
17 significant variations in employee processes among units
41 significant variations in student processes from division-to-division
Documented access needs and identities, wish list items and pain points related to current processes and systems
Thank you to all the SMEs who have offered their time and expertise to the EIM project.
Additional project teamwork has included:
Surveys conducted to understand awareness of identity management and the EIM project
Publication of eight foundational news articles 
Creation of an informational video "Identity in a Nutshell" (which has had 400 views) 
Finance System Optimization Takes Flight
The Oracle Financials Cloud, implemented July 1, 2020, is transitioning from post-implementation stabilization into optimization. While systems are fully operating, many campus users are still adjusting to the complexity and controls of a modern financial system. Listening to end-user feedback, changes to system figuration, process automation and more robust reports were implemented. Updates, resources, feedback, and more are all consolidated into the financialmanagement.ucsd.edu website. As part of the optimization efforts, the leadership team:
Activity Hubs – Next-Generation Data Warehouses – Transform Analysis and Reporting 
Activity Hubs are central repositories for UC San Diego's enterprise systems data that allow users to more efficiently and effectively aggregate and analyze data from student, alumni, employee, facilities, financial and research systems. The first Activity Hub, Student Activity Hub, went live for student data in 2019, followed by hubs for research, employee and financial data in 2020. Enhancements continue to be made to these Activity Hubs as new sources of data are integrated.   

A hub was created in 2021 to collect COVID reporting data to support UC's COVID response efforts. New Activity Hubs for facilities and compliance data are currently in progress, scheduled to go live in 2023. 

Activity Hub reporting and analysis features include:
Single source for much historical and all new data
Common definitions for single terms
Simplified access request process
Supported analytics tools: Cognos, Tableau
Simplified views have been designed for easier data use
Secure access and an audit trail ensure data is accessible only to those who require access to complete their work
Easier analysis, reporting and visualization for all users 
2022 Accomplishments and Stats
2,741 new data fields have been added to Activity Hubs since 2019
9 new data views have been created
One new Activity Hub (Compliance Activity Hub) has been started
The number of AH report users has increased by 70%
Some 150 reports on Activity Hubs data are available for general use - with appropriate approvals -  on the Business Analytics Hub website, with many more available through other channels
Activity Hubs Release History
2019
Student Activity Hub
Released in January 2019, SAH is currently available to a limited audience.

2020
Research Activity Hub
Released in January 2020 with the launch of Kuali Research Administration.
Employee Activity Hub
Released in June 2020 with the launch of UC San Diego's UCPath Human Resource system.
Financial Activity Hub
Released in August 2020 with the launch of Oracle Financials Cloud.

2021
COVID Activity Hub
Released in Spring 2021, project kicked off in 2020.

2023
Facilities Activity Hub Project kicked off in 2021, going to production in Q1 2023
Compliance Activity Hub Project kicked off in 2022, going to production in Q2 2023
New Platforms Streamline Workflows
The ESR program includes several document and workflow services that increase productivity.
OnBase EDMS
The OnBase Electronic Document Management System (EDMS) securely stores campus documents that need to be retained for legal and regulatory purposes such as contracts and agreements, human resources records and policy documents. An EDMS improves workflows and optimizes processes related to data and document retention university-wide for campus business units, supporting workflows, document management, storage/retrieval, retention and data control.

OnBase achievements and stats include
11 campus departments/processes currently using, 4 currently migrating to it, and 7 in the development queue
1,123 document types stored
5,147,140 documents stored
632 faculty and staff users
Kuali Build
Kuali Build is a cloud-hosted smart form and automated approval platform. It is designed to allow campus users to launch automated processes in a matter of minutes.

Kuali Build achievements and stats include:
269 total applications (end-to-end process including form, workflow and document repository)
82,698 total documents
Discover More
ESR Student Information System Change Lead Sara Danford discusses her role as a Change Lead, current state of the SIS project, lessons learned and what she's looking forward to (March 2022).

 
Building a Stronger Research Community
Research IT Services provides facilitation and integration support to faculty and other researchers at UC San Diego, including Health Sciences, professional schools, and divisions and departments. We have found areas of research need, focusing on gaps in research services and support, particularly those on the long tail of research with little to no support.
UC San Diego Research Cluster
A few significant programs this year have provided researchers with solutions to their project needs. The UC San Diego Research Cluster is a small starter cluster attached to the instructional Data Science Machine Learning Platform (DSMLP) environment. Researchers are encouraged to use it as a starter place to become familiar with cluster computing and use containerization. Research IT Services manages the cluster environment with Educational Technology Services staff and provides custom containers and scripting optimization.

"The Data Science Machine Learning Platform cluster has been invaluable to me in my research, which involves training and deploying deep learning models for image generation. Computational artists don't typically have access to large funding sources, but this research requires more extensive computing resources and configurability than would be practical using low-end commercial cloud services. The ability to access a no-cost, configurable GPU cluster at UCSD has been key in allowing me to develop my work this year. The Research Cluster helps fill an important research need between low-end and high-end computing cluster resources."   

- Dr. Amy Alexander, Professor, Visual Arts
Universal Scale Storage (USS) and Globus Secure Research Data Management 
In partnership with the San Diego Supercomputer Center (SDSC), Research IT Services brokers Universal Scale Storage (USS) in sub-allocations of 25TB of the full 200TB brick at no additional cost to the researcher. In addition, Research IT also provides secure file transfer and data management via Globus to ease data movement for research data. The UC San Diego High Assurance Globus annual subscription is provided through a joint effort of Research IT Services, SDSC, and UC San Diego Health Sciences.
"As Principal Investigator of the UCSD National Eye Institute funded Center Core Grant for Vision Research, I want to thank Research IT services for providing Universal Scale Storage and Globus file transfer resources to our investigators. Our deidentified ophthalmic images represent an in vivo 3D rendering of retinal structure and require large, secure storage and transfer systems. The resources provided by Research IT in this area enable efficient and cost-effective management tools so that our large medical imaging datasets can be leveraged to build AI models for the detection and clinical management of various eye diseases." 

- Linda Zangwill, Professor, Department of Ophthalmology 
Research Computing and Data Support
Supporting research and researchers is the mission of Research IT Services. The ability for members of this team to consult and provide technical expertise to research projects at UC San Diego is paramount to their success in moving research forward.
In one instance, Research IT Services has been working with Dr. Phillip Bunting, a Chemistry and Biochemistry postdoctoral scholar in the Rinehart Group, to develop MAGdb, a Python framework that puts FAIR (Findable, Accessible, Interoperable, and Reusable) data principles at the start of the research data lifecycle. MAGdb's design enables individual researchers to manage their datasets within a locally-managed repository without running additional services, while the base metadata attributes support data publication to repositories, including Dryad, Zenodo, and others.
"In the Department of Chemistry and Biochemistry at UC San Diego, we have a wide variety of research expertise and all of it can benefit from the work that Research IT does. My research team is regularly faced with an overabundance of complex, diverse data forms that we need to store, manipulate, and synthesize to understand and optimize the materials we make in the lab. When we came to Research IT, we had a plan we were passionate about and very little expertise in implementing it successfully. Through Research Director Claire Mizumoto, we were able to work with Principal Systems Integration Engineer Richard Wagner, who helped us prototype a research solution that was accessible to non-IT experts, compliant with data and cybersecurity standards, and generalizable far beyond our specific use case. Currently, we are applying for funding under the NSF CSSI Program to expand the scope of this project. IT support for researchers is a vital component for any university looking to maintain a top-tier science program, and our team at UCSD gives us an edge!"

- Dr. Jeffrey Rinehart, Assistant Professor, Chemistry and Biochemistry  
Research Data Support Activity
A major part of the research lifecycle is project-related data. Research IT Services recognized that computing is only one piece of the research puzzle. That data requires more attention to the emerging compliance requirements, regulatory mandates, and conditions for open research and FAIR Principles. Research IT Services continues to grow its experience to support research and researchers by expanding its expertise to assist with research data needs.
The UC Global Food Initiative (GFI) project aims to strengthen food systems research tackling tough issues of food justice, security, resilience, and more. Each UC campus received funds to create a Campus Collaboration Center, including a campus "expertise and collaboration asset map." Individual campus asset maps, or galleries, are collections of campus-specific faculty working on food-related research. They are cross-referenced with their publications found in OpenAlex and verified against the campus faculty directory.
Research IT's work on this project included mining faculty roster information from UCPath data held in UC San Diego's Employee Activity Hub (EAH). Several queries and resulting reports were cleaned and combined to render a list of 5,273 unique entries with specific characteristics. The final dataset was used to create this SuAVE visualization that can be filtered using many dataset attributes, including faculty name, campus department, and publication keywords such as food insecurity, obesity, food bank, etc.
"As a Senior Teaching Professor, I have come to rely upon the LimeSurvey-SuAVE platform's unique utility for data collection, visualization and analysis that excites students, faculty and community partners engaged in experiential learning. One of the 'asset maps' we created with this system is an online searchable gallery of all faculty at UC San Diego doing some form of research concerning food and food systems. Colleagues in UCSD's Information Technology Services played a crucial role in helping us create this gallery based partly on Employee Activity Hub data. The SuAVE gallery highlights UC San Diego researchers and their publications addressing UC Global Food Initiative (UC GFI) topics. We are also working with ITS to support hundreds of undergraduate students in courses I teach about cities, climate change and sustainable development. These students create online SuAVE 'asset maps' focused on trees, green infrastructure, vacant lots, and community gardens. These asset maps are robustly interactive relational databases that enable students to see the utility of their crowdsourced data being put to good use! The LimeSurvey-SuAVE platform is a powerful socio-technical system connecting student course work, research and community-engaged experiential learning."

- Dr. Keith Pezzoli, LSOE, Urban Studies and Planning.
The Research IT Services team prides itself on the personalized attention it gives to research and researchers at UC San Diego. In addition to the researcher consultation services, the team continues to support the faculty, staff, postdoc, and graduate and undergraduate students in many other training and development and research service areas. They continue to conduct Carpentries training for foundational programming in R and Python and team with the Office of Information Assurance to work to secure the research lab environments under the Cybersecurity Certification for Research (CCR) program. They provide commercial cloud onboarding and consultation support for AWS, Azure, and Google Cloud Platform.
Committed to a Secure and Safe IT Environment
UC San Diego supports an IT environment that adheres to sound principles of security. The Office of Information Assurance is charged with ensuring the secure handling, availability and confidentiality of all forms of information at UC San Diego. 
Recent accomplishments include: 
To further secure login credentials and system security, campus and Health users changed more than 100,000 Active Directory passwords to meet new length and complexity requirements. Additionally, the password change application was rewritten and modified, and now also incorporates multi-factor authentication. Password changes are also inspected for weak or known compromised passwords, with approximately 10% blocked.
In response to an internal analysis, remote access protocols most associated with ransomware attacks were moved behind the campus VPN, resulting in an 80% attack-risk reduction. 
Targeted users achieved a 97.9% success rate of not responding to malicious emails via "mock phishing" campaigns.
Continued with steady progress on the Cybersecurity Maturity Model Certification (CMMC) program, including completing the technical components of the CMMC cloud enclave. Currently working with certified assessors to schedule a formal assessment for CMMC Level 2 certification.
The Cybersecurity Certification for Research program has now certified over $200 million in research programs.
As part of an IT Services internal patching initiative, a steady state of managed servers with a critical vulnerability was lowered by an order of magnitude; the current baseline of 4%-5% maximum is challenged by the approximately 100 vulnerabilities announced daily.
Campuswide, more than 900 applications now use Shibboleth for single sign-on and Duo two-step login.
The Regulated Research Community of Practice grant (NSF220128) transferred to UC San Diego; the total value of grants brought to UC San Diego by the Office of Information Assurance now exceeds $1 million.
Finally, OIA is now in its third year of sponsoring the campus Women in Cybersecurity (WiCyS) program.
Discover More
Chief Information Security Officer Mike Corn discusses the Log4j response, progress on the Enterprise Identity Management (EM) and Cybersecurity Maturity Model Certification (CMMC) projects, working with UC Regents on breach prevention, and more (October 2022).

 
Senior IT Security Analyst Ed Wade discusses a security-related Lean Six Sigma project he completed as well as other aspects of his role (February 2022).

 
Maximizing People, Processes, and Purchases
As businesses and government agencies face headwinds in the economy, political landscape and other areas, UC San Diego IT Services is no different. Nevertheless, a spirit of resiliency and a can-do attitude prevails, resulting in complete maximization of resources. 
A Customer-Centric Approach to Service
IT Services prides itself on quickly responding to customer issues and outages. Key metrics are tracked, with results posted online each month. Additionally, for the past several years, IT Services has worked with other departments to consolidate case management into a common platform, known as the Services & Support Portal. Through 2022, 11 campus organizations and over 1,200 agents use the portal.
IT Services 2022 case management metrics include:
155 assignment groups
512 agents
91.6% tickets closed within 10 business days
160,398 tickets closed
84% service-level agreement success
 
Leaning Out and Leveling Up
IT Services leverages the Lean Six Sigma (LSS) methodology to make continuous improvement a core foundation of work. New hires complete an LSS Yellow Belt (beginner) certification within a few months of starting, while all managers and service owners are required to pursue more advanced training via Green and Black Belts. Additionally, the department sponsors scholarships for other staff managers who qualify. 
Since 2016, formal Lean Six Sigma projects have resulted in the following outcomes:
$6 million total savings

8+ staff reallocations

103,000 hours saved
$50,000+ increased revenue/cost avoidance
IT Services' commitment to continuous improvement underscores a larger campuswide movement, all in support of UC San Diego's Strategic Plan Goal 5: Supportive Infrastructure. Goal 5 is summarized as, "Creating an agile, sustainable, and supportive infrastructure by ensuring a dedication to service, people and financial stewardship." The full text of Goal 5 uses the word "efficient" (or a derivation) 13 times. 
More information about UC San Diego's campuswide efforts and culture are detailed on the continuous improvement website. 
Finally, everything comes together at the annual Process Palooza conference, co-sponsored by IT Services and returning to the UC San Diego campus in March 2023.
There's a Home for You Here
"There's a home for you here" is the prevailing theme set by IT Services' diversity, equity and inclusion initiatives. Efforts are wide-ranging, covering everything from ensuring a diverse workforce, providing staff training, presenting internally and externally, and serving on committees.  
Recruitment and Retention
All members of hiring panels required to complete online implicit bias training.
"Insourcing" model instituted to provide promotional opportunities for short-term needs, providing staff members with on-the-job training and experience and the opportunity to complete "stretch" assignments.
Part-time positions leveraged to reach untapped sources of community talent for hard-to-fill contract positions.
Training and Education
Introduced requirement for all managers to complete six-module "Managing Implicit Bias" online course; as of November 2022, 42 certifications received. 
Started Inclusive Excellence Forum with monthly sessions that use readings and other materials to facilitate discussions on issues of race and other types of discrimination.
Presentations
Valerie Polichar presented: "Paths to Promotion" during the TechTalks series and "Effective, Inclusive Meetings" at UC Tech to IT managers and to the VC-CFO Inclusive Excellence Committee. 
Manisha Kanodia presented "Hacking Unconscious Bias for a More Inclusive Work Environment" at the Women in Cybersecurity Conference and to IT Services audiences and "Leading Without Authority" PMI-San Diego's annual conference.   
IT Services senior leaders presented "Privilege in the Workplace" at the department's Leadership Learning Program. 
Lead Fellows Brian DeMeulle and Declan Fleming facilitated multiple departmental "Race Talks" sessions to help staff learn how to discuss race and other sensitive topics in the workplace.
Committees
Sheryl Gerbracht, Sophia Nasrallah, Brian DeMeulle, and Declan Fleming served on VC-CFO Inclusive Excellence committee; for two years Sheryl Gerbracht served as VC-CFO Pierre Ouillet's equity, diversity and inclusion advisor. 
Carolyn Ellis serves in a leadership role with UC San Diego's re-booted Women in Tech group. 
Awards and Scholarships
Implemented departmental Inclusive Excellence Award and named Manisha Kanodia as first recipient. 
Initiated a $10,000 scholarship to an undergraduate with a STEM-focused field of study who has also demonstrated a proven commitment to the advancement of women in STEM.
Discover More
Carolyn Ellis, Allison Flick, Jessica Hilt, and Christine Kirkpatrick share the goals and objectives on the UC San Diego Women in Tech (WIT) community (September 2022).


A People-Driven Commitment to Excellence
A resilient, diverse, talented, and creative workforce powers IT Services. Most of the workforce is San Diego based, but others work remotely, providing enormous flexibility and the best available talent. The below represents just some of what this amazing group achieved in 2022:
Continuation of Leadership Learning Program Cohort 5, with 12 employees meeting monthly to discuss books and articles, network, complete exercises, and grow as leaders
New staff awards initiated: "Think Like an Entrepreneur" (Charles Bryant) and "Inclusive Excellence" (Manisha Kanodia)
Two UC Tech Awards - Lifetime Impact and UC Collaboration Award (Silver) and initiation of Mojgan Amini Operational Excellence Award 
Vibrant Toastmasters club with members meeting twice a month to hone presentation skills
17 department-led communities of practice, office hours, roundtables, and clubs 
Student employee Jake Kindley recognized with VC-CFO area "Triton Student Employee of the Year Award" 
The Current podcast launched in March 2020 with 231 episodes and 18,000 plays and counting
Multiple grants awarded including

Caltrans Statewide Data Collection Strategic Plan
NIH Common Fund Data Ecosystem  
NSF Award 

1840034: Research Security Operations Center

NSF Award 2201028: Building a Community of Practice for Supporting Regulated Research

NSF Award 2100003: Demonstration Pilot: Advancing Research Computing and Data: Strategic Tools, Practices, and Professional Development 

NSF Award 

2230127: Training and Developing a Research Computing and Data CI Professionals Community

NSF Award 1925001: CloudBank: Managed Services to Simplify Cloud Access for Computer Science Research and Education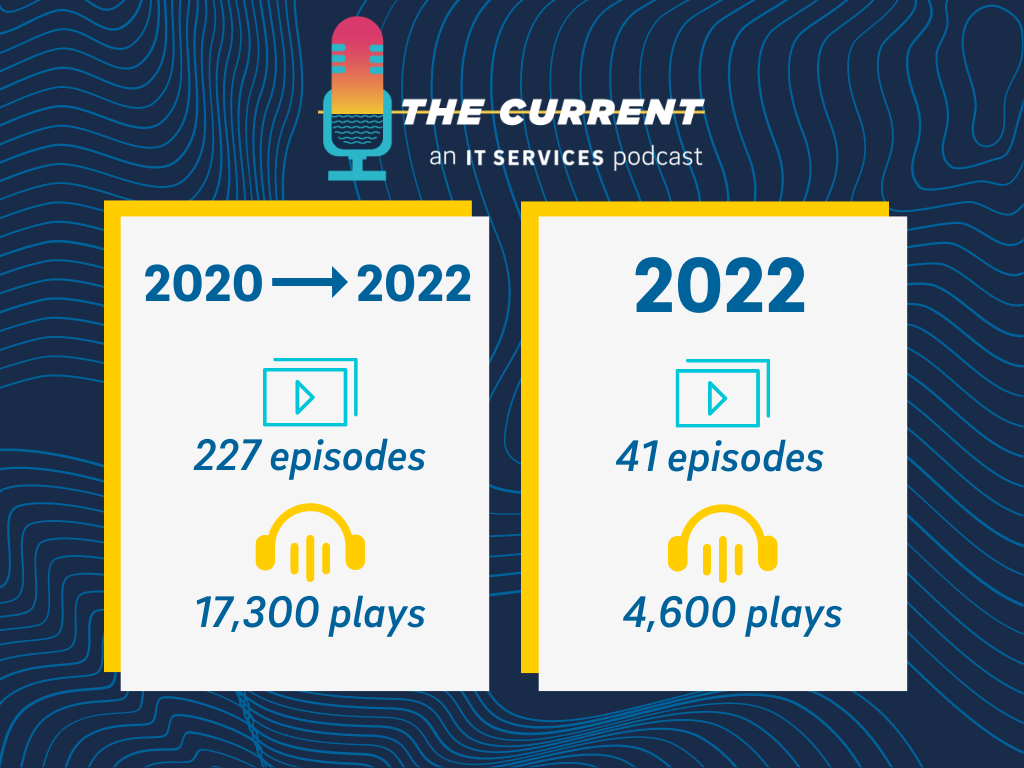 Discover More
Tech Community and UC Tech
UC San Diego is home to a thriving technical community of some 1,500 professionals in IT Services, Health Information Services, and several schools and divisions.
In 2022, IT Services jumpstarted efforts to re-engage with the tech community with:
Nine Zoom-based TechTalks with

hundreds of

 attendees
Creation of a Tech Community Resources Blink page with information on mailing lists, conferences and events, communities of practice, training links and more
Tech community survey with responses providing insights into job function, communications preferences, training interests and more
Additionally, IT Services took on the monumental task of hosting UC Tech 2022 in a hybrid fashion on the UC San Diego campus and virtually. 
UC Tech 2022 Recap Video
UC Tech 2022 By the Numbers