Controlled Substances Program
Last Updated: March 23, 2023 3:41:57 PM PDT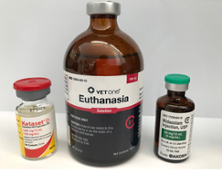 Learn about UC San Diego's Controlled Substances Program (CSP).
Controlled substances (CS) are drugs or chemicals whose manufacture, possession, and use are regulated by the government.
UC San Diego CSP
UC San Diego currently maintains federal Drug Enforcement Administration (DEA) registrations governing the use of CS for research, veterinary, and teaching purposes.
The UC San Diego CSP policy and procedure (PDF) describes authorization to conduct work with CS, employee and institutional responsibilities and operational requirements.
The CSP is administered by the CS Program Manager in Environment, Health & Safety (EH&S).
At UC San Diego, controlled substances (CS) include all DEA-scheduled substances, DEA List 1 chemicals, and California Precursor Chemicals.
If a chemical you require for research is classified as a CS, you must have an approved Controlled Substance Use Authorization (CSUA) before work can begin.
Research authorization
Principal investigators (PIs) must obtain a CSUA to possess and use CS for any of these purposes:
Research
Teaching
Veterinary care
Clinical trials performed on campus through the pharmacy or the Investigational Drug Service do not require a CSUA.
Additional authorizations and registrations from the CS Program Manager may be required for certain project-specific substances, locations, or purposes not covered by the university's standard DEA registration structure.
CSUA online application
The CSUA online application provides a central and secure resource for the essential business processes and internal controls of UC San Diego's CSP, from application and authorization to inventory and personnel management.
Read CSUA Application to learn how to:

Apply for a new CSUA
Designate CSUA Lab Contacts
Manage Authorized Personnel
Upload Personnel Screening Data Sheets (PSDS) forms
Monitor training status
Order CS online
Manage inventory online
Request CS disposal
Amend, renew, or deactivate a CSUA
Learn more about the CS Program:
Principal investigators (PI)
CSUA: PIs are responsible at all times for maintaining a current CSUA, accurate online inventory and on-site CS Log Book, and supervising their CS facility and Authorized Personnel (AP) in compliance with UC San Diego's CSP.
Secure storage and inventory: The PI will establish and maintain secure storage of CS Inventory in the CSP-approved storage area and ensure restricted access. CS Usage Logs and CS Log Books must be kept in the CSP-approved CS storage area.
Training: All personnel working with CS, including PIs, are required to complete the Controlled Substances Training eCourse on UC Learning Center, with refresher training required every 4 years.
Sabbatical: A CSUA may remain active during sabbatical leave when an acting PI is named in writing and approved by the Department Chair and CS Program Manager. Alternatively, the Department Chair may serve as the acting PI.
Authorized Personnel (AP)
AP are individuals designated by the PI to access and work with CS under a specific CSUA.
Final approval of AP rests with the CS Program Manager, following verification of DEA-required information applicants provide on the Personnel Screening Data Sheet (PSDS). Having access to CS is a privilege and can be revoked by the PI or CSP.
AP responsibilities:

Use CS exclusively for the purpose stated in CSUA
Maintain CSP-approved secure storage location for CS at all times
Return CS to the CSP-approved secure storage location when not in use
Record dispensation of any CS on the CS Usage Log
Do not share CS with non-authorized personnel (refer to CSUA for authorized personnel list)
Do not share CS with other research labs- CS are exclusively acquired for the use in accordance with a PI's CSUA
Do not dispense or log out CS for use by others
Properly dispose of CS
Report CS inventory discrepancies, suspected misuse, or theft to the CS Program Manager, (858) 534-1362, immediately
Training: AP working with CS are required to complete the Controlled Substances Training eCourse on UC Learning Center, with refresher training required every 4 years.
Department Chairs
Department Chairs must notify the CS Program Manager when:

A new PI is expected to arrive on campus in possession of CS
A PI with CS authorization dies or intends to terminate employment
CSUA applications: Department Chairs review, and approve or reject, CSUA applications for their department. Department Chairs cannot authorize their own CSUA.
Inventory and CS Usage Logs: Department Chairs are responsible for ensuring that a current inventory of all CS under their purview is maintained by the PI on corresponding CS Usage Logs in an on-site CS Log Book available for periodic audit by EH&S and/or the DEA.
Final approval of all CSUA applicants and AP rests with the CS Program Manager, following verification of DEA-required information applicants provide on the PSDS.
All applicants must answer questions concerning:
Felony convictions in connection with CS
Surrendering previous registrations or having registration revoked, suspended, or denied
Any use of narcotics, amphetamines, or barbiturates other than those prescribed to the applicant by a physician
PIs, CSUA Lab Contacts, and AP who require access to CS must complete Controlled Substances Training eCourse on UC Learning Center, with refresher training required every 4 years. (UC BUS-50 Controlled Substances)
How to get the training:
Audits
Controlled Substances (CS) inventory must be made available for audits by EH&S, Institutional Animal Care and Use Committee (IACUC) and the DEA.
Researchers must conduct self-audits regularly, in between EH&S visits. Use the UC San Diego Lab Self-Audit Form to document this whole-lab safety review, and the CS Self-Assessment form for the CS portion.  Maintain these records in the lab.  Retain the completed CS Self-Assessment forms CSUA section of your CS Logbook. 
The EH&S Research Assistance Program (RAP) audits labs on a regular basis. These audits will include a documented review of the CS inventory and the CSUA. The full audit criteria used to evaluate compliance is denoted on the CS Self-Assessment sheet. If you have questions about the RAP or CS audits please contact your RAP representative.
IACUC will also inspect your CS during laboratory visits to ensure that you do not have any expired CS for use in animals and that you have drugs required for animal pain management in your inventory. Any expired CS should be labeled as "Expired Not for Use in Animals" and request a CS Disposal appointment. Any questions regarding IACUC policy and inspections should be directed to the IACUC office.
The DEA performs unannounced visits to campus to audit laboratories that have CS. It is crucial that CS inventories and authorizations be kept up to date in preparation for unannounced DEA inspections.
UC San Diego
University of California
Federal
State
It is your responsibility to immediately report any CS problems to the PI and the CSP. This includes discrepancies on CS Usage Logs and disposal records, and any suspected theft, loss or disappearance of CS. The CSP will investigate any reported issues and contact UCPD and the DEA if required. 
You may report illicit activities, anonymously if you wish, by calling Wendy Scott at 858-534-1362 or Monica Esswein at 858-534-9016. Call immediately after determining the material was lost, stolen or improperly disposed. You may also contact the CSP with any additional questions by calling the numbers above or emailing ehscs@ucsd.edu.