Cost Share Reconciliation Dashboard
Cost Share Reconciliation Dashboard
Last Updated: April 10, 2023 9:27:37 AM PDT
This dashboard helps departments identify issues related to cost share that should be resolved.
The Cost Share Reconciliation Dashboard has three tabs: PPM Summary, GL Summary, and Misposted Transactions
View more about each tab and example questions they answer in the drawers below. 
Access the dashboard through the Business Analytics Hub 
Access has been provisioned to anyone with the Oracle BI Consumer JR role. (Staff who do not have access should request the Oracle role.) To access the dashboard: 

Navigate to bah.ucsd.edu.
Select

 

Budget & Finance.
If using the List View, look for Cost Share Reconciliation Dashboard in the list or use the search bar at the top right and click the dashboard name

If using the Card View, click the

Exceptions and Reconciliation

tab and click Launch on the Cost Share Reconciliation Dashboard tile

Use your

 

Active Directory credentials

 

to sign in, if prompted.
Additional Details
Project Personel - Search by specific personnel
Project - Search for your project number or key words in the project name. If using key words in the project name, change the drop down to "Contains any of these keywords." Projects can be multi-select.
Project/Award Status - You can filter by active, closed, etc.. project statuses with a multi-select option.
Financial Unit - You can filter down by Fin Unit L4, Financial Units are multi-select.
Award Number-Name - Use your browser's search box to locate the award number-name. Only awards with cost share are listed.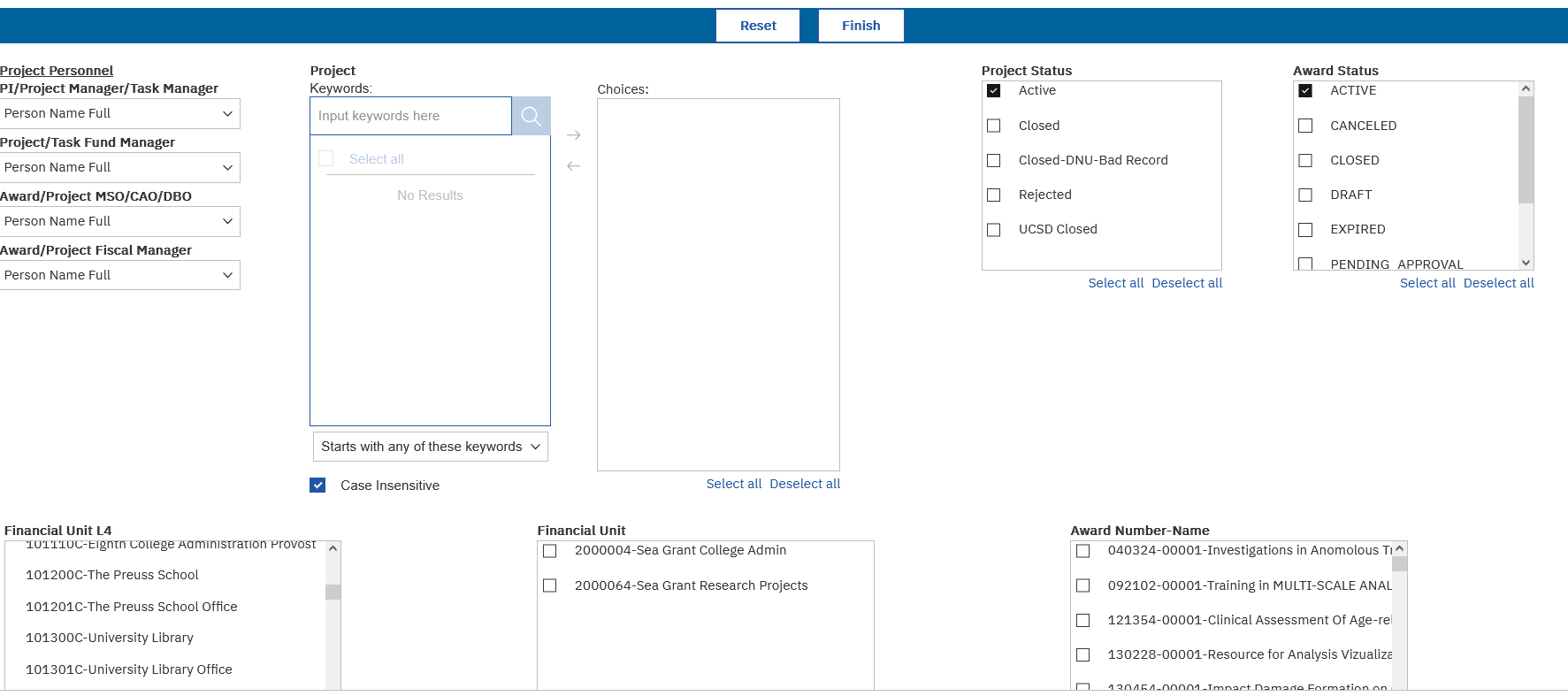 The PPM Summary tab shows Budgets, Costs, Commitments, and Balances for all projects and tasks on awards with cost share.  Inclusion of a Funding Source column allows users to identify how cost share has been funded.  Click on a Costs or Commitments amount to see all of the transactions behind the number.
Use this tab to answer questions such as: 
Have I over- or under-spent my cost share budget?
Are there costs or commitments on an external project/task but on an internal funding source, or vice versa?  If so, what are those transactions?

The GL Summary tab shows inception-to-date Resources and Expenses that have posted in the General Ledger to sponsored projects and non-sponsored funds.  Resources must be transferred in the General Ledger to support cost share expenses. 
Use this tab to answer questions such as: 
Have I appropriately funded cost share with resources in the General Ledger?

For projects created prior to 8/1/2022, it is possible for transactions to post to any funding source and any task associated with the project.  This means that transactions with an external funding source can post to the cost share task, and transactions with an internal funding source can post to the non-cost share task. The Misposted Transactions tab displays details of PPM transactions with these task-funding source mismatches.  Costs that have already been corrected will not appear on the list.  A link from the transaction number goes to the transaction in Oracle, where a cost transfer can be initiated to correct the task or the funding source.

What do I do if there are costs on the wrong task or funding source?
Identify all costs on a project-task-funding source in Manage Project Costs

Complete an Oracle PPM Cost Transfer to move the costs onto the right task or funding source
What do I do if there are negative balances on the GL Summary?
Transfer resources to the project-fund from the cost share commitment source.  For example, if cost share is to be funded by faculty discretionary funds, transfer resources from the faculty discretionary project to the sponsored project.
Why is the Cost amount on the PPM Summary different from the Expenses amount on the GL Summary?
There may be cost share Costs in PPM that appropriately have not posted to the GL.  For example, indirect costs on cost share are recorded in PPM for reporting to the sponsoring agency, but these are not actual costs to UCSD and do not post to the GL.  Cost share that was recorded in the legacy cost share application are recorded in PPM, but these costs are not recorded in the GL as they are from fiscal periods before July 2020.
Are there KBAs I can reference?