Facilities Management Storehouse
Last Updated: June 27, 2023 11:56:38 AM PDT
The Facilities Management Storehouse provides products for Facilities Management units and customers from other departments.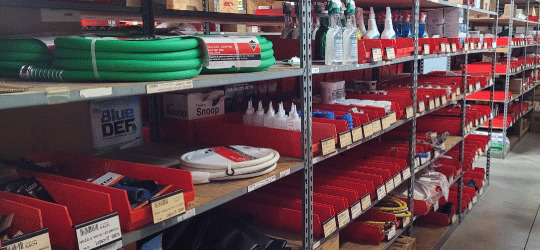 Maintaining an onsite product inventory allows Facilities Management staff to perform critical maintenance and repairs more efficiently. Product prices are competitive and often better than most online vendors.
Products
The Storehouse stocks more than 3,000 different items, including:
Personal Protective Equipment
Electrical products and parts
Lighting products and replacement parts
Plumbing products and parts
Carpentry products and supplies
Lock parts and locking mechanisms
Metal and roofing supplies
Sign fabrication supplies
Painting supplies
Custodial supplies
Landscaping and irrigation supplies
Heating, ventilation and air conditioning supplies
 How to Purchase Products
To purchase Storehouse products, submit a work request via the FM customer portal. You will need a a Project and Task number.