Professional Buyer Workflow Enhancement
Professional Buyer Workflow Enhancement
Last Updated: January 23, 2023 9:06:51 AM PST
Learn about the most recent changes made to the buyer workflow in Oracle Procurement, affecting requisitions and purchase orders.

When a requisition has the status Pending Approval, that indicates the requisition is pending the approval of the financial unit

Please connect with your department approver or supervisor instead of submitting a ticket

When a requisition has the status Approved, that only indicates it has passed financial unit approval

If the requisition requires professional buyer approval, a PO will not generate in the Order column until the professional buyer has finished their approval

The status Returned indicates the requisition has been returned to you by the professional buyer

In some orders, you may notice that only one line on an order has the status Returned, and these lines will not create a purchase order

If you have a line or the entire order rejected, you can see the reason by going to Actions then Document History on the requisition

You can see the professional buyer responsible for your order in the Buyer field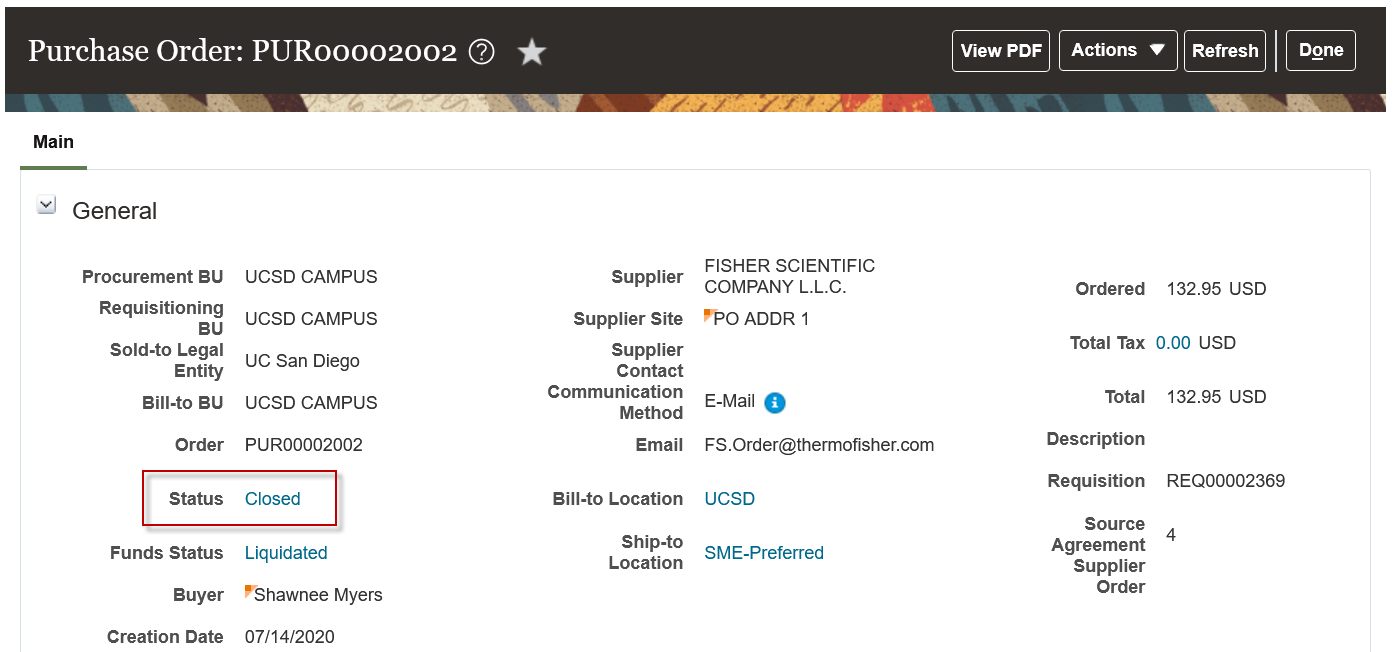 That status Closed on a purchase order indicates the PO cannot be further invoiced
The status Rejected on a purchase order indicates the PO is pending buyer review and has not been finalized or sent to the supplier

Please do not send a PO with the status Rejected to your supplier

The status Closed for Receiving on a purchase order indicates the PO has been sent to the supplier and is ready to be invoiced
PO change orders can no longer be processed for cXML suppliers, or suppliers who receive our POs electronically and not through email. If a change order is automatically rejected, you may
review our list of cXML suppliers
. Instead of processing change orders for these suppliers, please instead contact them directly to discuss the changes you'd like to make or generate a new order.