Upgrade
The UC Learning Center was upgraded to version 22.2 on Friday, July 15, 2022. Please see the Benefits section below for more information about the upgrade. Visit the UC Learning Center Learner Guide to view instructions on how to navigate the UC Learning Center with the most recent changes. 
Scheduled Maintenance
There is no scheduled maintenance at the moment.
Benefits
Improved site navigation
Improved system administrator functionality to provide you with more efficient support
Updated, user-friendly transcript
Changes to Transcript View
After the 22.1 upgrade, users will notice a change to the appearance of transcripts. Depending on the selected date range, multiple completions of the same activity completed during that date range will be grouped together with the most recent completion showing by default. Expand or collapse the activity to view all completions or only the most recent for that activity. This provides a cleaner, more user-friendly look to the transcript.
Note: When printing or exporting a transcript and ALL completions are needed, it is important to remember to expand the activity BEFORE printing or exporting.
Collapsed view of transcript (Most recent completion for selected date range visible)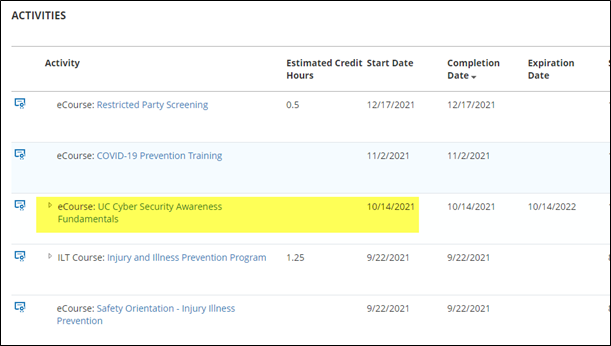 Expanded view of transcript (All completions for selected date range visible)