How to Dispose of Plastic Tissue-Culture Pipettes
How to Dispose of Plastic Tissue-Culture Pipettes
Last Updated: November 10, 2021 11:32:39 AM PST
Follow these instructions for storing and disposing of used plastic tissue culture pipettes.
Requirement
Plastic tissue-culture pipettes must be collected and disposed of in rigid, puncture- and leak-proof containers.
Follow instructions based on type of contamination:
Use this process when disposing of pipettes contaminated with biohazards (no chemical or radioactive materials):
Steps: (available on the main campus and SIO)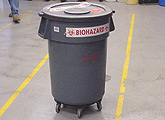 Place used pipettes in a BIOHAZARD container that has been lined with 2 

labeled, red

 biohazard bags.

Note: Procurement sells bags preprinted with UC San Diego identification labels in different sizes.

Label the red bag or sharps container (if they are not preprinted) with the following information as soon as you add the first contaminated pipette:

"Biohazard"
The international biohazard symbol
UC San Diego address and phone number:

University of California, San Diego (or UC San Diego)
9500 Gilman Drive
La Jolla, CA 92093
(858) 534-4357
OR
UC San Diego Medical Center
200 West Arbor Drive
San Diego, CA 92103
(619) 543-6222

Building name and room number where the waste was generated
Tie or secure the 2 liner bags closed when full and wheel the BIOHAZARD container to the biohazard waste collection area for your floor or building to be collected by EH&S.
Get a replacement container at the collection area.
Request additional BIOHAZARD containers from EH&S Environmental Management Facility, (858) 534-2753.
Select an acceptable storage container: Options for pipettes contaminated with hazardous materials include:

The original pipette box with a plastic bag placed inside
A sharps storage container
Recycled rigid plastic roller bottles

Label the storage container:

Label with a hazardous waste tag before you place the first contaminated pipette into the plastic bag or another container.
Read How to Use Hazardous Waste Tags for more information.

Dispose of contaminated pipettes:

If you stored the pipettes inside a plastic bag in their original box, tightly tie the bag closed.
Do not tape the bag or box closed. Environment, Health & Safety (EH&S) waste technicians must visually inspect the bags before collection.
Request a hazardous waste collection.
For pipettes contaminated with multiple categories of hazardous materials (biological, radioactive, or chemical), contact the EH&S Environmental Management Facility for specific disposal instructions.
Notice: Disposal of hazardous waste using sinks, intentional evaporation, or as regular trash is against the law. Campus laboratories must abide by strict state and federal waste disposal requirements. You may be held liable for violations of applicable laws.