How to Request a Hazardous Waste Collection
Last Updated: September 27, 2020 3:55:31 PM PDT
Learn how to request a hazardous waste collection at UC San Diego.
The EH&S Environmental Management Facility collects, processes, and disposes of chemical, radioactive, mixed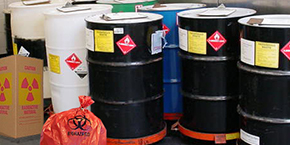 For biohazardous and medical waste disposal, see How to Package and Dispose of Biohazardous and Medical Waste.chemical-radioactive, and universal hazardous waste generated by UC San Diego facilities.
Note: For non-hazardous waste, such as office trash and recycling, see Waste Pickup Schedule: Non-hazardous Recycling and Trash. 
Special pickups
Request special pickup for the following items:
Large volumes or numerous items
Large items such as refrigerators
Please contact your RAP Specialist if you have a lab cleanout or a special project that will result in large volumes of hazardous waste for removal.
Equipment that may have come in contact with radioactive, biohazardous, or chemical materials must be decontaminated before it is collected for disposal. Clean equipment and request a decontamination clearance if required.
Hazardous waste collection schedule
How to request a hazardous waste collection
Use one of the methods below to request a pick up:
The UC San Diego Online Waste Tag Program is the preferred way to request waste pickup.
The OTP does much more than print waste tags. It will:
Let you notify EH&S when you need a waste pickup
Display a history of your collected wastes
Learn more about how the OTP makes hazardous waste management easier.
Fill out the Hazardous Waste Pick-up Form:
Complete and email the form to HAZWASTE@UCSD.EDU to request collection.
Fill out the Hazardous Waste Pick-up Form:
Complete and print out the form. Fax or mail the form to EH&S:
Fax (858) 534-9708 (no cover page necessary)
Mail Code 0958
Notice: Disposal of hazardous waste using sinks, intentional evaporation, or as regular trash is against the law. Campus laboratories must abide by strict state and federal waste disposal requirements. You may be held liable for violations of applicable laws.