Chart of Accounts Panorama
Last Updated: April 10, 2023 11:20:03 AM PDT
Find out about business scenarios, data selection, report view options, and data definitions for Chart of Accounts Panorama available under Budget & Finance in the Business Analytics Hub (bah.ucsd.edu).
Hierarchies help define structure, and provide for standard and consistent financial reporting to our various stakeholders about UC San Diego's financial performance and financial position over a specified period of time. The Chart of Accounts Panorama is designed to help you explore the UCSD Chart of Accounts and hierarchies.
Business Scenarios
What chart strings have been used for my Financial Unit?
Data Selection and View Options
Use these parameters to filter for the data you want to view
These filters can be used in combination or individually to produce desired results



Report Views
Results display in a table of 14 columns

Refer to the Data Glossary under Get Started on the main BI & Financial Reporting Blink menu for searchable data descriptions and usage rules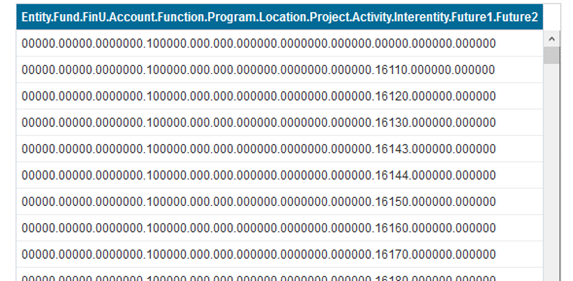 Business Scenarios
The Managerial Reporting Account Hierarchy categorizes Accounts into Account groupings used in many UC San Diego internal financial management reports
The Managerial Reporting Account Hierarchy is an essential component for reporting financial performance as it groups accounts into Resources, Expenses, Net Surplus/Deficit, and Total Balance which facilitates financial planning, analysis, benchmarking and decision making
The Managerial Reporting Account Hierarchy reports the hierarchy structure for each Account and which Accounts are included at each level of the hierarchy
Data Selection and View Options
There are no parameters on this dashboard page

Report Views
Results display in a table of 8 columns representing the entity categories in hierarchical order from left to right

Refer to the Data Glossary under Get Started on the main BI & Financial Reporting Blink menu for searchable data descriptions and usage rules

Business Scenarios
Data Selection and View Options
The report is designed to show the full hierarchy

To further refine the results use the available parameters to search the Fund

Report Views
The results display in a table of 10 Columns representing the fund categories in hierarchical order from left to right

Refer to the Data Glossary under Get Started on the main BI & Financial Reporting Blink menu for searchable data descriptions and usage rules

Business Scenarios
The Managerial Reporting Fund Hierarchy categorizes funds in fund groupings used in many UC San Diego internal financial management reports

The Managerial Reporting Fund Hierarchy is an essential component for campus resource allocations, such as the Core funded portion of the campus budget


The Managerial Reporting Fund Hierarchy reports the hierarchy structure for each fund and which funds are included at each level of the hierarchy
Data Selection and View Options
The report is designed to show the full hierarchy

To further refine the results use the available parameters to search the Fund

Report Views
Results display in a table with a single section of 12 columns representing the fund categories in hierarchical order from left to right

Refer to the Data Glossary under Get Started on the main BI & Financial Reporting Blink menu for searchable data descriptions and usage rules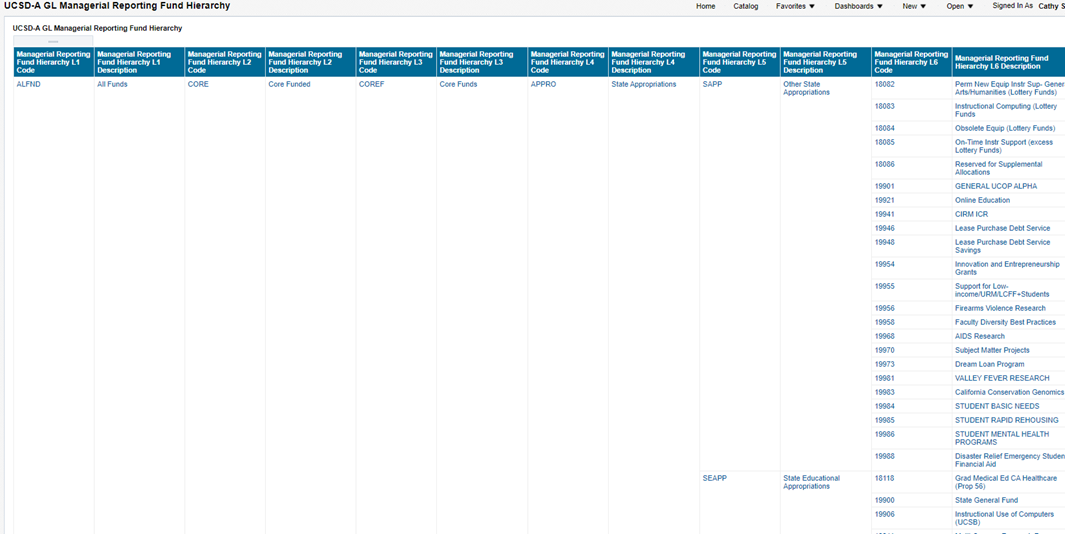 Business Scenarios
Data Selection and View Options
The report is designed to show the full hierarchy

To further refine the results use the available parameters to search the FinU

Report Views
Results display in a table with a single section of 10 columns representing the FinU categories in hierarchical order from left to right

Refer to the Data Glossary under Get Started on the main BI & Financial Reporting Blink menu for searchable data descriptions and usage rules

Business Scenarios
Data Selection and View Options
The report is designed to show the full hierarchy

To further refine the results use the available parameters to search the Account

Report Views
Results display in a table with a single section of 14 columns representing the Account categories in hierarchical order from left to right

Refer to the Data Glossary under Get Started on the main BI & Financial Reporting Blink menu for searchable data descriptions and usage rules

Business Scenarios
The Managerial Reporting Account Hierarchy categorizes accounts into account groupings used in many UC San Diego internal financial management reports.

The Managerial Reporting Account Hierarchy is an essential component for reporting financial performance as it groups accounts into Resources, Expenses,  Net Surplus/Deficit, and Total Balance which facilitates financial planning, analysis, benchmarking and decision making.


The Managerial Reporting Account Hierarchy reports the hierarchy structure for each account and which accounts are included at each level of the hierarchy
Data Selection and View Options
The report is designed to show the full hierarchy

To further refine the results use the available parameters to search the Account hierarchy

Report Views
Results display in a table with a single section of 10 columns representing the Account categories in hierarchical order from left to right

Refer to the Data Glossary under Get Started on the main BI & Financial Reporting Blink menu for searchable data descriptions and usage rules
Business Scenarios
Data Selection and View Options
The report is designed to show the full hierarchy

To further refine the results use the available parameters to search the Function

Report Views
Results display in a table with a single section of 4 columns representing the Function categories in hierarchical order from left to right

Refer to the Data Glossary under Get Started on the main BI & Financial Reporting Blink menu for searchable data descriptions and usage rules
Business Scenarios
Data Selection and View Options
The report is designed to show the full hierarchy

To further refine the results use the available parameters to search the Program

Report Views
Results display in a table with a single section of 4 columns representing the Program categories in hierarchical order from left to right

Refer to the Data Glossary under Get Started on the main BI & Financial Reporting Blink menu for searchable data descriptions and usage rules

Business Scenarios
Data Selection and View Options
The report is designed to show the full hierarchy

To further refine the results use the available parameters to search the Location

Report Views
Results display in a table with a single section of 4 columns representing the Location categories in hierarchical order from left to right

Refer to the Data Glossary under Get Started on the main BI & Financial Reporting Blink menu for searchable data descriptions and usage rules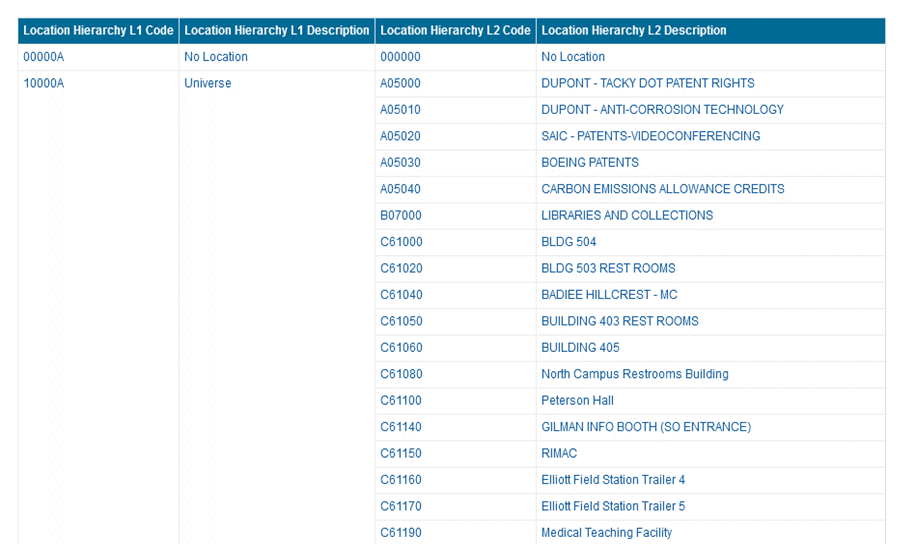 Business Scenarios
Data Selection and View Options
The report is designed to show the full hierarchy

To further refine the results use the available parameters to search the Project

Report Views
Results display in a table with a single section of 4 columns representing the Project categories in hierarchical order from left to right

Refer to the Data Glossary under Get Started on the main BI & Financial Reporting Blink menu for searchable data descriptions and usage rules

Business Scenarios
Data Selection and View Options
The report is designed to show the full hierarchy

To further refine the results use the available parameters to search the Activity

Report Views
Results display in a table with a single section of 4 columns representing the Activity categories in hierarchical order from left to right

Refer to the Data Glossary under Get Started on the main BI & Financial Reporting Blink menu for searchable data descriptions and usage rules

Business Scenarios
Data Selection and View Options
There are no parameters on this page
Report Views
Results display in a table with a single section of 4 columns representing the Interentity categories in hierarchical order from left to right

Refer to the Data Glossary under Get Started on the main BI & Financial Reporting Blink menu for searchable data descriptions and usage rules