Make an appointment at our new appointment location.
---
Walk-in Location
Campus Services Complex, Building 'A'
1 Greenhouse Lane
La Jolla, CA 92093 
(858) 534-1164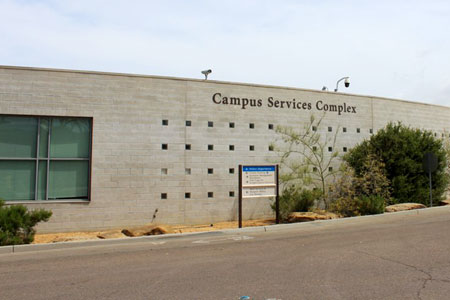 The 'walk-in' passport acceptance office is located in the Campus Services Complex, building 'A' on Greenhouse Lane near the corner of Voigt and Gilman. Customer parking is in front of Mail Services on the north side of the building. 
This location accepts walk-in applicants only. Our office houses six passport stations which keep our average wait times low. Keep in mind we cannot guarantee acceptance of walk-ins that arrive just before the posted closing time. Plan to arrive early to ensure you make it to the front of the line at least 30 minutes before the office closes. 
Walk-in Hours
Mon-Fri: 8 a.m. - 3 p.m.
Saturday: 8 a.m. - 2 p.m.
Sunday: CLOSED
Closed for university holidays    
Saturdays are 'family days' at this location. Why? Because traffic is light, parking is free, and we have fun activities on-hand for the little ones!
---
Appointment Location
Cashiers Office - Student Services Center, Ste. 170
402 Myers Drive 
La Jolla, CA 92093 
(858) 246-2620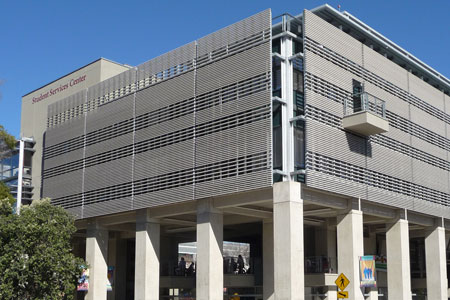 The 'by appointment' passport acceptance office is located in the Student Services Center in the heart of campus on the corner of Rupertus Way and Myers Drive south of Price Center East. The closest visitor parking is in the Gilman Parking Structure. 
Schedule Appointment*

Once you have set up your appointment you will receive a confirmation email. Clicking this button will re-route you to the online booking tool. *Note, UC San Diego is not responsible for any content contained or accessible when leaving our site. 
Appointments Available

(Latest appointment slot is 1:30 p.m.)
Mon-Fri: 9 a.m. - 2 p.m.
Saturday & Sunday: CLOSED
Closed for university holidays
---
Directions to Appointment Location
Get directions to the Student Services Center. Plan to arrive on campus at least 15-20 minutes before your scheduled appointment to allow time to park and walk over to the Student Services Center.
---
Application guidelines and materials
These guidelines apply to both campus locations. 
What to Bring:
All passport applicants (including minors) must appear in person with the materials listed below. 
A completed DS-11 application (in black ink and unsigned)
Proof of U.S. Citizenship: Original or Certified copy of Birth Certificate, Certificate of Naturalization or a previous passport. 

All applicants under 16 must show their original or certified copy of their Birth Certificate and must also bring any previously held passport.

Proof of Identity: Valid Driver License, State issued ID, Official U.S. military ID card or Government employee ID card.

If the Driver License or State issued ID is issued outside of California or was issued within the last six months, another form of photo identification

 

is required. (e.g. Costco card, expired ID, school or work ID, etc.).

One 2" X 2" passport photo, available at Passport Acceptance Office: $10 (set of 2), $5.00 each additional set - cash or check payable to UC Regents
Two forms of payment for each of the

 

required fees - card payments are not accepted:

Application fee, $15 - $140: Make your check(s) payable to the U.S. Department of State. Each application must have a

 

separate

 

check or money order.
Execution fee, $35: Make your check(s) payable to UC Regents. Can be combined onto one check for all applicants, or paid cash.
Adults (ages 16 and 17) need one parent present. Both the applicant and the parent must bring valid photo identification.
Minors (ages 15 and under) must have both parents present. Both parents must show valid photo identification.
If a parent can't be present, then *Parental Consent is required. 
Processing Time:
Routine processing takes 4-6 weeks and is subject to change depending on the volume of applicants. Expedited processing takes 2-3 weeks. Expedited services have a $60.00 fee per application. The fee for this service is payable to the U.S. Department of State in addition to application fees.
Information and Resources:
Visit the Department of State passport website for information and resources including:
Application forms
Required fees (No card payment accepted)
*Instructions on how to show Parental Consent if both parents/guardians of a child (under 16) cannot appear in person. 
Policies and Regulations