Printer Refresh Program
Last Updated: June 26, 2023 11:14:44 AM PDT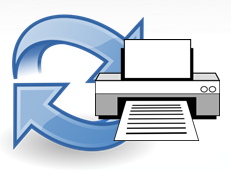 Learn how to replace your current printer with a new high-efficiency HP printer.
UC San Diego's Integrated Procure-to-Pay Solutions has partnered with Hewlett-Packard (HP) to replace existing printers on campus that are nearing the end of their usable lifetime. HP will provide new high-efficiency printers at no charge to campus departments. In order to participate in the program, however, a one-time $30 non-refundable administration fee will be required for each printer exchanged. This is a phased program. In each phase, we will target the oldest and most energy inefficient printers on campus first. 
Program Status: Currently accepting printer requests. 
The new HP printers will help reduce our printing carbon footprint not only through energy usage, but also through increased efficiency in toner and paper use. Overall this program is designed to help departments save money on printing costs in the long run. 
Covid-19 Update:
As remote work is encouraged during the pandemic, we must make sure to have new procedures in order to ensure that the Printer Exchange Program runs as smoothly as possible.
In order to qualify for this program, the requester must commit to a minimum of 3 days of being on campus. Once approved for a printer exchange, delivery must be coordinated and arranged for a set date. The requestor must be on delivery location for a full business day or until the printer is received. A Surplus Sales pick up for the old printer must be scheduled 7-10 business days following drop-off of the new equipment. Additionally, please arrange for IT support to set up your new printer, keep in mind an individual must be present for this appointment as well. 
Please refer to the step-by-step procedures below for more guidance on the process. 
UC San Diego earns points based on spend with HP. The university earns one (1) point per $4 USD we spend with qualifying HP supplies like ink and toner. This program enables the university to redeem cumulative points allowing you to select a printer based on the goals and expectations of the program and also meet the needs of your business unit.
Simply put, "Energy Efficiency" is about using less energy to get the same job done - and in the process, avoiding high energy bills and unnecessary pollution.
Performance:
| | |
| --- | --- |
| Printers ordered | 73 |
| Departments Served | 55 |
| Value of Printers and Savings | $60,239 |
| Electricity cost savings* | $10,000+ |
| Carbon Footprint (CO2-e, lbs) savings* | 58,210 + |
* Projected savings are based on the course of 10 years
Goal: Provide campus with the tools to do their jobs productively, while reducing costs and minimizing environmental impact associated with UC San Diego's printing.
Save Energy

Cut campus energy usage by up to 75% by replacing old, energy-inefficient printers with new, Energy Star certified printers

Waste Reduction

Reduce toner cartridge waste by switching to high-capacity toner, which print more pages per cartridge
Old printers and accessories are recycled properly through Surplus Sales

Save Paper

Provide duplex-capable printers, encouraging double-sided printing
Newer technology printers are more capable of handling high recycled-content paper

Save Money

Now an option with newer printers, high capacity toners and recycled-content paper are usually more cost-effective
Avoid costs from purchasing a new printer
All UC San Diego departments that are serviced by Integrated Procure-to-Pay Solutions' Receiving and Distribution, and who have a valid charge account, are eligible for this program. Currently, this program is not available to UC San Diego Medical Center departments.
Printer Selection: Please review the new printer options provided on the Printer Exchange Request Form to identify a sustainable and efficient printer replacement.
IT Support:

Contact your IT Support to ensure the appropriate printer exchange can be supported on the UC San Diego network.

Printer installation will require you to schedule an installation date with your IT support technician to minimize downtime.

Submit Request:

IPPS will review the request and make sure all required information has been provided.
You will be notified by IPPS if your printer is deemed eligible for replacement or not.

Delivery: Once an order for your new HP printer has been placed, typical delivery time is 3-5 business days. 

Requestor is required to be onsite for delivery.

 IPPS Receiving & Distribution will deliver your new printer to the location specified in the request form.
Old Printer Pick-up: 

The requestor is responsible for scheduling a Surplus Sales pick-up of your old printer 7-10 business days following drop-off of the new equipment (this is a mandatory requirement of the exchange program).  You will need to fill out a

Surplus Sales Transfer Request in CAMS.
Return Policy:  Exchange or replacement considerations must be submitted to greenprocurement@ucsd.edu within 30 days of the shipping date. No exceptions will be considered after this window.
Begin Process: Printer Exchange Request Form.
Please note that if you are planning to transfer several items to Surplus Sales simultaneously, you must fill out a separate transfer request for your printer. For all inquiries about the Printer Refresh Program, e-mail
greenprocurement@ucsd.edu.