Climate Action Plan Goals: Integrated Procure-to-Pay Solutions
Climate Action Plan Goals: Integrated Procure-to-Pay Solutions
Last Updated: April 23, 2020 10:07:11 AM PDT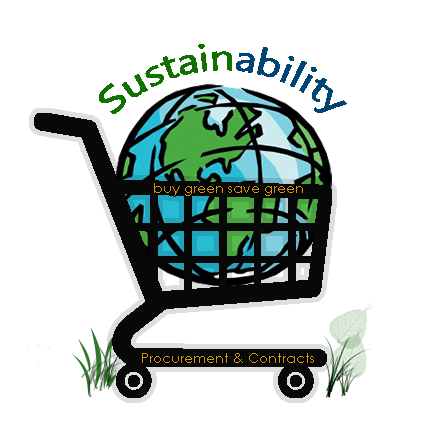 Learn about Integrated Procure-to-Pay Solutions' role in UCSD zero-waste goal, and how you can be a part of it!
How does Procurement play a role in Sustainability?
The Integrated Procure-to-Pay Solutions (IPPS) department identified goals for the UCSD Climate Action Plan (CAP) to reach zero waste by 2020 and climate neutrality by 2025. IPPS encourages "green" buying practices but the success of the goals requires participation from campus. IPPS presents several goals to reduce emissions and environmental impacts associated with procurement, with which cooperation by campus departments are necessary to be successful.
Learn more about the CAP procurement goals below.
1. Increase the accuracy and availability of, and information on, "green products" in UCSD Marketplace by creating standardized criteria for flagging eco-friendly items.
Marketplace is UCSD's primary tool for placing purchase orders. Within the tool are several flags used to identify an item as "green", "recycled", or environmentally advantageous. Click here for details on each flag and more on environmentally preferable purchasing (EPP). Because Marketplace catalog suppliers are allowed to assign flags to their catalog items as they see fit, there is no standardization on  how the flag should be used. The goal is to increase the integrity and accuracy of flags in order to reduce risk of greenwashing. This will be done by making sure suppliers provide easily accessible and sufficient information to support their own environmental claims.
Relevant actions include
Create a protocol for supplier engagement and provision of proper information on flagged catalog products. This will include a criteria checklist suppliers must fulfill before a product may be flagged.
Intensive research into existing environmental standards for all commodities. This will help determine whether or not a supplier's supporting information is sufficient to support a flag.
Assessment correction, and maintenance of existing flag assignments
2. Establish a "Best Practices" standard for each commodity category
Develop purchasing guuids for buying specific commodity categories to help guide consumers in decision making. Considerations may include, but will not be limited to topics like Total Cost of Ownership, Ecolabel databases, and official purchasing guides from other agencies
Relevant actions include
Intensive research into existing environmental standards for all commodities.

Collection and consolidation of information from existing ecolabel databases and purchasing guide
Procurement CAP goals will be directed towards the following commodities, listed from high to low priority. Focus will remain on products available in the Marketplace-hosted catalog.
Office Supplies
Laboratory Supplies
Maintenance and Repair Operations (MRO) Supplies
Cleaning Supplies
Electronics
Relevant Actions include:
Within the next two years, create campus-accessible Favorites Folders for environmentally prefereable products within each commodity
Although systematic changes and educational materials can help increase the proportion environmentally preferable purchasing, behavioral change is largely based on awareness and education. Procurement & Contracts will not only produce the necessary resources for campus to learn about and act upon EPP, but also assume responsibility for ensuring that those resources are properly used and well established.
Relevant Actions include:
Employee Training: Develop a UCSD Marketplace EPP Training course or program to publicize mechanisms used to promote environmentally preferable products, and EPP educational materials. The course or program will also include training around different Marketplace tools which support practices surrounding EPP
Supplier Engagement: Leverage buying power to increase demand for sustainable alternatives, as well as information supporting environmental claims. This will place pivotal pressure on suppliers to emphasize the environmental impacts and information quality of their products, particularly those in the Marketplace-hosted catalog
Perfecting Promotion Strategies: Perform an assessment on methods currently used for promoting environmentally preferable products. Test for effectiveness before and after promotion strategies are paried with training, in order to isolate the marginal effect of promotion strategies.
While the UCSD Integrated Procure-to-Pay Solutions department is the primary party responsible for developing many of the action items and goals, maximizing impact will engage all relevant parties, including all campus shoppers. Procurement is responsible for updating the progress and tracking of goals.
Relevant Actions
Maintain (an) FTE staff person(s) whose job functions primarily support sustainable purchasing
Maintain membership on the Climate Action Plan Task Force
Track goals and publish progress annually
Few goals come without challenges
Changes in behavior, perception, and preference on low-impact products cannot be mandated, only guided, by Procurement
UC San Diego's e-Procurement Platform, Marketplace, is hosted by SciQuest which has limited functionality in its interface
Varying industry standards for environmentally pereferable products may present difficulties in supplier engagement, specificially with commodities that do not hae existing products
Due to lack of sufficient and standardized informational data in previous years, it is unclear where a baseline shoul dbe established

Although consumerism and purchasing is directly related to environmental degradation, procurement of goods and services is necessary to the function of our university as an educational, research, and operational institution. Therefore, the purpose of these objectives is to provide guidance for purchasing decisions made by campus personnel.