Vanilla Visa Gift Card
Last Updated: January 13, 2022 4:47:01 PM PST
Read about Disbursements Vanilla Visa gift cards.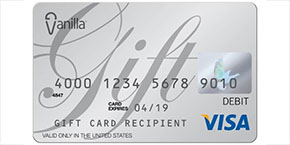 Payment Services provides a Vanilla Visa gift card program that partners with Incomm. The program is accessible for all departments to order gift cards for employee rewards such as recognition, sympathy, retirement, length-of-service, prizes and other gifts. This product can also be used as compensation for Human Subject Compensation. Vanilla Visa gift cards have a load fee of $1.15 per card with no additional fees, can be used anywhere in the U.S. that accepts Visa, and the funds never expire. Cards can be loaded for denominations between $20 and $500.
Note: We recommend only placing your order for the number of cards you know will be disbursed. Once Vanilla Visa Gift Cards are loaded, they cannot be cancelled and are non-refundable. Therefore, departments are responsible for all incurred charges. After gift cards have been picked up, the department index will incur the gift card fee even if the card is lost, stolen, or not received by the department.
Obtain a current stamped IRB approval letter and the compensation portion of the consent form.
Select a new request in Concur: Requests/New Request
Select the "Request Header" tab, select the Request Type "Card and Payment Products"

For a

Gift Card order for an Employee or Non-Employee

select Payment Product Type "UCSD Gift Cards (Awards/Recognition)."
For a

Gift Card order for Human Subject Compensation

select Payment Product Type "UCSD Human Subject Payments.

Enter all other information pertaining to the following required fields, click "Save" once completed:

Date
Request Name
User Type
Fund
Financial Unit
Function

Select the "Expenses" tab
Begin adding an expense (gift card) by selecting the appropriate type as detailed on the right side of the screen.
       Note: If you have multiple denominations, you will need to complete steps 6-9 for each individual denomination.
Once appropriate type is selected, a new screen will populate requesting the fields below, please be sure to add all of these fields.

Expense Type (populated by step above)
Type of Gift Card
Amount of Each Gift Card
Number of Gift Cards Needed
Comment

You will now need to add all attendees (In concur a payee is known as an attendee) to your request. Click on "Advanced Search" to add the names of your attendees (gift card recipients).
Enter "Save", an expense line will now populate on the left side of your screen.
Once you have completed your order, be sure to add required attachments by clicking the "Attachments" button at the top right of your screen (Current stamped IRB approval letter and the compensation portion of the consent form).
To submit your order, click on the red "Submit Request" button at the top right of your screen.
The turnaround time to receive your gift card order is 3-5 business days from when the order is approved by the department head.
When your request is approved, the requestor will receive a communication from IPPS indicating the order has been fulfilled and is ready for pickup.
Gift cards are to be picked up at Torrey Pines Center South, suite 415

 

by the requestor or authorized receiver with a picture ID, please be sure to have your request ID provided by Concur.
Please note: During "Safer at Home", gift cards are to be picked up at Mail Services located at 1 Greenhouse Lane in the Campus Services Complex, Building 'A' (map). Go to the "Mailing Center" or "Student Mail" door not the campus mail door. Please bring your Request ID provided by Concur and a picture ID. Intermittent office hours are Monday - Friday between 8AM-1PM.
Vanilla Visa Gift Cards can be replaced if lost or stolen if the cards have not been activated, new card fees may be assessed.
Vanilla Visa Gift Cards for Human Subject Compensation are to be distributed to participants for the study/project identified at the time the initial order was charged.
Payees receiving a total compensation of $600 or more in a calendar year, these amounts are subject to federal tax reporting requirements and will be reported on IRS form 1099-Misc.
We are currently reviewing changes to gift card guidelines for Employees and Non-Employees. 
Thank you for your patience during this time,
Disbursements Team
Gift cards should be handled like cash and must be secured in accordance with UCOP Policy (BUS-49). Suggestions for how to secure gift cards are as follows:
For gift cards up to $1,000, secure in a lockable receptacle.
For gift cards from $1,001 to $2,500, secure in a safe.
For gift cards from $2,501 to $25,000, secure in a steel-door safe, with a door thickness no less than 1" and wall thickness no less than 0.5".
For gift cards from $25,001 to $250,000, secure in a class TL-15 composite safe or better.
Disbursements is no longer requiring departments to submit reconciliation and certification records in. Departments are responsible for the continued maintenance of their financial records and are subject to audits by the Audit & Management Advisory Service (AMAS) team and General Accounting. If you have questions about how to maintain records, please contact Disbursements. Below are suggestions on maintaining records and sample forms for your use:
It is advised to prepare and maintain records on a quarterly basis (every 90 days):