About incoming service agreements
These service agreements are contracts between UC San Diego and a (non-federal) client where the client will pay UC San Diego to conduct services, and the service will not result in the development or enhancement of any intellectual property.
"Incoming" refers to the flow of funds - in the context of an incoming service agreement at UC San Diego, the UCSD PI will be paid for conducting routine services, procedures, or testing.
Examples include:
Routine statistical analysis for a pharmaceutical company
Cloud storage services at San Diego Supercomputer Center
Testing a piece of equipment on the Shake Table at UCSD's Structural Engineering Department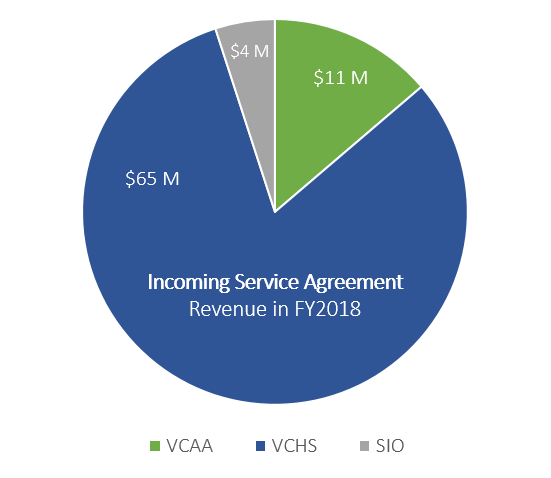 ---
Request an incoming service agreement
Only your designated UC San Diego contract officers are authorized to sign agreements binding the University. The requesting PI's department will determine which office handles your incoming service agreement.
VCAA Departments
The OCGA Ancillary Research Agreements team handles Incoming Service Agreements for VCAA departments. To request a new service agreement or amendment for additional time and/or funding, submit a Kuali Research Proposal Development record:
Submit a Request in Kuali Research
Starting Tuesday, January 21, 2020, all VCAA Incoming Service Agreements are transitioning into Kuali Research (KR) and all new requests must be submitted in KR.
Use Kuali Research to create a Proposal Development record. See Submitting Requests for guidance.
Conflict of Interest (COI) Disclosures: Starting Tuesday, January 21, 2020 COI disclosures must be completed in Kuali COI. Paper forms (700U) will not be accepted.
Summary Budget: Complete the Summary Budget in Kuali Research, which will allow for breakdown of direct and differential income.

More information about Differential Income on the Overview of Self Supporting Activities (SSA) Blink page

Attachments: Use the "Internal" tab in the Kuali Research Proposal Development record to attach a Service Agreement Template.

Provide either a. completed and signed UCSD template or b. an Agreement that requires review:

UCSD's Service Agreement Template - completed and signed by the client

:

New Service Agreement (Word): Fill in Exhibit A and have the client sign the agreement.
Amendment (Word): Fill in amendment specific information and have the client sign the amendment.

Agreement that needs contract officer review

: Clients may request to revise our template, or ask to use their company's draft agreement. This may require additional negotiation to ensure the agreement aligns with UC policy.

UCSD's Service Agreement Template with redlines or requested revisions
Client company's draft agreement

Using UCSD's Service Agreement Template is recommended and preferred. Our template contains standard terms that align with UC policy. When the UCSD template is accepted and signed by the client, it expedites processing and eliminates the need for negotiations.
VCHS Departments
The Health Sciences Business Contracting Office handles Service Agreements for VCHS departments. Use the VCHS Business Contracting Agreements Application.
Scripps Institution of Oceanography (SIO)
For SIO service agreements, please contact Andrea Lupu at alupu@ucsd.edu.