Full-Width Homepage Template (CMS v. 4.5)
Full-Width Homepage Template (CMS v. 4.5)
Last Updated: July 6, 2022 1:40:24 PM PDT
The full-width homepage template for CMS v. 4.5 provides a modern, readable design and is appropriate for the home page of a stand-alone CMS site.
Sample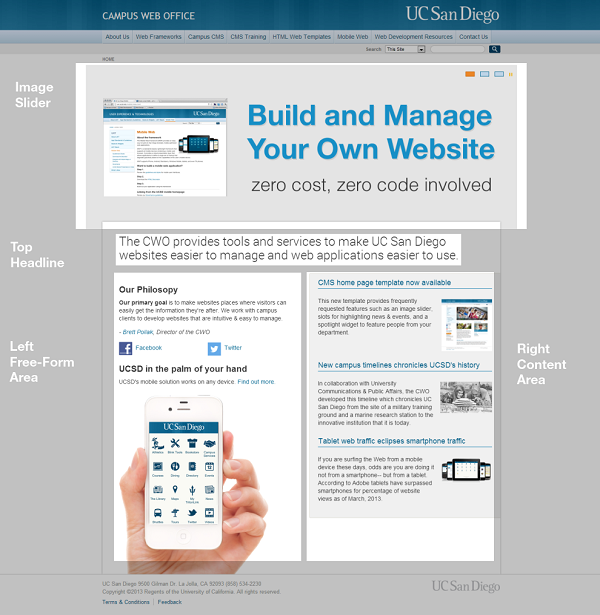 To add items to the image slider, first upload an image into /_images/homepage, then go to the 
Go /_images/homepage 
Click on the Add Content button and select Image.
Add a Headline (the headline text will display on top of the associated slider image).
Enter Alt Text.
Enter an External or Internal link (optional).
To add more slider items click the plus icon (+).

Image Size
Images in the image-rotator block should be 1280 X 400 pixels at 72 dpi.
The "top headline" feature allows you to communicate your mission, vision, or goals with your website audience.
To add items to the left free-form area of the template:
On the Edit screen, scroll to "Main Content > Content Blocks"
Enter a headline for your section.
Enter your text/ image in the WYSIWYG.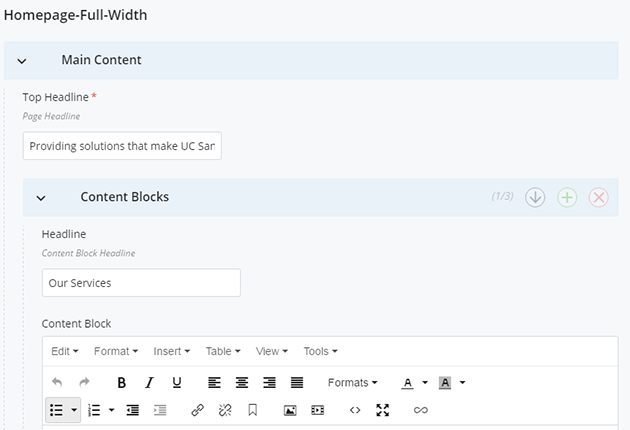 Note: You can add multiple blocks on the left side of the template by clicking on the plus (+) icon.
To add items to the news content block:
Drill down to _homepage-internals/news.
General

Heading: Enter a heading.
Content to Use: Will default to Featured Blocks. Choose WYSIWYG to use a free-form field if you need a different layout.

Featured Blocks


Add a Title (optional).
Enter an External or Internal link (optional).
Add an Image. Make sure the image is uploaded to /_images/. If the image is in the /_homepage-internals/ folder, it will not publish.
Enter Teaser text (optional).

To add more news items click the plus icon (+).

Note
Images in the spotlight block should be about 125 X 75 pixels.