Upcoming Events
Last Updated: January 26, 2023 11:04:42 AM PST
UC San Diego Black Staff Association Calendar of Events and Activities.
2022-23 |
BSA Annual Calendar (2022-23)
The General Body Meeting is an opportunity to join us for a round-table discussion on current priorities that impact our collective experiences within UC San Diego. Share your concerns and let your voice be heard!
When: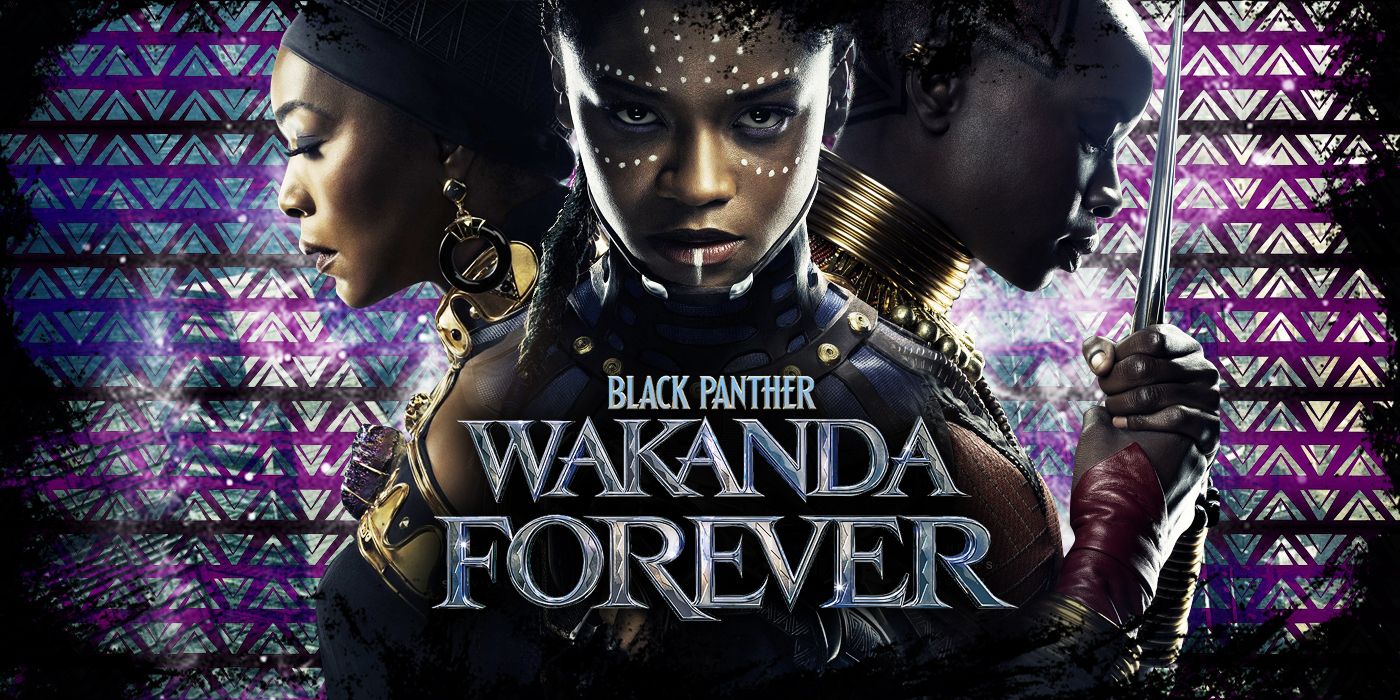 'Black Panther: Wakanda Forever' celebrates rich black culture and heritage.
AMC UTC 14 |Today, Nov 10, 2022 | 5:00 PM | Resered Seating |Closed Caption
Loction:
UTC AMC Theatres 14 in the UTC Mall
4425 La Jolla Village Drive
San Diego, CA 92122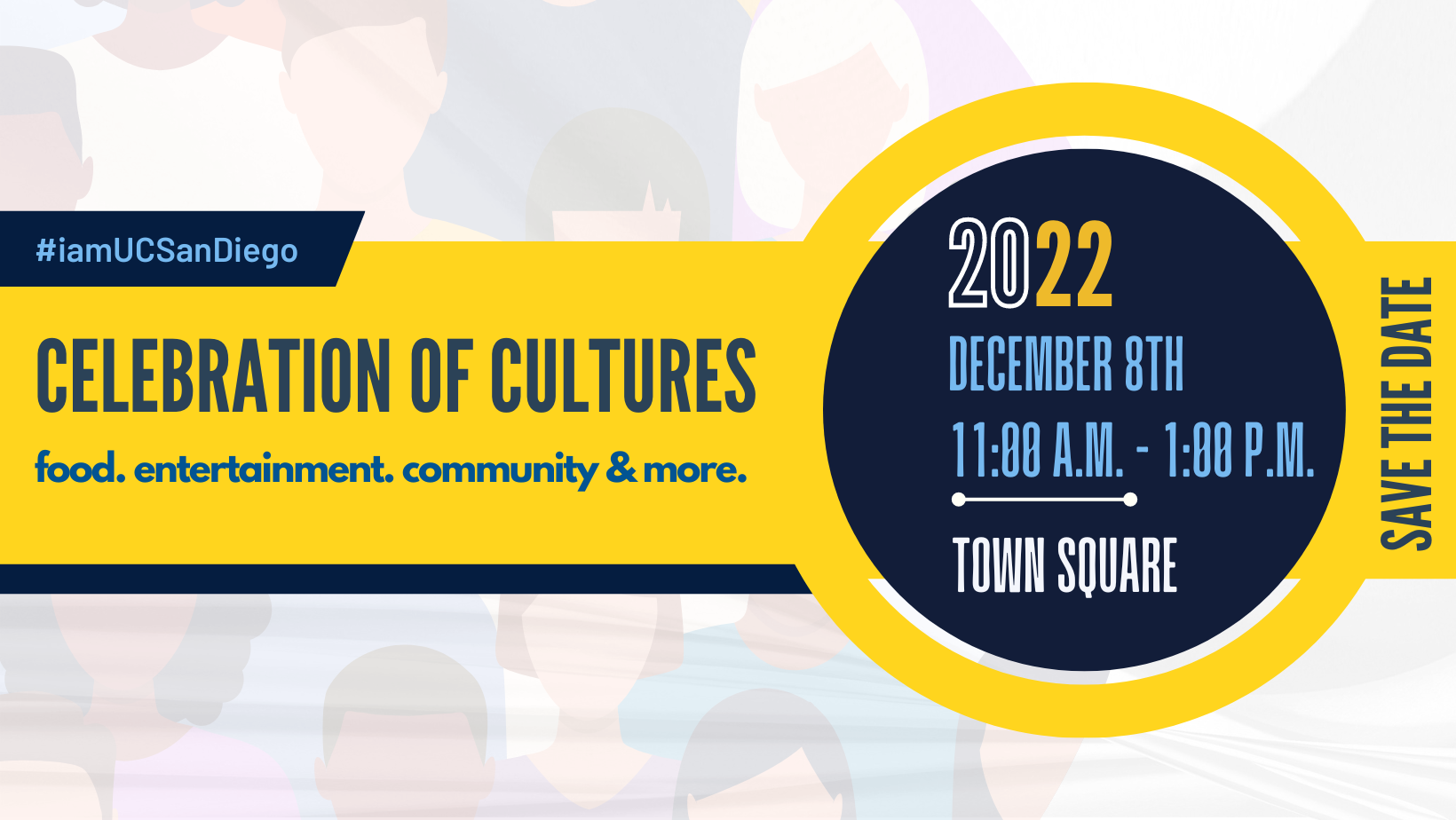 | Reserve Your Ticket | Thursday, December 8, from 11:00 a.m. to 1:00 p.m. in Town Square
You are invited to celebrate the diverse cultures and employees that comprise UC San Diego with multicultural food and performances at the inaugural Celebration of Cultures event on Thursday, December 8, from 11:00 a.m. to 1:00 p.m. in Town Square. The event theme "I Am UC San Diego," recognizes that while we bring unique perspectives and diverse backgrounds, we are also united as a Triton community.  As part of this event, all Tritons are invited to share stories, strengths and personal attributes that connect them to UC San Diego using the hashtag, #iAmUCSanDiego.

Tasting samples of Native American, Jamaican, Mexican and Japanese fare will be provided to the first 500 UC San Diego employees who reserve their ticket online through this link Reserve Your Ticket. If you are unable to register for the event, you can still enjoy the festivities as food truck vendors will also be selling menu items. In addition, the event will include cultural dance and musical performances, opportunity drawings, and more. 

In recognition of this annual event, two hours of administrative leave with pay have been approved for employees to attend the event. Supervisors, upon request, may approve the use of such leave when the absence does not infringe upon the performance of required job duties or patient care.

We would like to thank the event partners VC-RMP IDEA Task Group, Human Resources, Black Staff Association (BSA), Chicano/Latino Staff Association (CLSA), Pan Asian Staff Association (PASA), and the Intertribal Resource Center (ITRC) at UC San Diego.

Please join us for this inaugural Celebration of Cultures event. We look forward to seeing you there.
Gary C. Matthews
Vice Chancellor 
Resource Management & Planning
Pierre Ouillet
Vice Chancellor and Chief Financial Officer
Becky R. Petitt
Vice Chancellor for Equity, Diversity, and Inclusion
Terri S. Winbush
Chief Human Resources Officer
Campus Human Resources
Janet L. Kamerman
Chief Human Resources Officer
Health Human Resources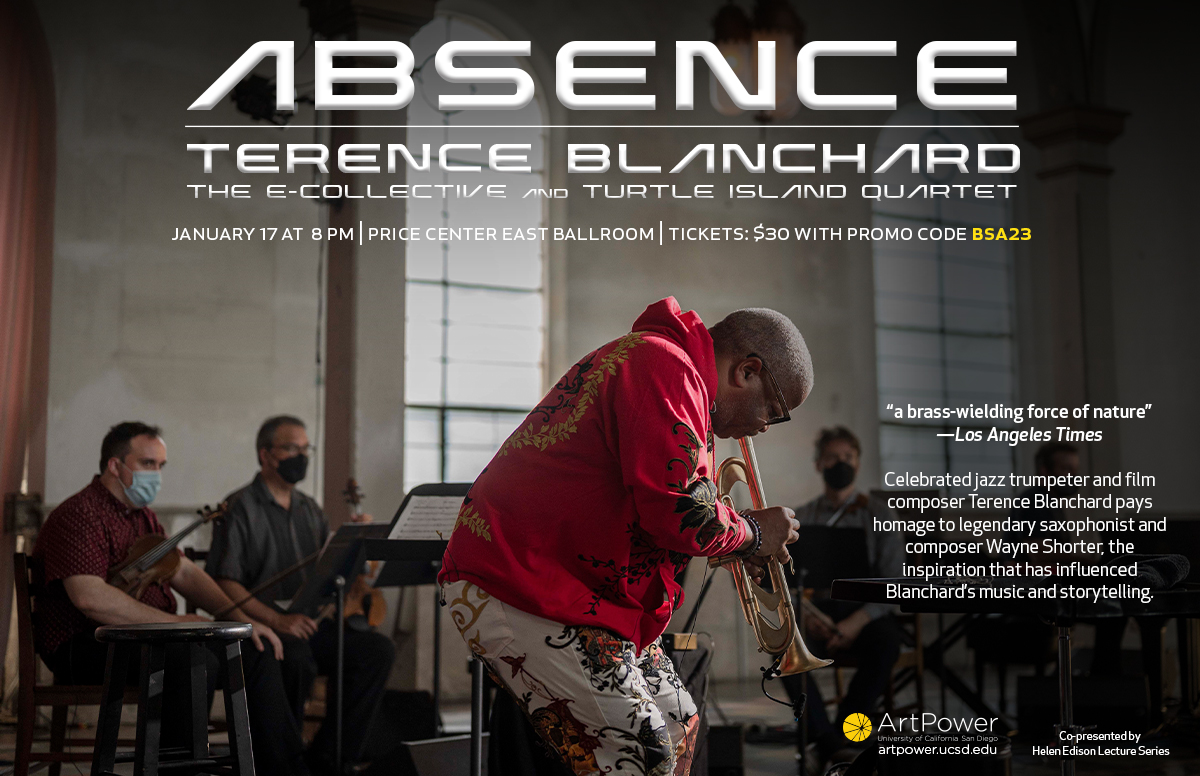 Celebrated jazz trumpeter and film composer Terence Blanchard pays homage to legendary saxophonist and composer Wayne Shorter.
Terrence Blanchard is the composer for all of Spike Lee's films and is the first Black artist to have his work presented by The Metropolitan Opera Fire Shut Up In My Bones based on Charles Blow's autobiography.
Special Presentation, next Tuesday 17 January. Terence Blanchard & The E Collective
40% off Promo Code: BSA23
Doctors are seeing diseases that you'd expect to see in older patients — heart disease, diabetes, mental health, stress, and stroke — in relatively young black Americans. While genetics may play a role in certain instances, socioeconomic factors have a significant impact on how Black Americans are able to prevent and treat certain conditions. Knowing your risks of these conditions can help you make positive changes to take control of your health.
| Panelist Bios |
When:
 Prepare your appatite for a mouth watering experience.  Stay tuned!
At the Crossroads: "The intersection of Politics & Black Activism"
Stay tuned for updates!
More details coming soon!
Stay tuned for more info!
Enjoy listening to our Juneteenth Playlist.
More event information is on the way.  Please visit us soon!
2021-22
Juneteenth commemorates the end of slavery across the nation and is often celebrated in African American communities with storytelling, special recipes and fellowship. During the UC San Diego celebration, we explored what the Juneteenth holiday meant for Americans, celebrated Black excellence, and explored ways in which all communities can observe, reflect, and educate in commemoration. 
On behalf of the Black Staff Association and Executive Board and event sponsors, "Thank you for joining us in this joyous celebration!"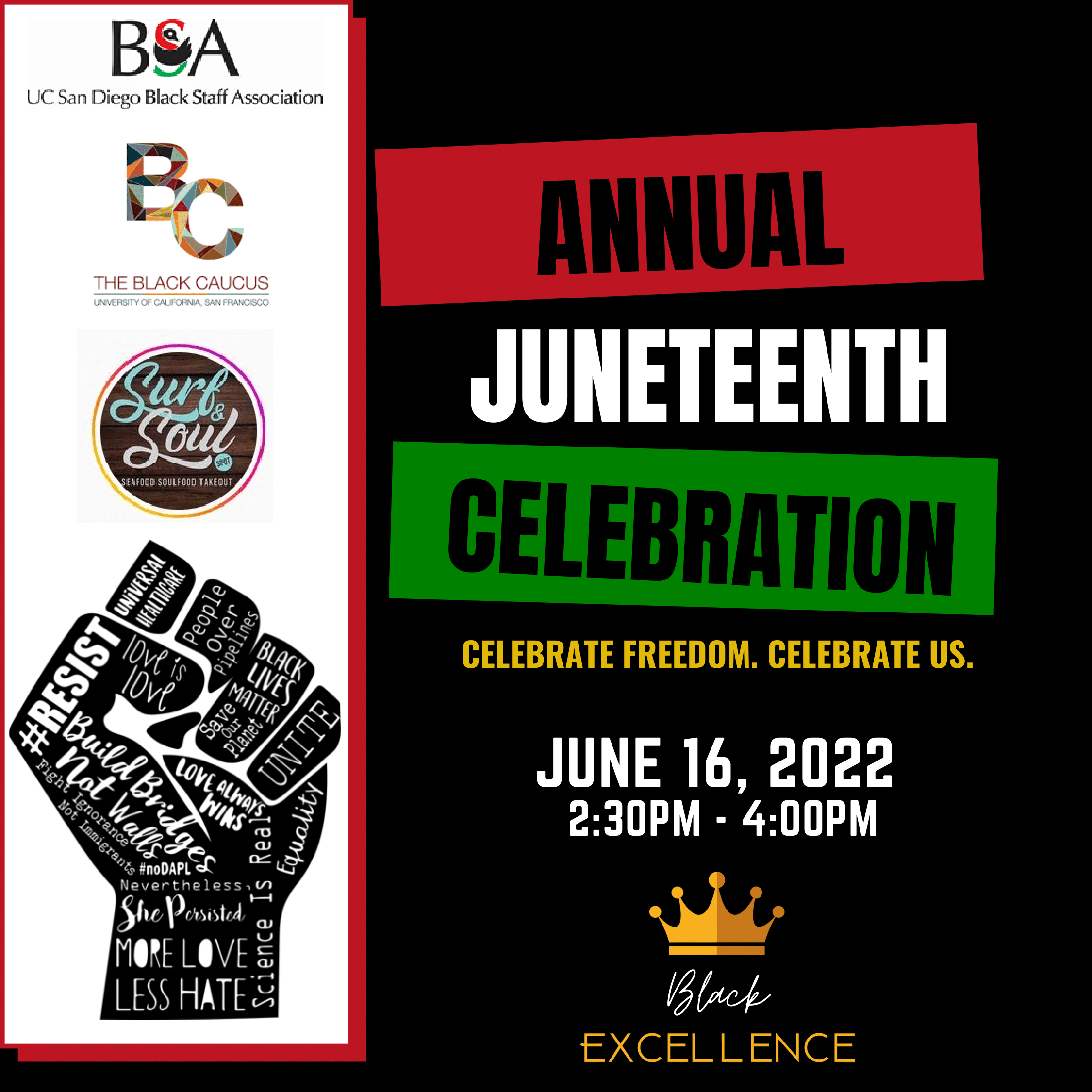 "Struggle is a never ending process. Freedom is never really won,
you earn it and win it in every generation."

—Coretta Scott King


Event Sponsors
The Honorable Ketanji Brown Jackson | Join us in a panel discussion on the historic confirmation of the first African American woman as a United States Supreme Court Justice.
Confirmed Panelists:
When:
Thursday, May 5th | 11:30 a.m. - 1 p.m. PST |

 

Registration

 

|  This session will be recorded. 
Black History Month Black Health and Wellness 2022 | BHM Events | 
Presidents' Day Forum - BSA Signature Event
When:
Thursday, February 17th | 11:30 a.m. - 1 p.m. PST | Registration |
Event Flyer click here
Please share and plan to attend.
When:
Wednesday, January 19th | 11:30 a.m. PST |

 

Zoom Link
We invite you to join us for a riveting conversation on how the COVID-19 pandemic is yet another crisis exacerbating disparities experienced by the Black community.  In addition to the health of those we hold dear, the pandemic is affecting everything from work/life balance to finances to mental health. This event will focus on the mind & body and include a jam session for the healing of our souls.  
When:
Thursday, December 6th | Noon – 1:30 p.m. |

 

Registration
Event Flyer click here 
AfroCon *Volunteers Needed 
When:
*Saturday, September 4th, 2 - 8 p.m.
*Sunday, September 5th, 10 a.m. - 6 p.m.
Event Info: |

 

afrofuturismlounge.com | Registration
Black Family Reunion - A celebration for UC San Diego Black Staff and Faculty
When:
Thursday, September 30th,

 

11:30 a.m. - 1:30 p.m., Location: Dirty Birds | Registration |
Event Flyer click here
BECOP Book Club | Lean Higher Education: Increasing the Value and Performance of University Processes
When:
Thursday, August 5th | 12:00 p.m. PST |

 

Registration
2020-21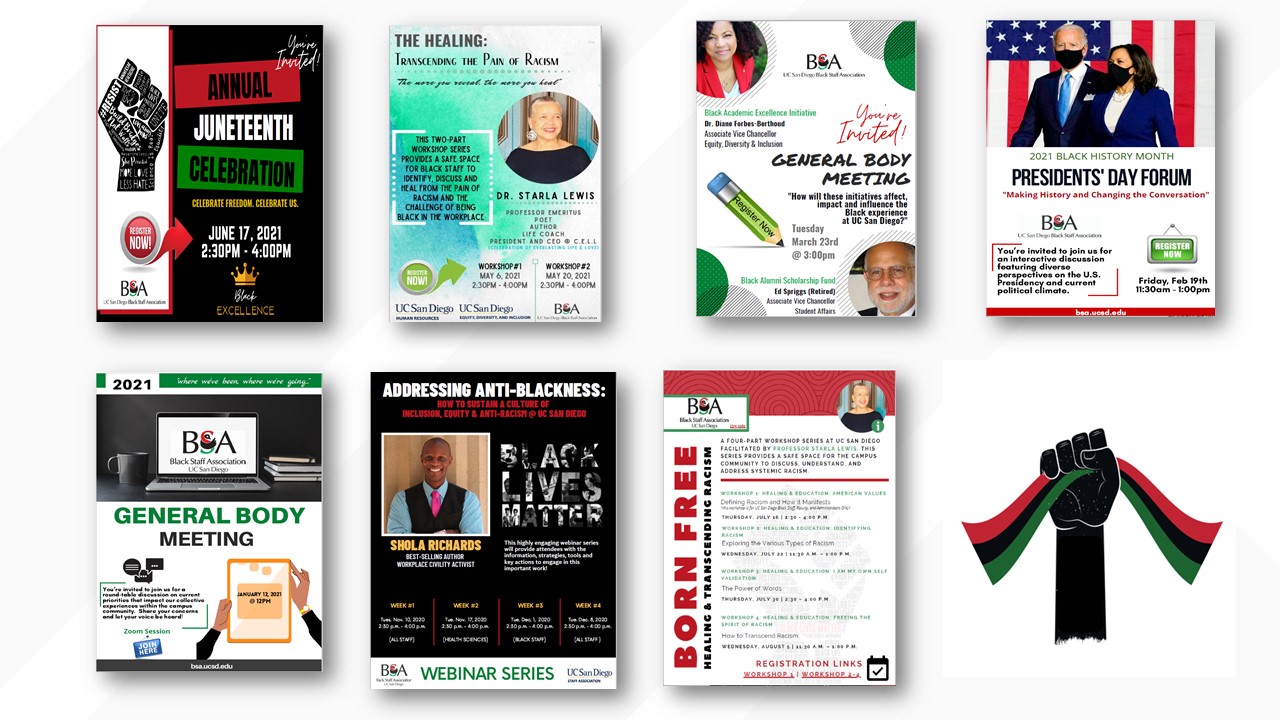 Kindly please forward this invitation to others who may be interested in learning through this unique no-cost Healing & Transcending Racism series.