Planned Events
Juneteenth commemorates the end of slavery across the United States. From its Galveston, Texas origin in 1865, the observance of June 19th also known in African American communities as "Emancipation Day", "Jubilee Day", "Freedom Day", is a pivotal moment in history. UC San Diego will explore what the Juneteenth holiday means for Americans, celebrate Black excellence, and center ways in which all communities can observe, reflect, and educate in commemoration. We are thrilled to invite you to these special events in celebration of our rich Black culture and history!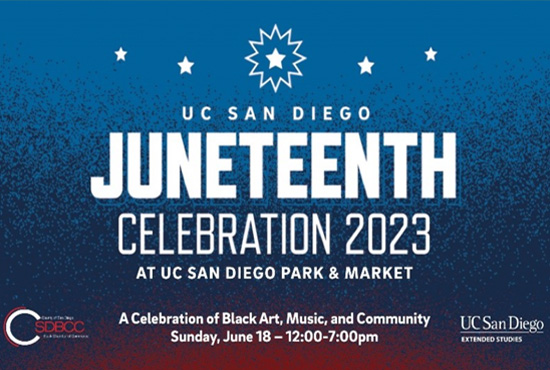 A Celebration of Black Art, Music, and Community
Sunday, June 18, noon-7 p.m.
Join us at UC San Diego Park & Market for an afternoon and evening of special activities, featuring:
Black-owned business market

Panel discussion exploring "What does liberation mean in the 21st Century?"

Live music throughout the day, concluding with a Neo Soul Performance by some of San Diego's best musicians
Free and open to the public; complimentary food and beverages.
San Diego Black Artist Collective Presents: Get On Board
Monday, June 19, 7:30 p.m. - 9:30 p.m.
Presented at the Epstein Family Amphitheater, Get On Board is a journey through the evolution of Black music. During the free event at 7:30 p.m., audiences will explore the cultural traditions that Black communities carry through music and how these traditions educate and encourage future generations through their own tribulations. The show–which was originally performed at the La Jolla Playhouse's Without Walls Festival–will feature a selection of local artists, as well have food and beverage options available for purchase.
Free and open to the public.  RSVP required.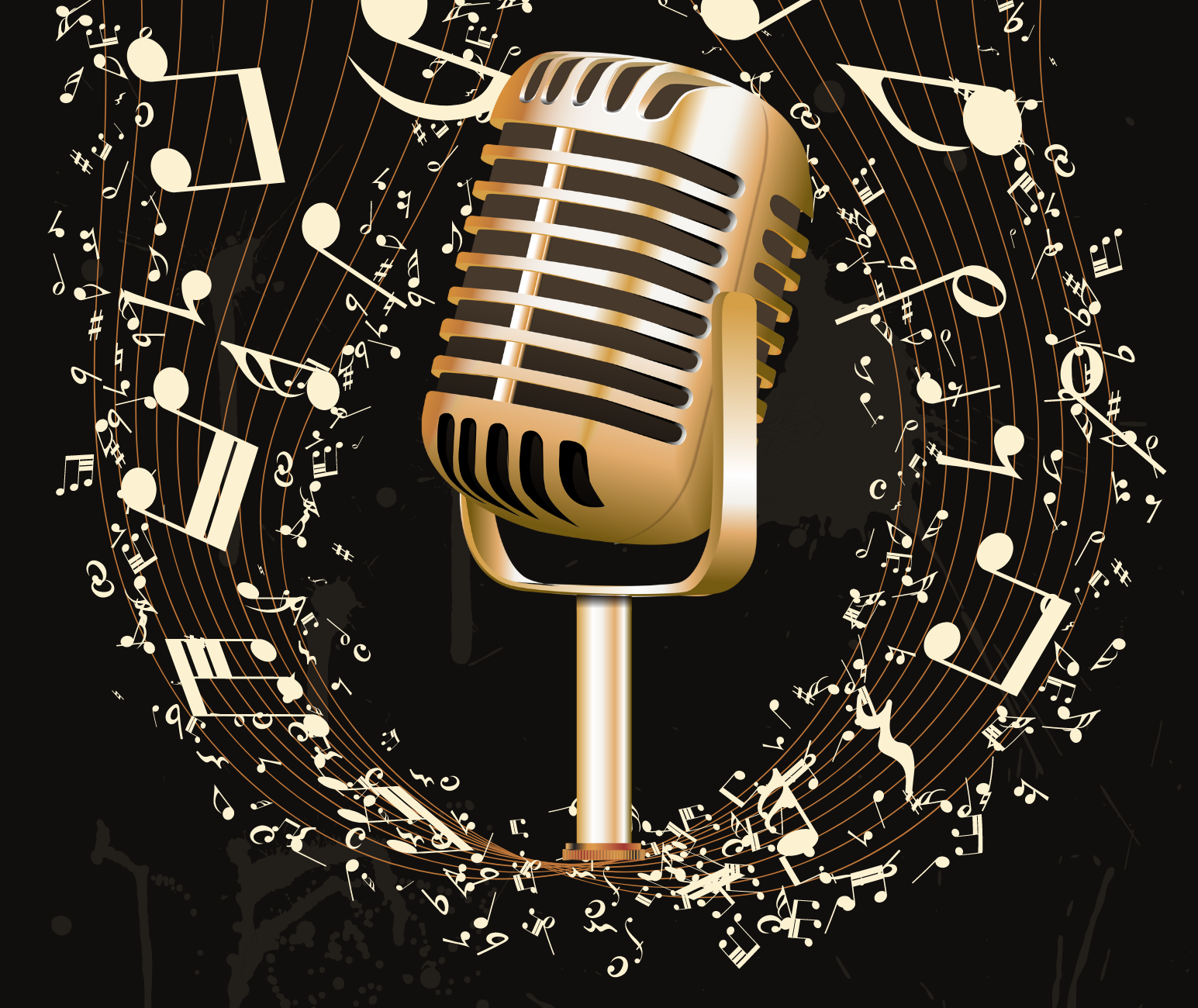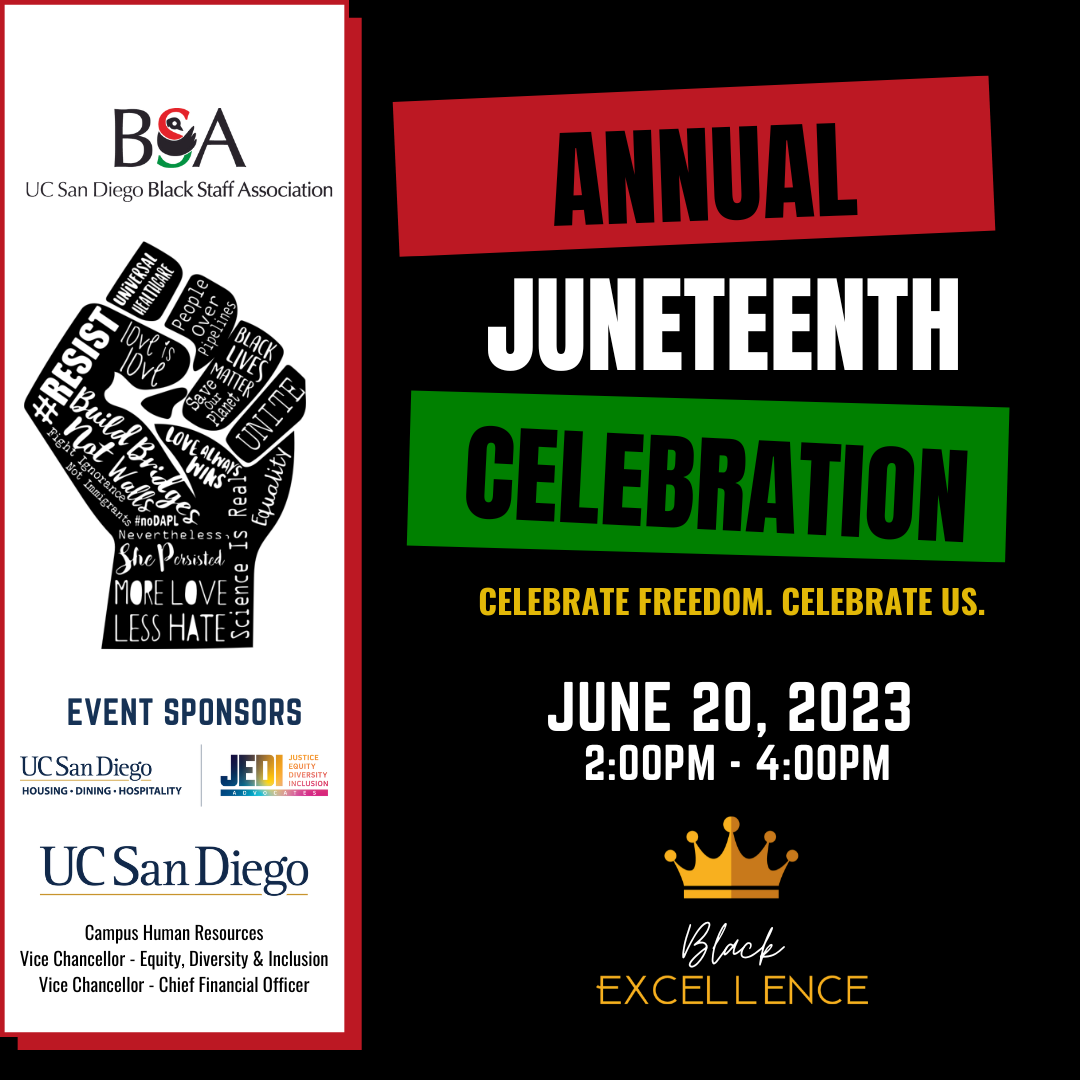 3rd Annual Juneteenth Celebration and Black Excellence Awards
Tuesday, June 20, 2-4 p.m., Price Center Ballroom East, 2nd Floor
This year's theme "Hip Hop, Liberation & Kujichagulia" focuses on education, signature dishes, and the historical relevance of soulful music. The UC San Diego Black Staff Association will honor the rich traditions of Black culture, excellence, and the distinctive works of recipients being recognized.  Join us for an unparalleled experience with complimentary food, joy, entertainment, opportunity drawings and more!
Enhancing the Black Student Experience Symposium Closing Activity & Workshop
Wednesday, June 21, 10 a.m.-3 p.m. The Forum, Price Center East, 4th Floor
The symposium has been carefully curated to start conversations on how decolonization might enhance the Black student experience at UC San Diego. Features EBSE 2023 keynote speaker Dr. Stephen Quaye (The Ohio State University) who will help participants reimagine how to support our Black students from where we lead.