Magnet Safety Guidelines for Researchers
Last Updated: January 26, 2021 3:29:41 PM PST
Follow these guidelines to minimize hazards and prevent accidents when conducting nuclear magnetic resonance (NMR) spectroscopy with or in the vicinity of persistent super-conducting magnets.
Any magnet requiring cryogenic support and electricity must be registered with Environment, Health & Safety (EH&S). Follow the registration steps below.
Restrict access:

Keep doors locked and posted with magnetic hazard warning signs to prevent unauthorized access to the magnet room.
Make sure people with cardiac pacemakers or other implanted medical devices stay outside the 5 Gauss (G) threshold.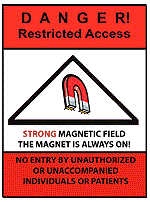 Basic magnet hazard warning sign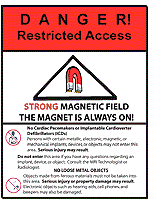 Complex magnet hazard warning sign
Develop a field strength map of the area surrounding the magnet.

Post the map in a prominent place for use by staff and visiting researchers.

Post appropriate magnetic hazard warning signs relative to the diminishing field strength of the magnet.

Basic sign:

Print and post basic signs on anteroom and corridor doors (PDF).

Complex sign: (includes specific hazard warnings)

Print and post a complex sign on the entrance to the magnet room (PDF).

Indicate 5 G zones:

Print and post complex signs on doors to rooms containing magnetic fields in excess of 5 G.
Mark the 5 G threshold line with floor tape or equivalent markings where appropriate.

Place warning labels and signs on other equipment and entries to indicate specific hazards such as ultraviolet light or radiofrequency fields.
Superconducting magnets are the source of powerful static magnetic fields that can pose health and safety hazards.
Kinetic energy hazards: The high field around the magnet can accelerate ferrous objects toward the magnet with sufficient energy to seriously injure people or damage the magnet. Follow these precautions:

Keep small metal objects (screws, tools, razor blades, paper clips, etc.) at least 1.5 meters from the magnet, or in places where the field exceeds 30 Gauss (G).
Move large ferrous objects (equipment racks, tool dollies, compressed gas cylinders, etc.) with great care whenever the field approaches 300 G. In many recorded instances, large objects have been drawn toward, and even into, magnets.

Biological hazards:

Consider the continuous exposure limit guidelines established by the American Conference of Governmental Industrial Hygienists (ACGIH) when evaluating safety standards for the magnets operating in your lab.
Cryogen hazards:

Quench - asphyxiation hazard: Quench is a sudden (usually unexpected) boil-off of large volumes of cryogenic liquids used to create superconductivity in the magnet. This can violently damage the magnet and potentially (should venting systems fail) cause rapid venting of large volumes of helium and nitrogen gas into the room, quickly resulting in an oxygen-deficient atmosphere.

Read How to Handle Cryogenic Liquids for standard safe operating procedures.
Keep an oxygen monitor in the magnet room at all times and periodically check it for proper functioning.
Note: Quench conditions can result from ferrous objects being drawn into the magnet. See kinetic hazards above.

Frostbite hazard: Contact with liquid or gaseous cryogens may cause frostbite to human skin or eye tissue.

Electrical hazards:

Keep electrical panels clearly visible and unobstructed.
Know how your circuits are labeled so equipment can quickly be de-energized in an emergency.
Permit only properly qualified personnel to work on electrical equipment. Contact Environment, Health & Safety (EH&S), (858) 534-3660, for more information on qualifications approved by Cal-OSHA.
Design and maintain custom-fabricated equipment in accordance with Cal-OSHA safety standards. Contact EH&S, (858) 534-3660, for more information.
Make sure cables, wires, and conduits do not create trip hazards.

Maintenance and service hazards:
Earthquake hazards: Securely restrain magnet assemblies and power supplies to prevent movement or tipping during an earthquake.
Ergonomic hazards:

Hearing conservation: Determine if hearing protection is required due to operational noise. Read about the UC San Diego Hearing Conservation Program for more information.
Computer ergonomics: Learn and practice basic ergonomic principles to prevent injuries from prolonged use and improper configuration of computer workstations. Refer to these resources:
Don't work alone.
Evacuation plan: Have a well-planned method to evacuate all personnel from the magnet room in case of a quench event.
Liquid or gas cryogen exposure:

Seek medical attention immediately at an emergency room:

On campus: Thornton Hospital
Emergency/ Urgent Care Unit
(858) 657-7600
In Hillcrest: UC San Diego Medical Center
Emergency Room
(619) 543-6400

Call Campus Police at (858) 534-4357 (534-HELP) if transportation is necessary.

Know the locations and use of emergency equipment:

Telephones
The UC San Diego Emergency Guide and first-aid kit

Learn the standard emergency response procedures described in the Emergency Guide.
Emergency Guides and first aid kits are installed and maintained by EH&S. Notify EH&S, (858) 534-3660, if the Emergency Guide or first aid kit for your area is missing or damaged.

Fire extinguishers and fire alarm pull stations
Eye washes and emergency showers
Make sure personnel is trained and understand the hazards before allowing them to enter the magnet room.
Wear appropriate personal protective equipment. This may include eye protection, hearing protection, and gloves.