Hearing Conservation Program
Last Updated: October 6, 2016 10:20:34 AM PDT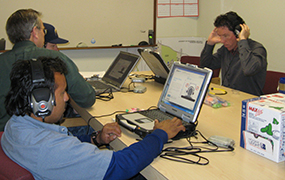 Learn how UC San Diego's Hearing Conservation Program protects employees from hearing damage due to occupational noise.
Requirement
Employees who are routinely exposed to high levels of workplace noise must participate in the Hearing Conservation Program. At UC San Diego, this level is 85 dB(A) averaged out over an 8-hour workday. Those affected may include, but are not limited to, personnel in:
Machine shops
Maintenance and utilities
Groundskeeping
Carpentry and machine shops
Housing and dining services facilities
Engineering
Vivaria
Responsibilities
Supervisors are required to assess the workplace and do the following:
Program
Learn more about the Hearing Conservation Program:
Training
Hearing conservation training is required for employees exposed to noise level at or above 85 decibels over an 8-hour workday as part of their job.
Regulations and policies