Fire Extinguisher Inspection Checklist
Last Updated: February 10, 2023 8:49:35 AM PST
Learn how to do a monthly fire extinguisher inspection in your workplace.
Departments must assign an individual to inspect monthly the extinguishers in or adjacent to the department's facilities.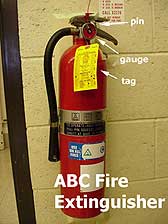 Confirm the extinguisher is visible, unobstructed, and in its designated location.
Verify the locking pin is intact and the tamper seal is unbroken. Examine the extinguisher for obvious physical damage, corrosion, leakage, or clogged nozzle.
Confirm the pressure gauge or indicator is in the operable range or position, and lift the extinguisher to ensure it is still full.
Make sure the operating instructions on the nameplate are legible and facing outward.
Check the last professional service date on the tag. (A licensed fire extinguisher maintenance contractor must have inspected the extinguisher within the past 12 months.)
Initial and date the back of the tag.
Note: An A-B-C fire extinguisher can be used on most fires found in typical workspaces.
If your extinguisher is missing or needs service, contact one of the following:
On campus:
Facilities Management Service Referral Desk, (858) 534-2930
At UC San Diego Medical Center – Hillcrest:
Facilities Engineering Help Desk, (619) 543-6454
At UC San Diego Medical Center – Thornton:
Facilities Engineering Help Desk, (858) 657-6400