Eliminating Moths and Other Food Pests
Eliminating Moths and Other Food Pests
Last Updated: October 6, 2020 2:21:46 PM PDT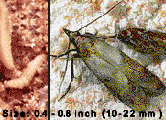 Learn how to eliminate moths and other food pests.
Prevention
Moths, beetles, and weevils often enter your home in dried food products and can spread quickly to other stored foods.
Find out how to prevent an infestation.
If you have an infestation, use the tips below to get rid of the food pests.
Indoor infestation
To get rid of food pests:
Find the infested foods. If the infestation has been going on for a while, some of the insects have probably left the package in search of other places to lay their eggs.
Place the infested foods in a plastic bag and dump it in an outdoor trash can.
Remove the other contents of drawers and cupboards.
Check for pupae in cabinet and drawer crevices.
Thoroughly vacuum and clean the infested area.
Scrub dishes, drawers, and shelves with hot soapy water.
Note: You don't need to use pesticides to eliminate the infestation.
If the problem persists, look for additional infested dried foods. You must remove all infested foods to eliminate these pests.
Contacts
Emergencies

Environment, Health & Safety:
(858) 534-4534  weekdays, 8 a.m. - 4:30 p.m.
Campus Police: (858) 534-4357 after business hours

Non-emergencies (Typical response time: 1 working day)
Notice: Environment, Health & Safety does not provide pest control advice or help to individuals or agencies outside UC San Diego. Area residents should contact their local animal control agency or exterminator for assistance.