Managing Ants
Last Updated: August 16, 2023 3:48:43 PM PDT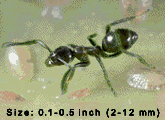 Learn how to prevent and deal with ant infestations.
Prevention
Ants typically come indoors looking for food, water, or shelter.
Find out how to prevent an infestation.
If you have an infestation, use the tips below to get rid of the ants.
Indoor infestation
If ants are indoors:
Clean the infested area with soapy water or ammonia window cleaner.
Eliminate ant food and water sources.
Use a pesticide-free spray to discourage invasions.
Seal entry points with petroleum jelly or duct tape until silicon caulk can be applied.
If the problem persists, request assistance. Eradicating the outdoor colony is the only way to eliminate recurring infestations.
Contacts
HDH Residential Housing (HDHfixit) ticket system, or Customer Service Center (858) 534-2600.
Emergencies

Environment, Health & Safety:
(858) 534-4534 weekdays, 8 a.m. - 4:30 p.m.
Campus Police: (858) 534-4357 after business hours

Non-emergencies (Typical response time: 1 working day)
Notice: Environment, Health & Safety does not provide pest control advice or help to individuals or agencies outside UC San Diego. Area residents should contact their local animal control agency or exterminator for assistance.