Food Safety Program
Last Updated: August 12, 2021 6:11:11 AM PDT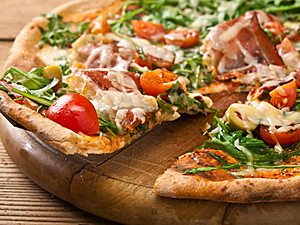 Learn how UC San Diego's food safety program helps protect the public from foodborne illness.
Requirements apply to sale or distribution of food to the public by restaurants, cafeterias, mobile food facilities, catering services, and special events temporary food vendors.
Campus food facilities
Environment, Health & Safety (EH&S) routinely inspects and permits all permanent food service facilities on UC San Diego property to ensure they maintain the highest standards of safe food handling and cleanliness. At a minimum, all facilities must comply with the California Retail Food Code (CalCode).
Foodservice employees receive training by Housing–Dining–Hospitality and must pass an exam demonstrating their knowledge of food handling sanitation before being permitted to work.
Temporary food facilities
To ensure the public does not become ill from a food event on campus, a Temporary Food Facility Permit is required to operate a temporary food facility at UC San Diego. Internal office potlucks and invitation-only events are generally excluded from these requirements because they are considered private.
Training
Emergency preparedness resources
All documents are PDF
Policies and regulations