Hot Work Safety Program
Last Updated: April 22, 2015 9:18:37 AM PDT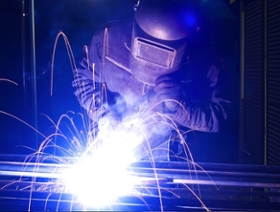 See requirements for performing hot work during maintenance and construction activities at UC San Diego.
Hot work refers to operations that are capable of initiating fires or explosions. Hot work includes (but is not limited to):
Welding
Grinding
Hot riveting
Sandblasting
Brazing
Soldering
Heat treating
Thermal spraying
Arc cutting
Oxygen cutting
Powder-actuated tool
Torch down roofing
Hot work requirements apply to all UC San Diego employees, students, and volunteers whose activities involve hot work at UC San Diego. This program does not cover use of candles, laboratory activities, pyrotechnics or special effects, and cooking equipment.
Perform hot work operations only in designated areas or permit-required areas.
A designated area is a permanent hot work location designed for or approved by a Competent Hot Work Safety Supervisor (CHWSS). Designated areas are essentially free of combustible and flammable contents and are segregated from adjacent areas. Examples: a maintenance shop or a detached outside location constructed of noncombustible or fire-resistive materials.
A permit-required area is an area made fire-safe by removing or protecting combustibles from ignition sources.
Hot work is not allowed in:
Buildings with fire sprinklers if the fire protection system is impaired
Areas where explosive or potentially explosive atmospheres are present (e.g., on drums or tanks previously containing solvents or other combustible or flammable materials, high or low-pressure gas lines, etc.)
Areas with an accumulation of combustible dusts where explosive atmospheres can develop (e.g., wood working dust collection systems)
Hot Work Permits are issued annually to departments by the campus fire marshal. Applicable fire codes and basic operational instructions are printed on the blanket permit.  
Hot Work Permit / Hot Work Checklist Form and Activity Logs (PDF) (Word) are maintained by the CHWSS authorizing specific hot work activities. Before hot work operations begin in a permit-required area, a Hot Work Permit must be issued to the crew performing the work and a Hot Work Activity Log must be prepared by the CHWSS or qualified designee.
Based on local conditions, the CHWSS will determine how long the Hot Work Permit is valid (not to exceed 24 hours).
Questions? Contact an EH&S General Safety Specialist, (858) 534-7513.
Before hot work begins
Hot work is allowed only in fire-safe areas. (See "Where hot work may be performed" above.) The following conditions must be confirmed by the CHWSS before hot work operations can commence:
Make sure equipment to be used (e.g., welding equipment, shields, personal protective equipment, fire extinguishers, etc.) is in satisfactory operating condition and good repair.
Sweep the floor clean for a radius of 35 feet if combustible materials such as paper or wood shavings are present.
Keep combustible floors (except wood on concrete) either wet, covered with damp sand, or protected by non-combustible or fire-retardant shields, blankets, pads, and/or curtains.
Note: Where floors have been wet down, personnel operating arc welding or cutting equipment must be properly grounded and equipped with spark arrestors protected from possible shock or flash burns.
Move combustible materials at least 35 feet away from hot work operations. If relocation is impractical, protect combustibles with fire-retardant covers, shields, blankets, or curtains. Edges of covers at the floor must be tight to prevent sparks from going under them, including where several covers overlap when protecting a large pile.
Tightly cover openings or cracks in walls, floors, or ducts within 35 feet of the site with fire-retardant or noncombustible material to prevent the passage of sparks to adjacent areas.
Provide fire-retardant shields or guards to prevent ignition if hot work is done near walls, partitions, ceilings, or roofs of combustible construction.
Take precautions to prevent the ignition of combustibles on the other side of walls, partitions, ceilings, or roofs where hot work will be performed by relocating them. If it's impractical to relocate combustibles, post a hot work fire watch on the opposite side of the work. (See "Hot work fire watch" below.)    

Do not attempt hot work on a partition, wall, ceiling, or roof that has a combustible covering or insulation, or on walls or partitions of combustible sandwich-type panel construction.

Do not perform hot work on pipes or other metal that is in contact with combustible walls, partitions, ceilings, roofs, or other combustibles if the work is close enough to cause ignition by conduction.
Make immediately available at the work area 2 fully charged and operable fire extinguishers appropriate for the type of possible fire. Extinguishers should be supplied by the group performing the hot work.
Note: Fire extinguishers normally located in a building do not fulfill this requirement.
Take special precautions to avoid accidental operation of automatic fire detection or suppression systems (for example, special extinguishing systems or sprinklers). Lay wet rags over sprinkler heads that are close to hot work operations. Remove rags when hot work is completed.
Protect nearby personnel from welding fume particulates, heat, sparks, and slag.
Hot work fire watch
The CHWSS will determine when specific circumstances require a hot work fire watch. A "hot work fire watch" is an individual posted in specific circumstances to observe the hot work and monitor conditions to ensure that a fire or explosion does not occur. The hot work fire watch is authorized to stop any unsafe operation or activity.
Duties and responsibilities for hot work fire watch personnel include:
Watch for fires, smoldering material, or other signs of combustion.
Be aware of the inherent hazards of the worksite and hot work.
Ensure that safe conditions are maintained during hot work operations. Stop the hot work if unsafe conditions develop.
Have appropriate fire extinguishing equipment readily available and be trained in its use.
Be familiar with the facilities and procedures for initiating an emergency response.
Extinguish fires only within the capacity of available equipment. If the fire is beyond the capacity of the equipment and personnel training, pull the fire alarm to notify building occupants, evacuate the building, call the UC San Diego Police 534-4357 (534-HELP) from a safe area, and provide incident-specific information to arriving emergency responders.
Maintain hot work fire watch duties during break periods.
Continue a hot work fire watch for at least 30 minutes after completion of hot work to detect and extinguish smoldering fires.
More than one hot work fire watch is required if combustible materials that could be ignited by hot work operations cannot be directly observed by a single fire watch (e.g., in adjacent rooms or subsequent floors where hot work is performed on a common wall).
Work closeout
Maintain a hot work fire watch for at least 30 minutes after completion of hot work operations to detect and extinguish smoldering fires.
The CHWSS

or qualified designee

will inspect the job site 30 minutes after completion of hot work and close out the Hot Work Permit/Activity Log with the time and date of the final check.
Keep the Hot Work Permit and Activity Log for 1 year following completion of the project.
The CHWSS has the authority and responsibility to:
Authorize and manage assigned hot work activities
Alter or stop hot work activities that constitute unmanaged risk or can impact the safety of UC San Diego personnel, property, or the environment
To qualify as a CHWSS, a UC San Diego employee must complete CHWSS training (see "Training" below).
CHWSS responsibilities include:
Establish permissible areas for hot work. (See "Where hot work may be performed" above.)
Ensure individuals involved in hot work operations are:

Familiar with the UC San Diego Hot Work Safety Program
Trained in the safe operation of their equipment and processes, are aware of the risks involved, and understand emergency procedures in the event of a fire

Ensure only approved apparatus are used (i.e., torches, manifolds, regulators, and pressure reducing valves).
Determine if site-specific flammable materials, hazardous processes, or other potential fire hazards are present or likely to be present in the work location.
Ensure combustibles are protected from ignition by the following means:

Determine if hot work measures are legitimately needed or if alternative modifications or repairs can be used.
Move the work to a safer location free from combustibles.  

If the work cannot be moved, ensure combustibles are placed at a safe distance or are properly shielded, covered, or protected against ignition sources.

Schedule work so operations that could expose flammables or combustibles to ignition do not occur during hot work operations.
Stop hot work if any of these conditions cannot be met.

Ensure that:

Fire protection and extinguishing equipment are properly rated and readily available
Adequate ventilation is provided to prevent the accumulation of smoke and fumes
A hot work fire watch is posted at the site when hot work is performed in a location where a fire might develop, or where the following conditions exist:  

Combustible materials in building construction or contents are closer than 35 feet to the point of hot work
Combustible materials are more than 35 feet away but are easily ignited by sparks
Wall or floor openings are within 35 feet and expose combustible materials in adjacent areas, including combustible materials concealed in walls or floors
Combustible materials are adjacent to the opposite side of partitions, walls, ceilings, or roofs and are likely to be ignited

Conduct a final inspection of work areas where a hot work fire watch is not required to confirm safe operational conditions are returned and in place.
A Hot Work Operator (HWO) is an individual designated to perform hot work under the authorization of a CHWSS. 
HWOs are responsible for:
Handling hot work equipment safely and performing work so as not to impact the safety of personnel, property, or the environment
Obtaining a Hot Work Permit and Activity Log from the CHWSS before hot work begins
Stopping hot work operations if unsafe conditions develop
Notifying the CHWSS

for situation reassessment

in the event of suspected unsafe conditions or concerns expressed by affected persons
Contractors conducting hot work activities on UC San Diego property should:
Provide the name of their CHWSS to the campus project manager or superintendent
Perform hot work with guidance and training from a written program and in conformance with National Fire Protection Association 51B
Protect the general public at or near construction sites and projects from welding arcs and fumes
Protect existing buildings and mechanical systems from damage due to hot work activities
Confined spaces - Hot work operations in confined spaces require additional safeguards. Specifically, address safeguards in the designated work area or in the contractor's Confined Spaces policy.
Lockout/ Tagout - Hot work on and near building systems and piping may require additional safeguards. Address safeguards in the designated work area or in the contractor's Control of Hazardous Energy - Lockout/Tagout policy.
UC San Diego supervisors are responsible for ensuring employees who oversee hot work activities complete Competent Hot Work Safety Supervisor (CHWSS) training administered by Environment, Health & Safety (EH&S).
CHWSS training must include:
UC San Diego Hot Work Safety Supervisor training
Complete the Hot Work with Arc Welding eCourse on the UC Learning Center.
Roles and responsibilities of individuals involved in hot work activities performed on UC San Diego property
Procedures for issuing and using the UC San Diego Hot Work Permit and Activity Log
How to get the training
Contact an EH&S General Safety Specialist, (858) 534-7513, to schedule training.
California Code of Regulations Title 8 Section 4848, Fire Prevention in Welding and Cutting Operations
UC San Diego PPM 516-11, Fire/Life Safety Program
National Fire Protection Association (NFPA) 51B 2009 Edition Standards for Fire Prevention During Welding, Cutting and Other Hot Work
NFPA 241 2009 Edition Standard for Safeguarding Construction, Alteration and Demolition Operations