Staff in Memoriam: JoAnn Straubinger
Staff in Memoriam: JoAnn Straubinger
Last Updated: February 24, 2014 3:25:52 PM PST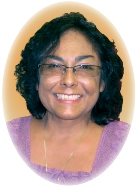 JoAnn Straubinger
Library Reserves Coordinator and Night/ Weekend Work Leader
UCSD Libraries
Years of service at UCSD: 21
JoAnn Straubinger, International Relations and Pacific Studies Library Reserves Coordinator and Night/ Weekend Work Leader, succumbed to respiratory disease complications on April 1, 2008, at age 49.
A UCSD employee since 1987, JoAnn held positions at UCSD Medical Group Billing, Career Services, and Admissions & Registrar before joining the UCSD Libraries in 1997.
According to IR/PS Public Services Librarian Harold Colson, "JoAnn was respected by IR/PS faculty and students for her friendly, dedicated approach to our very popular electronic reserves services.
"Her many colleagues and friends across the UCSD Libraries can attest to the numerous endearing and engaging qualities of this very wonderful, caring person, sadly taken from our midst so early in her life," he added.
JoAnn was an art and culture enthusiast with many interests in music (particularly jazz), crafts (she created an extensive painted gourd collection), gardening (she shared the fruits of her labor with all, literally and liberally), and was a lifelong practitioner of Buddhism.
A wife, mother of 3, and grandmother, she was deeply devoted to her family. Her caring extended to her co-workers and the patrons she served. Says colleague Reiney Adams, "At once warm, giving, frank and flamboyant, diplomatic and even shy, JoAnn embraced all of humanity."
Her husband and UCSD employee Mike Straubinger noted, "Her life and death touched many people in many ways."