Staff in Memoriam: William Runk
Staff in Memoriam: William Runk
Last Updated: February 24, 2014 3:22:52 PM PST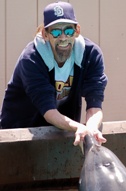 William "Bill" Runk
Fiscal Manager
Department of Ethnic Studies
Years of service at UCSD: 12
Ethnic Studies has lost a longtime friend and member of the department's family. Bill Runk passed away due to an illness on February 27, 2010. As Fiscal Manager, he was a dedicated employee who liked to do things right and used his "gruffish manners" to keep faculty, students, and staff in line. Co-workers said they will especially miss his jokes, teasing, and affection.
Bill was a devoted husband and family man who enjoyed taking long walks on the beach with his wife Diane, their children, and anyone else who wanted to join them.
He leaves behind 3 sons: Theodore, Patrick, and Mark, plus 3.7 grandchildren: Lilli, Jacob, Nathan – for whom he dubbed himself "Grumpy" – and a fourth one due in May. He is also survived by 1 brother and 5 sisters.
In lieu of flowers, his wife prefers donations to the Susan G. Komen 3-day event in November, which she will be walking in Bill's memory. Make a donation.