Staff in Memoriam: Marisel Rodriguez-Spahitz
Staff in Memoriam: Marisel Rodriguez-Spahitz
Last Updated: February 24, 2014 3:25:20 PM PST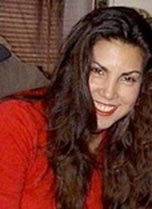 Marisel Rodriguez-Spahitz
Programmer Analyst
Office of Research Affairs
Years of service at UCSD: 18
Marisel Rodriguez-Spahitz, a UC San Diego employee since December 1993, died on August 13, 2011 from cancer.
A life-long NY Yankees and Giants fan (although also a big fan of the Padres and Chargers), Marisel was born in the Bronx, New York on March 10, 1964. She graduated from Brooklyn Technical High School in 1982, and Mercy College in 1986. She worked for the IRS for a year before moving on to Navy Resale, where she met her husband, Rob. Together they came to San Diego in 1991.
Marisel loved to travel, spending time in exotic places and lovely destinations like Spain, Morocco, Paris, Sydney and Quebec, as well as many places in the U.S. including her honeymoon trip from New York City to Niagara Falls, through Chicago into the Black Hills of South Dakota and Mount Rushmore, to Yellowstone, Seattle, San Francisco and LA before arriving in San Diego.
Marisel began her career at UCSD in the Bookstore in 1994, where she worked as a Network Administrator for four years. She then went on to Student Health Services where she served as a System Administrator for close to eight years. Marisel joined the Office of Research Affairs in October 2006 as a Programmer Analyst. Marisel was an integral part of the Research Affairs IT Support Team, known as much for her warmth and smile and lively spirit and charm, as for her substantial IT skills.
Anyone who knew Marisel would agree that she had considerable personal style. What became apparent was she also a person of immense strength and substance, as she faced a terminal illness while remaining a dedicated wife, mother, coworker, and loyal and cherished friend to many. 
Marisel leaves behind her beloved husband of 20 years, Rob, and her sons Logan and Blake who were the center of her world, along with many extended family members and friends. She will be greatly missed.
In lieu of flowers, the family has asked for donations to be made to Stand Up To Cancer to assist in the fight against all forms of cancer.