Staff in Memoriam: Zana G. Parman
Staff in Memoriam: Zana G. Parman
Last Updated: February 24, 2014 3:29:09 PM PST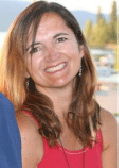 Zana Gabrielle Parman
Senior Research Analyst
Office of Research Affairs
Years of service at UCSD: 20
A longtime UC San Diego employee and friend to many on campus, Zana Gabrielle Parman died on September 13, 2010, after a long battle with cancer.
Born Zana Gabrielle Tasevska on August 23, 1964, in Macedonia, she moved to the U.S. at the age of five, was raised in Escondido, and graduated with honors from Orange Glen High School. She attended UC San Diego, graduated with a B.S. degree in biology, and in 1986 began a career at the university that spanned more than 20 years. She served in the departments of Psychiatry, Medicine, Surgery and Pediatrics before joining the Office of Research Affairs as a Senior Research Analyst, where she helped oversee Research Compliance and the Embryonic Stem Cell Research Oversight (ESCRO) Committee.
Zana was a beautiful, intelligent, inquisitive and creative woman. People felt drawn to her soft-spoken, sweet sincerity. She had the ability to listen and provide people with her undivided attention, which enabled her to gain the trust of all who knew her.
Zana enjoyed travel, horses, and sunsets with her husband. But her biggest passion and greatest joy in life was raising her two beautiful children, Justice and Paetyn. Her dedication and devotion to her children has allowed them to become kind, respectful, wonderful children.
Left to continue their journeys are Greg, her husband of 19 years, her son Justice, her daughter Paetyn, her parents, sister and many extended family members and friends.
In lieu of flowers and to support Zana's mission in life, donations may be made to an education fund for Zana's children. Contribute at any Wells Fargo Bank for the Zana G. Parman Memorial Fund, or mail to 19848 Fortuna Del Este, Escondido, CA 92029.