Staff in Memoriam: Laura Melton
Staff in Memoriam: Laura Melton
Last Updated: October 18, 2022 3:47:46 PM PDT
Read a tribute to Laura Melton.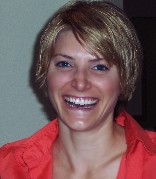 Laura Melton
Counselor
Financial Aid Office
Years of service at UCSD: 4
Laura Melton's lively disposition and warm manner made her popular with staff, students, and parents in her role as a counselor in the Financial Aid Office, which she joined in 2001. She died from cancer on Oct. 4, 2005, just a few short weeks after her diagnosis.
"It was obvious from the first day that Laura was very bright and talented," said Ann Klein, associate director of Financial Aid. "She focused on service and was excellent with people. Along the way, Laura made us all laugh and smile, even with our heavy workload and even during peak processing times."
Laura was an exemplary employee, a well-respected colleague, and also a friend, added Beth Ojeda, Laura's supervisor. "She will be remembered for her dedication and hard work, along with her sense of humor and commitment to students and families."
"The suddenness of her loss and her young age made her death even more painful and incomprehensible to those who knew and loved her," Klein noted. "Laura will be missed dearly by her Financial Aid work family."