Staff in Memoriam: Candace Funakoshi
Staff in Memoriam: Candace Funakoshi
Last Updated: September 13, 2016 8:36:36 AM PDT
Read a tribute to Candace Funakoshi.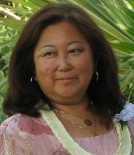 Candace Funakoshi
Administrative Assistant
Libraries Administrative Office
Years of service at UCSD: 20
Candice (Candy) Funakoshi, Administrative Assistant in the UCSD Libraries for 20 years, passed away Dec. 17, 2009, due to complications from cancer.
According to colleagues, she was respected for many talents and skills, and will be remembered particularly for her "deep conviction that all people should be treated respectfully, ethically and courteously – essentially as described in the University's Principles of Community."
"Candy was a superbly competent Administrative Assistant. Working in the Social Sciences & Humanities Library and the Administrative Office, she was always the calm and unflappable 'Mom' to everyone in the Libraries. She was always able to get the job, whatever it might be, done. And done with ease, patience, and humor, no matter the pressure and no matter how intense some of her colleagues in the office were.
"Compiling Libraries-wide statistics was one of Candy's many responsibilities, and come reporting time, everyone knew it was reporting time. You knew Candy was 'on the job'. E-mails would fly and if you were late, she would, in a very calm and pleasant, but firm manner, remind you of the deadline. If you did not file on time however, you knew you were in trouble. Candy would come and visit you, plant herself in the doorway of your office, and stare you down until you produced what she asked you to do."
Candy also served as the Libraries' main party planner. As noted by Brian E. C. Schottlaender, University Librarian, "she could put together a mean holiday party and picnic." Whatever the theme of the annual picnic, Candy always worked her magic to decorate, and to find poinsettias for everyone at the holiday party.
"Candy was, in short, an amazing person—calm, kind and giving, gentle and sweet. A wonderful woman has left us and will be greatly missed."