Staff in Memoriam: Susan Commerford
Staff in Memoriam: Susan Commerford
Last Updated: February 24, 2014 3:29:22 PM PST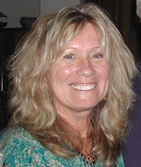 Susan Commerford
Administrative Assistant
Department of Neurosciences

Susan Marie Commerford passed away on Sunday, Jan. 15, 2012, after a year-long battle with lung cancer. She was loved by all who knew her and will be sorely missed.
Sue was a long-time employee of UCSD, primarily at Scripps Institution of Oceanography and most recently in the laboratory of R. Glenn Northcutt, Professor of Neurosciences, where she worked for the past 20 years. During that time, she was a mother-confessor and source of support for a veritable United Nations of graduate students and postdoctoral fellows, and everyone's valued right hand.
In addition to her employment at UCSD, she also represented the publishing house of S. Karger AG in Basel, Switzerland, at medical and scientific conventions on the West Coast and in Hawaii.
Sue loved sunshine -- it's been said that she was sunshine, as her blond hair and dazzling smile could light up a room. She also loved beaches, dogs (particularly large terrier breeds), white wine, lobster bisque, the color blue, and, not least, her family.
She leaves her husband, Matt Poorman, her daughter, Annie Owen, and grand-daughter Anna, all of San Diego County; her brother, Tom Everett, of Reno, Nevada, and her father, Richard Commerford, of Waterbury, Connecticut.
A Memorial Service will be held on Sunday, Feb. 19, at 2 p.m., in the Martin Johnson House on the SIO campus, and all are welcome.  As a memorial, her family requests that donations be made in Sue's memory to San Diego Hospice.  For more information, please contact Mary Sue Northcutt.