Staff in Memoriam: Kathy Ciufi
Staff in Memoriam: Kathy Ciufi
Last Updated: February 24, 2014 3:26:27 PM PST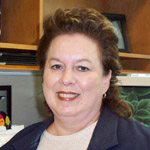 Kathy Ciufi
Department Assistant
Cellular and Molecular Medicine
Years of service: 10
Kathy Ciufi, department assistant in Cellular and Molecular Medicine, passed away in her Spring Valley home on Jan. 12, 2010, surrounded by her family.

Kathy began working at UCSD in 1999 in the International Relations and Pacific Studies (IR/PS) Graduate School. In 2002 she transferred to the Department of Cellular and Molecular Medicine.
Kathy later became president for the Coalition of University Employees (CUE), UC San Diego chapter, where she advocated for the rights of UCSD's administrative support staff.
She had a kind spirit and built strong relationships with all those she worked with at the university. Those who knew her said Kathy was a special person who was "always so helpful, with a great 'old school' work ethic and sense of humor."
Kathy's biggest love and priority was her family. She is survived by her mother, Ardelle; brother, Redgie; 3 children, Caesare, Sharlene, and Carissa; and 5 grandchildren.