Numeric Pagers
Last Updated: October 18, 2022 4:02:52 PM PDT
See the types of numeric pagers offered by UC San Diego.
UC San Diego offers one type of numeric pager: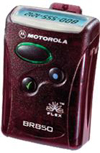 Motorola BR 850
Ordering a pager
Review the information in How to Order Campus Pagers and link to an online Customer Service Request (CSR).
For more information, please contact the Medical Center IT (MCIT).
Please send your request to UC San Diego Health Service Desk  or call x3-HELP or 619-543-4357